Thinktech Early Stage Award: SPACE ENGAGERS awarded to two APEP Researchers.
Thursday, 15 December, 2016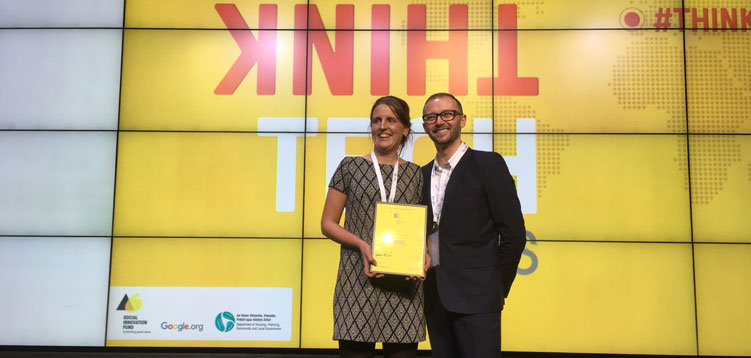 2 UCD APEP PhD candidates, Philip Crowe (UCD Landscape Architecture) and Aoife Corcoran (UCD Planning), received a THINKTECH award from Minister Simon Coveney on December 7th 2016.
THINKTECH is a €1 million project supported by Google Ireland and Social Innovation Fund Ireland to identify and support innovative ideas that use technology to create positive social impact in Ireland.
Aoife and Philip received their award under the THINKTECH Accelerator programme. This is an early-stage award of €100,000 plus membership of the Google backed accelerator programme for their venture Space Engagers, a Dublin-based project which helps tackle social and environmental issues such as homelessness via interactive digital mapping. Space Engagers (see @SpaceEngagers) has emerged from research carried out in the EU FP7 TURAS project (2011-2016), which was lead by UCD APEP.
UCD College of Engineering and Architecture
Room 122 & Room 126, UCD Engineering and Materials Science Centre, University College Dublin, Belfield, Dublin 4, Ireland T:
+353 1 716 1868
| E:
eng.arch@ucd.ie