Prof. John Sheridan has been elected a fellow of the Optical Society of America
Monday, 19 December, 2016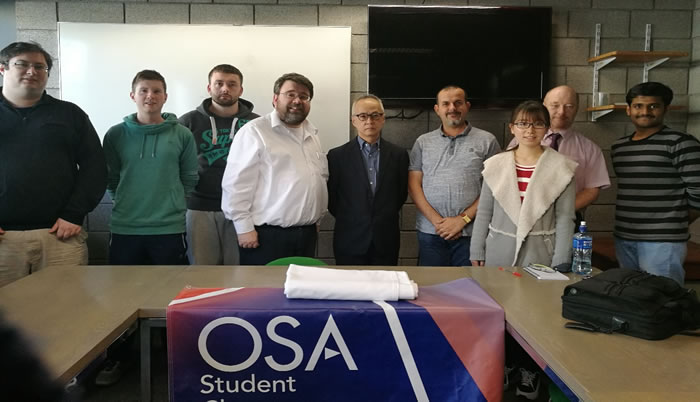 Pictured: (L-R) Dr John Healy (UCD), Kevin O'Flannagain (ME UCD), Cillian Cooke (ME UCD), Prof John T. Sheridan (UCD), Prof Yasuo Tomita (University of Electro-Communications), Rae'd Mallalah (PhD UCD), Wan Min (PhD BJUT), Derek Cassidy (BT & PhD UCD), Inbarasan Muniraj (PhD UCD)


Prof. John Sheridan has been elected a fellow of the Optical Society of America (OSA) on October 19, 2016.
Founded in 1916, The Optical Society (OSA) is the leading professional association in optics and photonics, home to accomplished science, engineering, and business leaders from all over the world.
John is already a fellow of the US based Optical Engineering Society (SPIE). This is a tremendous achievement for Prof. Sheridan and another extremely important milestone for the School.
UCD College of Engineering and Architecture
Room 122 & Room 126, UCD Engineering and Materials Science Centre, University College Dublin, Belfield, Dublin 4, Ireland T:
+353 1 716 1868
| E:
eng.arch@ucd.ie