UCD graduates win RIBA International Prize
Monday, 23 October, 2023
The first ever RIBA International Prize has been won by two UCD graduates for their design of the Universidad de Ingeniería y Tecnologia (UTEC) building in Lima, Peru.
Yvonne Farrell and Shelley McNamara led the project on behalf of their firm Grafton Architects. The two women started the practice in 1978 soon after graduating from UCD School of Architecture.
The RIBA jury, chaired by Pompidou Centre designer Lord Richard Rogers, described the building as "a modern day Machu Picchu."
It was characterised as "bold and as pure a statement of engineering as could be imagined." RIBA acclaimed the architects for "the extent of their mastery of their craft by forming the rich spatial composition from simple moves within an organised and repetitive system."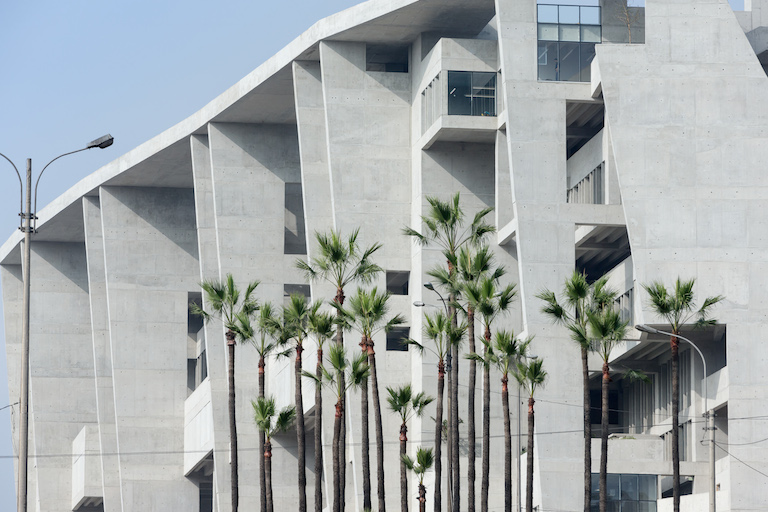 Pictured: Interior and exterior of UTEC. Credit: Iwan Baan
UTEC (University of Technology and Engineering in English) is a new faculty for the 50-year old engineering university. It was founded to encourage social mobility by enabling young Peruvians to gain engineering qualifications.
"This is architecture as geology and geography," UCD graduate Yvonne Farrell told CNN. "It's an artificial cliff face hollowed out as if from solid concrete. It's a challenging building. Its beauty isn't skin deep. It's not a pretty package with a fancy ribbon around it. It's a framework for life that shakes beauty up a little."
The pair held the Kenzo Tange chair at Harvard Graduate School of Design in 2010 and Louis Kahn chair at Yale in 2011. They are also Fellows of the Royal Institute of the Architects of Ireland and International Honorary Fellows of RIBA.
This was the inaugural award of the RIBA International Prize. Zaha Hadid Architects and David Chipperfield Architects were also nominated for the prize.
Two other firms belonging to UCD graduates have been named as RIBA award winners in recent years.
In 2010, O'Donnell & Tuomey Architects won the International Award for their Timberyard Social Housing Project in Dublin. John Tuomey and Sheila O'Donnell met while studying in UCD.
In 2009, fellow UCD graduate Shay Cleary's firm received the same award for the Alto Vetro Tower residential building in Dublin's Grand Canal Dock.
RIBA is a professional body for architects. It was founded in 1834 for the "general advancement of Civil Architecture, and for promoting and facilitating the acquirement of the knowledge of the various arts and sciences connected therewith."
By: Jonny Baxter, digital journalist, UCD University Relations
UCD College of Engineering and Architecture
Room 122 & Room 126, UCD Engineering and Materials Science Centre, University College Dublin, Belfield, Dublin 4, Ireland T:
+353 1 716 1868
| E:
eng.arch@ucd.ie