Professor Kathleen Lynch receives Special Award for Equality and Participation
In recognition of the President's attendance at the awards as Guest of Honour, the IRC made a special award to a researcher who has made an exceptional contribution to Equality and Participation – the theme of his Excellency's Presidency.
Professor Kathleen Lynch of UCD School of Education was presented with this award for her lead role in establishing the UCD Equality Studies Centre in 1990 and the UCD School of Social Justice in 2005, with the aim of creating safe academic spaces that would develop emancipatory teaching and research practices.
Outside of the university, Professor Lynch has worked over many years to challenge inequalities and promote social justice with community groups, non-governmental organisations and statutory bodies, both nationally and internationally.
In 2018-19, she worked as an academic adviser to Dr Ebun Joseph in establishing the first ever Black Studies modules in Ireland at UCD School of Education. She worked in a similar capacity with Dr Sindy Joyce and Hannagh McGinley to establish Traveller-led modules on Travellers, Rights, Ethnicity and Nomadism in UCD School of Social Justice in 2015-16 and in UCD School of Education in 2019-20.
Now in their third year, the IRC's Researcher of the Year Awards commend the very best of current IRC awardees or alumni working in academia, industry, civic society or the public sector.
" I am delighted to receive this award from the Irish Research Council in honour of 'Equality and Participation', the theme of his Excellency, President Michael D Higgins' presidency. The award is not just a personal honour for me, it also an honour for all of those who have worked for equality and social justice with me over many years, both inside and outside UCD. It encourages us not just to research injustices, but to unite theory and practice to challenge inequalities locally and globally. " Professor Kathleen Lynch commented.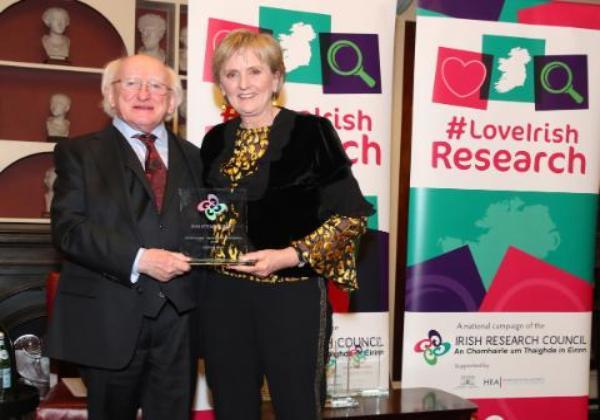 President of Ireland Michael D. Higgins with UCD Professor Kathleen Lynch
School of Education
University College Dublin Belfield Dublin 4 Ireland T:
+353 1 716 7777