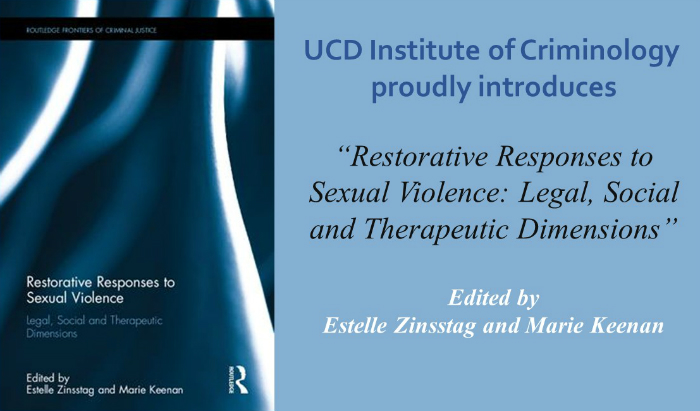 The UCD Institute of Criminology & Criminal Justice & The School of Social Policy, Social Work & Social Justice is proud to celebrate the Launch of "Restorative Responses to Sexual Violence: Legal, Social and Therapeutic Dimensions." Edited by Estelle Zinsstag and Marie Keenan. Published by Routledge.
Sexual violence, in all its forms, is a crime for which anecdotal accounts and scholarly reports suggest victims in their great majority do not receive adequate 'justice' or redress. The theory and practice of restorative justice is rapidly developing and offers some well-argued new avenues for dealings with crime in general. It has the potential to be extended to cases of sexual violence and a number of small scale programmes are already underway across the world.


Restorative Responses to Sexual Violence examines this innovative justice paradigm in more depth in the particular context of sexual trauma and violence in order to establish the empirical realities of restorative justice approaches in cases of sexual violence, and considers how such approaches could be developed adequately in the future.


This international collection brings together leading expert scholars and practitioners to offer both theoretical and practical perspectives on restorative justice and sexual violence. This book will be of interest to researchers in the field of law, criminology, psychology, social science, social work and psychotherapy, as well as practitioners in the fields of criminal justice, restorative justice and sex offender and victim trauma therapies.
Guests are invited to celebrate the launch of this book at 6pm On Thursday November 23rd.
Noeline Blackwell (CEO, Dublin Rape Crisis Centre) will launch the book, Prof Ian O'Donnell (Law, UCD) will deliver a response and Prof Michelle Norris (School of Social Policy, Social Work and Social Justice, UCD) will chair the evenings proceedings with a wine reception to follow.
Attendance is free but guests are asked to RSVP to danny.moran@ucd.ie