Professional Certificate TEARAP
Professional Certificate in Training on Experimental Animal Use, Regulations and Procedures (TEARAP)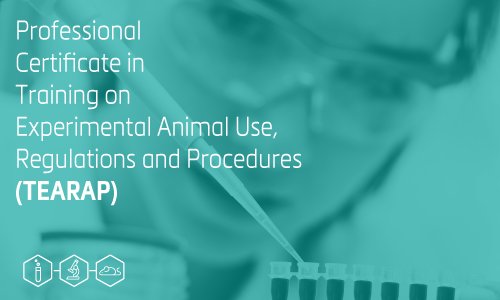 This programme is a professional certificate programme (5 ECTS credits) designed to achieve the objectives of training personnel involved in the use of animals for experimental research in line with the requirements of Article 23 of Directive 2010/63/EU in the following areas:
New EU-Regulations on requirements for conducting research involving animals
Animal welfare and responsibilities of researchers
Study designs and Bio-statistics
Basic animal physiology
Competency in basic and routine animal care procedures
Competency in relevant experimental procedures
On successful completion of this course, the candidate should have a clear understanding of their responsibilities and regulatory requirements when undertaking animal studies for teaching or research purposes.
This programme is recognised by the HPRA (Health Products Regulatory Authority) as an appropriate accredited scientific animal training course.
Two core modules will be delivered online via e-lectures, texts, images, videos and links to online educational resources. A species specific elective module focussed on rodents, farm animals or other laboratory species will be selected by the candidate also.
Candidates will have the flexibility to undertake the online learning materials at their convenience.
Duration: Registration to the TEARAP programme is available year-round, giving you the flexibility to take the programme whenever suits you. The programme is designed to be completed over the course of one month.
Fees: €1000
Admission Requirements:
Applicants are required to have a degree with appropriate background in the biological sciences.
Applicants will require a computer with a webcam and reliable high-speed broadband Internet access as well as an intermediate level of IT skills (be able to browse the Internet, download files, use email, complete online forms, use software such as MS Excel and Word).
Apply:
UCD staff members can apply online here.
Registered UCD post-graduate students do not apply online - please e-mail tearap@ucd.ie for further details on how to register.
All other applicants can apply online here.
Contact: To enquire about this course, please email tearap@ucd.ie
Contact the UCD School of Veterinary Medicine
UCD Veterinary Sciences Centre, University College Dublin, Belfield, Dublin 4, Ireland. T:
+353 1 716 6100
|
Location Map