Curiosity; Enabling equity of access to a STEM transition year placement programme
The first of eight STEM placement weeks on CuriosiTY programme took place during the 20-24 March in UCD with twenty four pupils from nine schools across Dublin, Wicklow and Wexford experiencing life in a research environment.
Activities on the programme were delivered by postgraduate and postdoctoral researchers from UCD Conway Institute, Systems Biology Ireland and UCD Charles Institute of Dermatology. Pupils heard about the latest research in areas such as wound healing, drug delivery using nanoparticles, cell signalling in childhood cancer, the effect of low oxygen on breast cancer cells and inflammatory cells in spinal cord injury.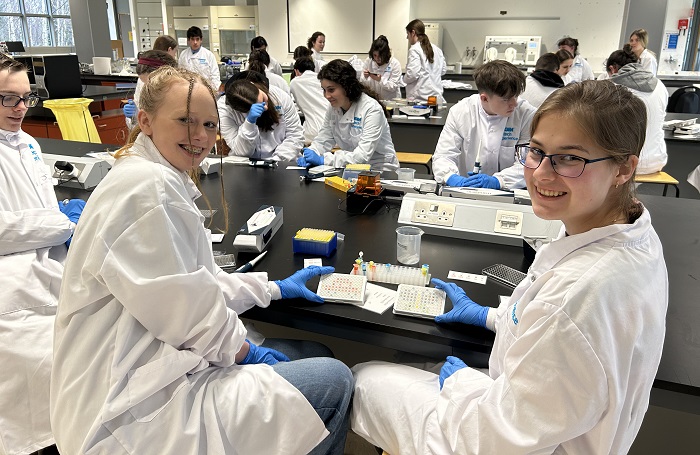 Alexandra Taite and Maria Sokolova, Cabinteely Community School
They also got to hear about STEM careers in industry with talks by Evan Hassett and Aastha Goel from Amgen Dun Laoghaire and Aoibhín Ryan, PhD, bioprocessing trainer at the National Institute of Bioprocessing Research & Training. Melvin Fleming and Dr Jessica Ralston spoke about their research management and support roles while artist, Lorna Donlon spoke about art in science approaches to engaging with the public about research.
CuriosiTY programme provides targeted supports facilitate participation by pupils from DEIS-designated schools associated with UCD and from schools in geographically remote areas associated with the Amgen Biotech Experience programme. Twenty places on the programme were allocated to pupils from Holy Child Sallynoggin, St Laurence's Community School, St Tiernan's Ballaly, Cabinteely Community School and St Kilian's Bray.
Ahead of the programme twenty-nine researchers received training in public engagement, devising and delivering hands-on activities for pupils and speaking about their research story in plain English.
There will be a further seven iterations of CuriosiTY over the next two years; reaching 192 pupils and building capacity for public engagement among sixty early stage researchers. Enquiries to curiosityprogramme@ucd.ie