UCD welcomes IRC funded Ukrainian scientist, Dr Svitlana Miros
My name is Dr Svitlana Miros. I have worked as a lecturer and a researcher for over 20 years in the Department of Genetics and Molecular Biology at Odesa I.I.Mechnikov National University (Ukraine). During this period, I have gained expertise in the field of genetics, mycology, microbiology, immunology and cytology, with a specific interest in growing medical mushrooms and studying their biological effects.
When the war in Ukraine started in February 2022, my life was changed overnight. My daughter and I fled to Ireland with just a single suitcase. It was an extremely stressful period for us but we were struck by the warm and welcoming nature of the Irish people. I am eternally grateful for the support and assistance provided by the Irish government. Through innovative initiatives like the Irish Research Council (IRC) Ukrainian Researchers Scheme, I have been given the opportunity to continue pursuing my scientific career in Ireland.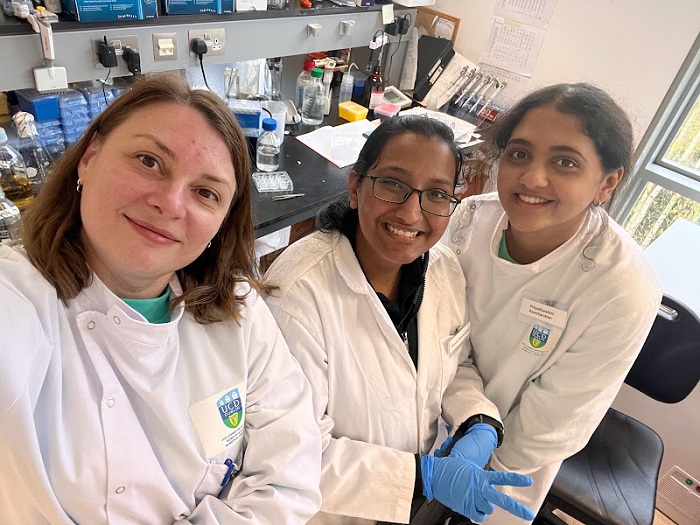 Pictured: Dr Svitlana Miros with Sneha Shivakumar (PhD student) and Priyadharshini Ravichandra (MEngSc Food Engineering student)
I would like to thank my supervisor, Dr Ronald Halim, who found my resume through help desk system organised by the Irish Government for Ukrainian students and scientists in July 2022. We jointly prepared a research proposal based on Ronald's existing IRC Starting Laureate award to investigate microalgae cell-wall ultrastructure for the development of cost-effective algal circular biorefinery system. The proposal was evaluated by the IRC in record time and I was very happy when I found out that our application was successful. I started my position as a research scientist in the UCD Algae Group (https://www.ucd.ie/algaegroup/) in November 2022, jointly based at UCD Biosystems and Food Engineering and UCD Conway Institute.
I feel inspired to be part of an international research team, surrounded by energetic individuals who are committed to their science. Our research group investigates the use of microalgae for sustainable wastewater treatment, circular food/feed application and biofuel production. I am in awe of the possibilities that algae can bring to circular bioeconomy and hope to bring my own experience in growing fungi to create a unique system that blends both microalgae and fungi for biomass production. My current experiments have shown that the co-cultivation microalgae and fungi can lead to synergistic effects that enhance growth and biorefinery performance.
UCD is an excellent place to realise innovative projects and get invaluable research training. I was pleasantly surprised by the educational opportunities provided on campus through direct training and seminars/workshops. I found myself immersed in a vibrant and collaborative scientific environment, refining my knowledge in flow cytometry and confocal microcopy through access to the UCD Conway core infrastructure. Almost every day, we are engaged in seminars, training, conferences, lectures. My only regret is that the day has only 24 hours!
I hope to one day bring back the knowledge I gain in Ireland to my war-torn country. This will be my way of expressing my infinite gratitude to the country that has embraced me so warmly.