UCD Conway Institute celebrates 20 years of research, innovation and impact
An event marking twenty years since the launch of UCD Conway Institute took place in UCD O'Reilly Hall on Friday, 20 October 2023 as part of the 2023 UCD Conway Festival of Research & Innovation (19-20 October).
Five hundred people comprising alumni, staff, students and representatives of industry, charities and the community joined the celebrations. Among them were Maureen and Hilary Daly, the daughter and granddaughter of the late Professor E.J. Conway, FRS who is the Institute namesake and first Professor of Biochemistry and Pharmacology at UCD.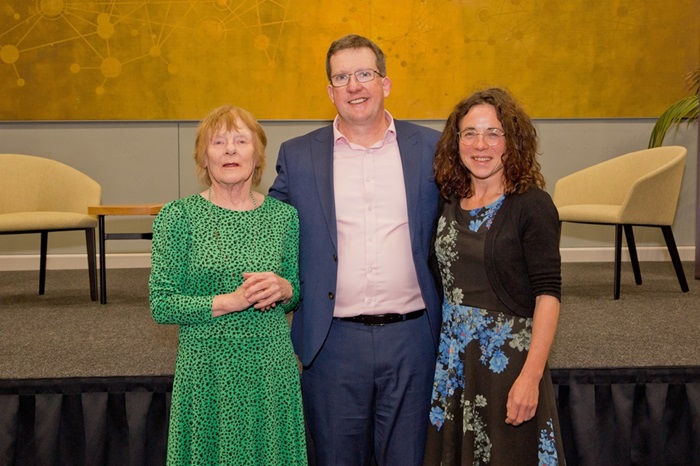 (L-R) Mrs Maureen Daly, Professor Breandan Kennedy, Ms Hilary Daly
This leading biomedical research institute, underpinned by the most comprehensive suite of centrally managed technology facilities in Ireland is part of the legacy of the late Chuck Feeney, the Irish American philanthropist.

The initial capital investment for the 11,500 sqm facility on the UCD campus was funded by the Government in partnership with Feeney through The Atlantic Philanthropies under the Programme for Research in Third-Level Institutions (PRTLI).

In a video message, Professor Hugh Brady, President of Imperial College London who co-authored the original funding proposal to establish the UCD Conway Institute, encouraged delegates to "celebrate the Institute and its remarkable achievements over the last two decades; celebrate the wider impact of PRTLI, which was truly transformative (for Ireland); and to remember Chuck Feeney who passed away only a week ago, a remarkable character who changed the Irish research landscape forever".

Institute Director, Professor Breandán Kennedy acknowledged the vision of Professor Brady and his co-authors, UCD Emeritus Professors Michael Ryan and Paul Engel saying, "They imagined the type of environment where research excellence would thrive and convinced their peers, policy makers and funders that this vision could be a reality that would allow Irish science to compete on the global stage".

The Institute focus is on developing novel therapies for chronic diseases such as cancer, diabetes and obesity as well as neurological disorders such as Alzheimer's, depression and autism. This exceptional research environment has enabled the development of large-scale initiatives and programmes over the lifetime of the Institute to date.

To mark the occasion, Conway alumni joined current staff, postgraduate students and postdoctoral researchers to share stories of their career journeys stories to date and the impact the Institute had for them.

Plenary speaker, Dr Noelle Griffin, Vice President and Head of Global Medical Affairs for Sickle Cell Disease at Pfizer completed research for her PhD in Medicine at UCD Conway Institute. Dr Griffin has spent more than twelve years working in the pharmaceutical industry on developing and executing medical strategies to ensure the safe and appropriate use of medicines.

Noelle shared her perspective on following the science from leveraging asthma biologics to treat other allergic disorders, to leveraging innovative therapeutics to correct the red blood cell sickling in sickle cell disease. She spoke of how her personal passions of scientific story telling with complex data, and health equity and fairness have shaped her career pathway and how these passions were ignited during her time in the Institute.

Freelance journalist, Dr Claire O'Connell facilitated a panel discussion with Conway alumni and previous staff including Prof. Philip Nolan, Director General, Science Foundation Ireland; Prof. Helen Roche, UCD VP Research, Innovation & Impact; Dr Noelle Griffin, Vice-President & Head of Global Medical Affairs, Pfizer; Dr Sarah McLoughlin, Public & Patient Involvement Coordinator, Cancer Trials Ireland; Prof. Donal Brennan, UCD Professor of Gynaecological Oncology & Mater Misericordiae University Hospital and Mr Michael O'Sullivan, Director of Operations, UCD Conway (2000-2021).



(L-R): Prof. Donal Brennan, Michael O'Sullivan, Prof. Helen Roche, Dr Noelle Griffin, Prof. Philip Nolan, Dr Claire O'Connell, Prof. Breandan Kennedy, Dr Sarah McLoughlin and Dr Stephen Lalor

The conversation provided insight into each of the panellist's involvement with the Institute and what it has meant for them as well as looking to the future and how the Institute can set itself up for continued success in the future.

The most vibrant session of the programme was the career roundtables where more than one hundred postgraduate students and postdoctoral researchers had the opportunity to speak with over fifty alumni who have progressed to forge successful careers nationally and internationally in biopharmaceutical and clinical trial industries, consultancy and academia.

Speaking at the event, Professor Helen Roche, Vice President for Research, Innovation and Impact reflected that "the greatest achievement of the Institute to date has been in nurturing people and providing a research culture and environment in which they are supported to deliver on their potential and ambitions".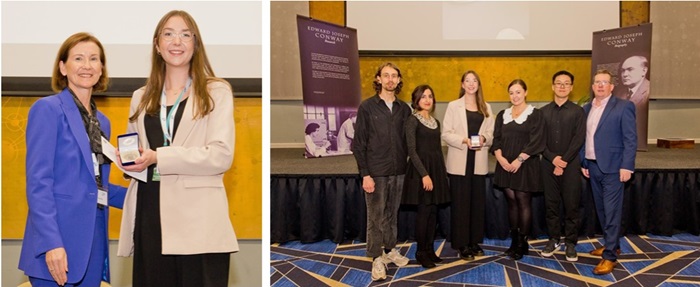 (L-R) Prof. Helen Roche, Vice President for Research, Innovation & Impact presenting Conway Festival Gold Medal to doctoral candidate, Ciara Walsh
(L-R) Finalists in the Conway Festival Gold Medal competition for research excellence, Mykyta Malkov, Haleema Azam, Ciara Walsh, Sarah Kierans, Yinghao Li pictured with Professor Breandan Kennedy, Director, UCD Conway Institute.

Professor Roche presented the Conway Festival Gold Medal for outstanding research to doctoral candidate, Ciara Walsh. Findings from Ciara's research on the potential of GelMA hydrogels as a therapeutic platform for preclinical spinal cord injury were published earlier this year in the scientific journal, Advanced Healthcare Materials and are available online. Ciara Walsh works under the supervision of Dr Dearbhaile Dooley, UCD School of Medicine and Fellow, UCD Conway Institute.

An In Vitro and Ex Vivo Analysis of the Potential of GelMA Hydrogels as a Therapeutic Platform for Preclinical Spinal Cord Injury. Ciara M. Walsh, Jacek K. Wychowaniec, Louise Costello, Dermot F. Brougham, Dearbhaile Dooley. Advanced Healthcare Materials 28 April 2023 https://doi.org/10.1002/adhm.202300951