ERC Starting Grant for a biomimetic testing platform in bone cancer
Dr Fiona Freeman, Assistant Professor and Ad Astra Fellow at UCD School of Mechanical and Materials Engineering and a Fellow at UCD Conway Institute was one of two UCD academics to be awarded a prestigious European Research Council (ERC) 2023 Starting Grant.
Dr Freeman will receive €1.5 million for her project 'Development of a lung METAstasis-on-a-CHIP model for osteosarcoma as a biomimetic testing platform for drug discovery and therapeutic innovation (META-CHIP).'
Osteosarcoma is a highly aggressive bone cancer that affects young people. Secondary lung metastasis is the most critical clinical factor, with 70% of those who develop lung metastasis succumbing to the disease within 3 years. The standard-of-care treatment plan today is no different to when first introduced almost 50 years ago. Accelerating cures remains a challenge, partly due to osteosarcoma being a relatively rare disease, which makes the conduct of large clinical trials investigating novel therapies a difficult endeavour.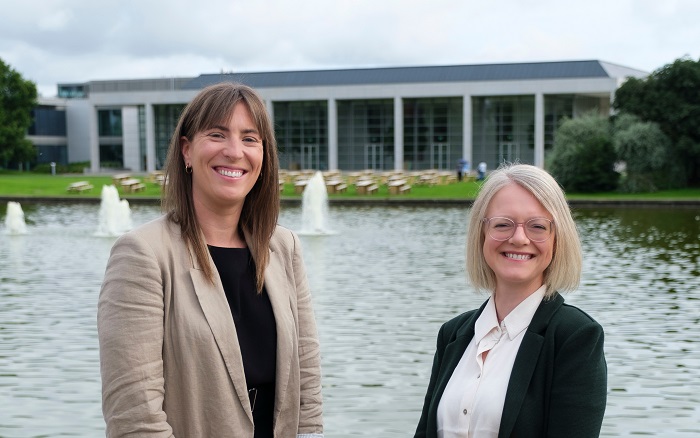 (L-R) Conway Fellow, Dr Fiona Freeman pictured with Dr Jennifer Keating (UCD School of History) who was also awarded an ERC 2023 Starting Grant
Through the META-CHIP project, Dr Freeman will be the first to develop a lung metastasis-on-a-chip model for osteosarcoma, as a biomimetic testing platform for drug discovery and therapeutic innovation. Roughly the size of a USB memory stick, organ-on-a-chip devices recapitulate the complex structures and functions of human organs. These living, three-dimensional replicas offer insights into organs' inner workings and the effects that drugs can have on them, all without involving humans or animals.
META-CHIP has the potential to revolutionise drug development and treatment of osteosarcoma patients by being the first ex vivo testing platform capable of predicting a patient's response to therapies in real-time.
Dr Freeman said, "I am delighted to accept this vital ERC funding, which will allow us to develop a predictive, patient-specific model for osteosarcoma and its secondary lung metastases. META-CHIP will aid in evaluating prospective new therapies and streamlining the clinical trial process. This will enable more efficient human trials with significantly reduced preclinical testing, ultimately offering these young osteosarcoma patients a novel treatment option that they rightfully deserve. It seems particularly poignant to receive this news during Childhood Cancer Awareness Month."
"The ERC Starter Grant will establish the groundwork for my team at UCD. The scale of this funding will empower my team to adopt a holistic, multidisciplinary approach to comprehensively understand the progression of osteosarcoma. We envision a future whereby clinicians will be able to insert patient cells into the META-CHIP device and identify the therapy with the highest chance of success for the patient and use this knowledge to personalise each patient's treatment."
"I owe a great deal of thanks to the number of colleagues and collaborators, as well as the tireless work of the UCD research staff, who all took the time to help develop the META-CHIP project over the past twelve months. I must also thank the Marie Curie Global Fellowship (Horizon 2020) and Enterprise Ireland for their support in the development of the proof-of-concept device."
ERC President Professor Maria Leptin said: "It is part of our mission to give early-career talent the independence to pursue ambitious curiosity-driven research that can shape our future. In this latest round of Starting Grants, we saw one of the highest shares of female grantees to date, which I hope will continue to rise. Congratulations to all winners and good luck on your path to discovery."
The ERC 2023 Starting Grants will provide €628 million under the Horizon Europe programme to 400 researchers across Europe.
UCD Vice-President for Research, Innovation and Impact, Professor Helen Roche said: "We congratulate Dr Fiona Freeman and Dr Jennifer Keating on each being awarded a coveted ERC Starting Grant. UCD is eager to support academic career development and pioneering pursuits at every career stage, especially for researchers at an earlier stage of their careers. These groundbreaking projects spanning history and bioengineering will contribute significantly to the Awardees' respective fields and we are excited to follow their progress."