Maeve Boland elected Fellow of the Geological Society of America
Maeve Boland elected Fellow of the Geological Society of America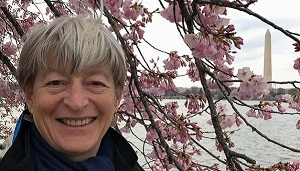 Maeve Boland, a Senior Geoscience and Policy Specialist co-funded by UCD and Geological Survey Ireland, has been elected a Fellow of the Geological Society of America. GSA Fellowship recognises a sustained record of distinguished contributions to the geosciences and GSA. Before joining the School of Earth Sciences, Maeve was Director of Geoscience Policy at the American Geosciences Institute in Washington, DC. She also served as a AAAS Science and Technology Policy Fellow in the U.S. Senate and at the U.S. Geological Survey.
Her citation for Fellowship states, "Maeve has had wide-ranging impact, from geoscience organisations to the U.S. government. She has provided guidance within and across these groups, and used her platforms to promote awareness of policy issues within the broader geoscience community, as well as helping shape our evolving conversation about ethical behavior."
In her current role, Maeve collaborates with the School, GSI, and iCRAG on strengthening the role of the geosciences in Irish policy making. She also promotes Ireland's international profile, including co-organising the recent UNESCO Lecture Series on Earth Materials for a Thriving and Sustainable Society.