New faculty – four Ad Astra Fellows
Welcome to our new faculty – four Ad Astra Fellows
Over 2020, the School of Earth Sciences has welcomed four Ad Astra Fellows to the faculty. Let's learn about the expertise they are bringing to University College Dublin!
Dr Weimu Xu

Weimu Xu is an Ad Astra Fellow with a specific research and teaching interest in paleoclimatology, carbon cycling and climate change mitigation. She received a Marie Skłodowska-Curie Individual Fellowship award (funded by the European Commission) whilst at Trinity College Dublin, working on Paleocene greenhouse climate and the effect of basalt weathering on carbon sequestration. Prior to that, she was an iCRAG (SFI Irish Centre for Research in Applied Geosciences) postdoctoral researcher at TCD, exploring a novel negative carbon emission technology using enhanced plant mediated silicate weathering. Before moving to Ireland, she was a NERC (Natural Environment Research Council) Knowledge Exchange Fellow at the UK Government's Department for Business, Energy and Industrial Strategy (BEIS), where she advised policy makers on evidence-based policy making in energy and climate science. Previously, she worked as a geophysicist in Shell China on hydrocarbon exploration projects. For her PhD at the Department of Earth Sciences, University of Oxford, funded by Shell International, she applied sedimentary and geochemical proxies to understand the fundamental processes leading to hydrocarbon source rock formation during major environmental/climatic change events in the geological past.
Dr Koen Torremans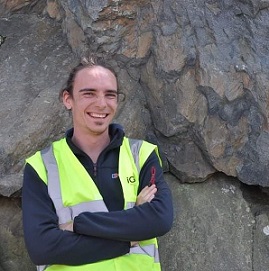 Ad Astra Fellow Koen Torremans is a structural geologist. He specialises in mineral deposits and understanding fluid flow in the deep crust. He currently works on projects that look at structural and stratigraphic controls on mineral deposits in Ireland, the Central African Copperbelt in Zambia, and the Gariep Belt in Namibia. He also carries out interdisciplinary research to better understand how fluids are involved in the deformation of rocks in the middle and upper crust, through the study of vein systems and alteration. Koen did a PhD at KU Leuven in Belgium, and recently finished a Marie Skłodowska-Curie Fellowship and an SFI Industry Fellowship at UCD. He has a keen interest in public engagement and public perception of geoscience issues. When not looking at rocks, Koen enjoys peering at wildlife through his binoculars, and hiking.
Dr Aline Melo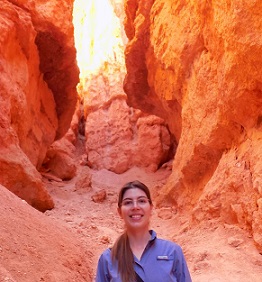 Ad Astra Fellow Aline Melo is a geologist and geophysicist passionate about closing the gap between geophysical tools and geological challenges. Her main research focus is on integrated quantitative interpretation of multi-physics data for unveiling geology at depth by using inverse theory and artificial intelligence. She has experience on 3D modeling and interpretation of magnetic, gravity, electrical, and electromagnetic methods for mineral exploration and geological mapping. Before joining UCD she was an assistant professor of geophysics at Universidade Federal de Minas Gerais (UFMG) in Brazil and has worked as a geophysicist in the mineral exploration team of the mining company Vale S.A. Aline completed a PhD in geophysics at Colorado School of Mines (United States) where she received the Mendenhall Prize for Outstanding Graduating PhD Students from the Geophysics Department. She also received the award of Best Paper presented by a student in the Mining and Geothermal sessions at the 2015 Society of Exploration Geophysicists (SEG) annual meeting. She is a co-founder of the Brazilian Association of Women in Geosciences (ABMGeo) and believes in the power of sharing experiences to promote equality, diversity, and inclusion. Aline is the mother of Clara, loves hiking, and reading about astronomy and psychology.
Dr Claire Harnett
Claire Harnett is an Ad Astra Fellow who previously completed her PhD at the University of Leeds (UK). Her main research focus is establishing the physical and geomechanical properties of volcanic rock, and using these to create more realistic models of volcanic environments that are prone to instability, e.g. lava dome collapse, caldera formation. She is particularly interested in combining engineering geology with volcanology to find new ways of looking at large-scale volcanic collapse, and is setting up a rock deformation laboratory at University College Dublin. Claire is passionate about science communication, and creating an inclusive and exciting teaching environment.