Next Generations Explorers Award
UCD team wins Next Generations Explorers Innovation Award
Back in January we were happy to announce that the UCD team was selected as one of the finalists in the Next Generations Explorers Award. This is an international competition where teams of students collaborate and innovate to transform different geoscience data sets into an interpretation of subsurface geology and define prospective targets.
Now we are happy to announce that they won the Innovation Award!
The students in the "GetAI" (Geology Exploration Team in America and Ireland) team are:
Rob Watson (UCD and iCRAG)
Prithwijit Chakraborti (UCD)
Halleluya Ekandjo (UCD and iCRAG)
Xiaolong Wei (University of Houston)
Caleb Chappel (Colorado School of Mines)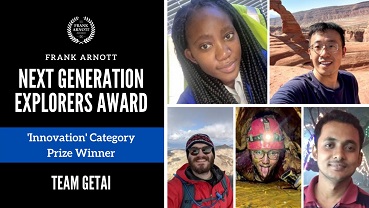 Mentors:
Aline Melo (UCD and iCRAG)
Koen Torremans (UCD and iCRAG)
Jiajia Sun (University of Houston)
Sean Johnson (Boliden)
The students did a great job near Abbeytown mine focusing on data-driven prospecting for Irish-type deposits and the work was presented in the PDAC conference. They will take home CAD$3,000 as part of their award.
Congratulations to the team!