Study at UCD Next Summer
For more and more students, a Summer Programme abroad is an invaluable part of their education, exposing them to a new culture, new ideas, new experiences – and a new outlook on life. At UCD, we fully appreciate the importance of studying abroad, and understand its role in creating better students and better people.
For colleges intent on taking their students to overseas universities during summer, the primary concern is to select a country – and a city – that offers maximum exposure to a different way of life, but in a safe, nurturing and secure environment, with excellent student housing for both study abroad and intern groups.
Near city, countryside, and coast
University College Dublin is Ireland's largest and most international university, perfect for study abroad tours. UCD is located on a modern campus in the heart of a leafy, residential area on Dublin's southside. It offers world-class academic, residential and sporting facilities, and is within easy reach of Dublin's city centre (5km), picturesque coastline and the magnificent Irish countryside, along with a host of cultural and visitor attractions.
Housing
Every guest sharing student housing at UCD enjoys their own bedroom, giving them maximum comfort and privacy. Our summer student accommodation comprises comfortable 4-bedroom and 6-bedroom suites – with free WiFi throughout. Security is an important part of our offering, with round-the-clock monitoring by an in-house team of experts. Dublin, too, is a very safe city by international standards.
Our Programmes
We offer a range of for-credit Summer Programmes to undergraduate students, a taster programme for high school students as well as bespoke Faculty-led Study Tours.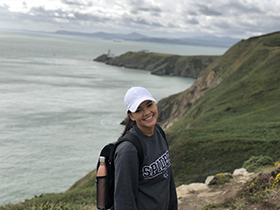 My decision to study at UCD in Ireland was one of the best choices I have made during my college career! I met so many lovely students—both international and Irish—and learned a lot about Irish history and culture. My time in Ireland was an unforgettable experience, one that I will cherish forever.
Sydney Collins, USA, UCD Summer Programme
Summer at UCD
Summer at UCD
Summer Programmes Webinar
UCD Global hosts a webinar in November to showcase our Summer Programmes. This webinar will provide partners and students with further details including: academic content, programme highlights, cultural and social activities, and much more. If you would like to receive an invitation to upcoming webinars, please email studyabroad@ucd.ie.