Study at UCD Next Summer
For more and more students, a Summer Programme abroad is an invaluable part of their education, exposing them to a new culture, new ideas, new experiences – and a new outlook on life. At UCD, we fully appreciate the importance of studying abroad, and understand its role in igniting cultural curiosity and creating better people. UCD is very well equipped in this regard. It is located on a modern campus in the heart of a leafy residential area on Dublin's Southside close to the city centre.

We offer a broad range of for-credit summer programmes to undergraduate students, a taster programme for high school students and bespoke programmes for visiting Universities and Faculty.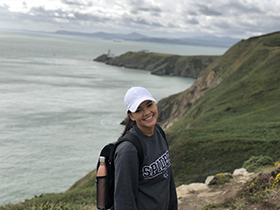 My decision to study at UCD in Ireland was one of the best choices I have made during my college career! I met so many lovely students—both international and Irish—and learned a lot about Irish history and culture. My time in Ireland was an unforgettable experience, one that I will cherish forever.
Sydney Collins, USA, UCD Summer Programme
Summer at UCD
Summer at UCD