UDL Ripple Effect - Faculty Partners
UCD is embracing Universal Design for Learning faster and more emphatically than ever. During this academic year 2021-22, 132 colleagues in UCD have been awarded the Digital Badge in Universal Design for Learning (so far)! This brings the total number of colleagues in UCD with the Digital Badge in UDL to 235 with at least one local roll out still ongoing.
These colleagues were awarded the digital badge in one of three ways:
UCD Teaching & Learning Designing Curricula module, part of the professional development programmes in University Teaching & Learning. UCD Teaching & Learning facilitated the inclusion of the Digital Badge in this module in 2018 - the first Teaching & Learning programme in Ireland to include the badge in this way. In total 68 Faculty in UCD have been awarded the badge for completing it as part of this module.
National Roll out jointly coordinated by UCD and AHEAD. UCD and AHEAD codeveloped the national badge and have jointly offered national roll outs since 2018. In 2020 these national roll outs expanded to offer hundreds of participants the opportunity to complete the badge in each roll out. Now over 1400 digital badges have been awarded nationally through these MOOC style offerings. In UCD 89 colleagues have been awarded the badge through a national roll out. These roll outs are made possible by the local facilitator roles carried out by colleagues across the country, including here in UCD.
Local roll outs in UCD. UCD Access & Lifelong Learning has offered local roll outs of the digital badge since its launch but we have seen the numbers on these local roll outs expand significantly since our University for All Faculty Partners began working on UDL implementation in June 2021. 78 colleagues in UCD have been awarded the digital badge as part of a local roll out.
Since the launch of the Faculty Partnership programme, a collaboration between UCD Access & Lifelong Learning, UCD Teaching & Learning and UCD Equality, Diversity & Inclusion, the take up has increased far beyond what we hoped to achieve with the programme in such a short period of time.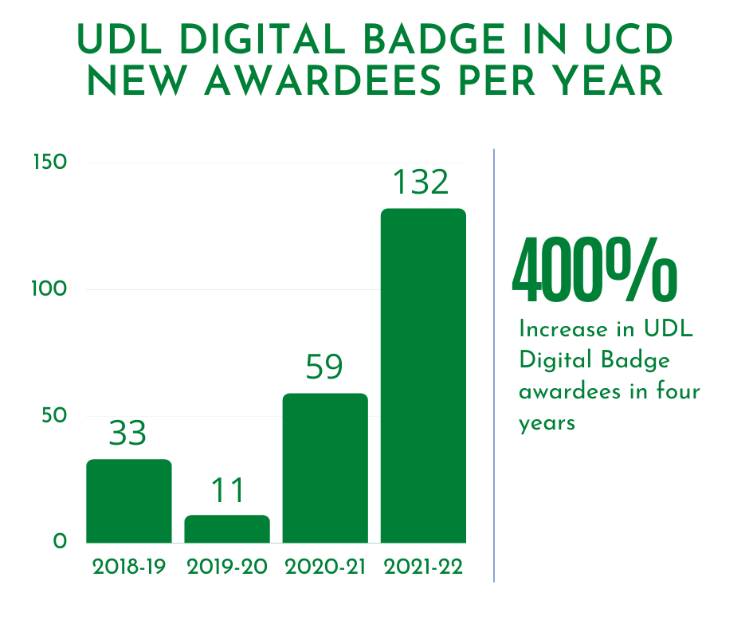 Faculty Partners worked hard to recruit their colleagues across all disciplines in UCD to participate in the national roll out in the Autumn trimester. Many of our Faculty Partners then set out to do their own local roll outs of the badge in the Spring trimester. This choice of times to engage has proven to be very successful with the national roll out raising awareness of the badge and the local roll outs then offering opportunities to those who missed out in Autumn.
UCD Faculty Partner UDL Local roll outs Spring 2021-22
UCD Collge of Arts & Humanities, facilitated by Associate Professor Naomi McAreavy

UCD College of Social Sciences & Law and UCD College of Science, facilitated by Dr Kevin Costello, Dr Anthony Cronin, Dr Muireann Ni Raghallaigh and Dr Ernesto Vasquez del Aguila.

UCD School of Nursing, Midwifery & Health Systems and UCD School of Public Health, Physiotherapy and Sports Science, facilitated by Dr Freda Browne, Associate Professor Caitriona Cunningham, Dr John Gilmore and Dr Phil Halligan.

UCD School of Medicine and UCD School of Veterinary Medicine, facilitated by Dr Tom Flanagan and Professor Deirdre Campion.

UCD School of Civil Engineering and UCD School of Architecture, Planning and Environmental Policy, facilitated by Dr Jennifer Keenahan and Alice Clancy.
What's next?
Another national roll out of the badge will take place this Autumn, beginning in October 2022. Many of our Faculty Partners will be acting as Peer Group Facilitators here in UCD and we would encourage you to start or continue your UDL journey by taking part. We are hosting an online information session for all those interested in learning more about the badge on Monday the 30th of May 2-3pm. We hope to see you there!