Agile announces three new training opportunities
Monday, 5 November, 2018
05 November 2018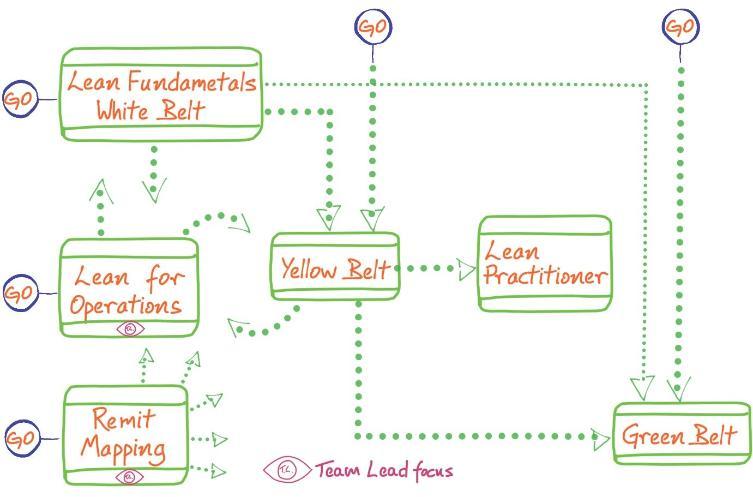 ‌
UCD Agile are pleased to announce that we are offering three new training opportunities. Limited places are also still available on our next Yellow Belt Training
Lean Practitioner Certification is designed for people who have already completed our Yellow Belt training. It is a certificate of achievement for your Lean tools. The goal is to encourage everyone to make the most out of their training, to stay in contact with us here at Agile, and to get recognition for the good work you've been doing.
Places for the first session on the 20 November are now open on the Booking Centre
Click here for more detalied information
Remit Mapping is a new way to explore and map out the 'now' of a team, helping team leads build their operations map before they look at the changes they might make. Without knowing where a team is, you can't understand the best place for it to go, and so our initial two-hour session on the 30 November 10am-12pm is designed to help you do just that. To book your place on this, please email Lesley at lesley.martin@ucd.ie directly.
Click here for more detalied information
Lean Operations is training for Team Leads – showing that Lean tools aren't just for projects, they're for the day job as well. We have set up a pilot for this new training with Registry, Library and HR on 15 November, and hope to roll it out to other teams in the coming months.
Click here for more detalied information
A reminder that we still have some spaces left on our Yellow Belt training on the 27 and 28 November. Attendees will then be invited to complete the Lean Practitioner Certification
Click here for more detalied information on Yellow Belt training
Questions about our training are always welcome, so feel free contact us with any queries you might have.