Dr. Paul Cuffe wins First Prize in Engineering Mobility Design Competition
Friday, 23 March, 2018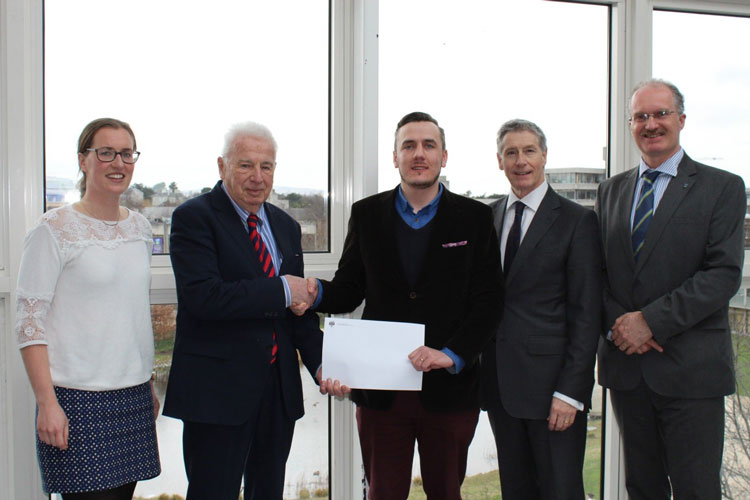 Dr. Paul Cuffe of the School of Electronic and Electrical Engineering receiving first prize in the UCD Engineering Mobility Design competition for his submission.
Also pictured (L-R) Dr. Aisling Ni Annaidh, Prof. John Kelly, Prof. Douglas Veale and Prof. David Fitzpatrick.
Dr. Paul Cuffe's design, 'Alley Cat', seeks to develop a transformative technology for people with impaired gait velocity while being safe and cost competitive.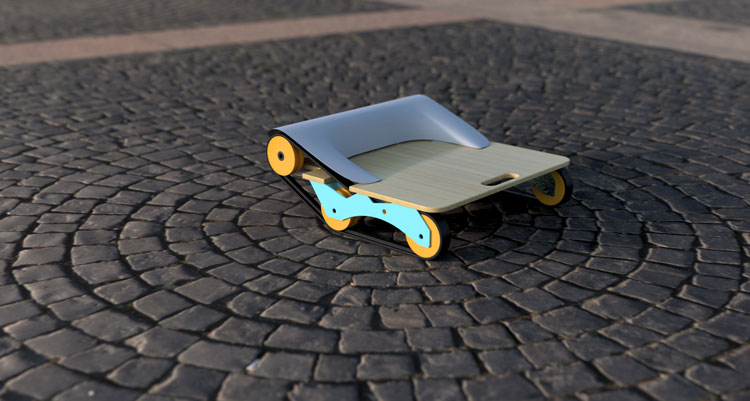 A rendering of the AlleyCat design
Paul says of his design "The AlleyCat is a portable personal transporter myself and my brother Milo designed as our entry into the UCD Mobility Design Competition. It's an electrically-powered skateboard that uses tracks instead of wheels, to give a stable ride in all terrains, with some clever algorithms in the mix to keep the steering smooth. The AlleyCat hybridises the best features of electric skateboards and unicycles so it can handle uneven ground while providing stability even at low speeds. It will be small and light enough to fit it in a backpack, but will have a top speed of 30 km/hr and a range of 20 km.
I commute using an electric unicycle myself, and I passionately believe in portable electrical vehicles: they can easily be brought along on the bus or train, and they handily kill off an awkward last-mile trudge to the office. These devices can tangibly enhance public transport and weaken car dependence, and we want the AlleyCat to be part of this transformation. At the moment I'm working with an external business partner and we're actively seeking seed funding so we can develop a prototype and bring this device to market in the medium-term."
UCD College of Engineering and Architecture
Room 122 & Room 126, UCD Engineering and Materials Science Centre, University College Dublin, Belfield, Dublin 4, Ireland T:
+353 1 716 1868
| E:
eng.arch@ucd.ie