Inspiring wind energy and wilderness projects win 2018 Sustainability and Energy LaunchPad Awards
Wednesday, 12 December, 2018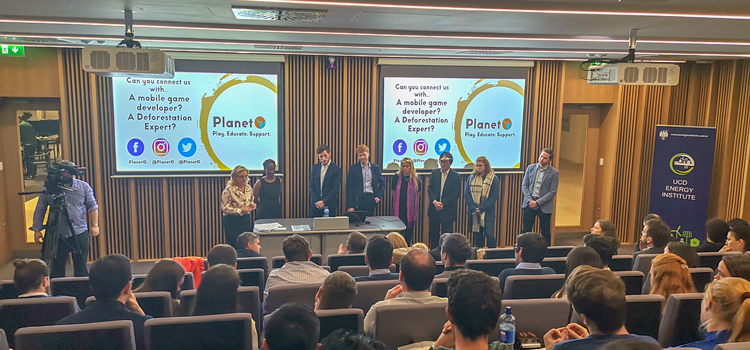 Dublin, Ireland, 4 December 2018, Viridians, mediating wind energy developments in rural Irish communities, and Planet 0, a high-impact app that brings home the climate change impact of deforestation have been named joint first-place winners of the Sustainability and Energy LaunchPad Award 2018, announced this week at UCD.
Both teams, comprised of UCD engineering students in collaboration with industry partners, successfully pitched their business concepts to the LaunchPad judging panel. From the shortlist of 7 finalists, the panel singled out the two winning projects as the great examples of business models with both economic viability and clear social and environmental impacts.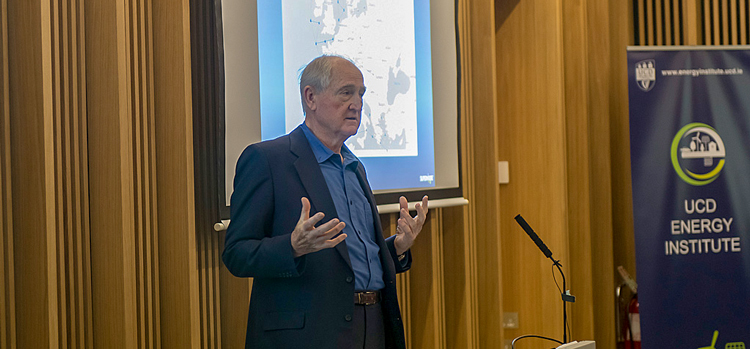 Now in its fifth year, the Sustainability and Energy LaunchPad is led by UpThink Innovation Agency in partnership with the UCD Energy Institute and UCD School of Electrical & Electronic Engineering. The program is open to fourth-year and Master's engineering students who work alongside the industry partners which this year included Mainstream Renewables, IWEA, GridBeyond and Evocco through Social Entrepreneurs Ireland. Supernodes, a team proposed by Mainstream Renewables Chairman Dr. Eddie O'Connor also took part in the launchpad led by Rob O'Connor. Eddie delivered a keynote address during the awards, commending the participants for their commitment to becoming agents of change.
"You have to think your way out in the future in business, because it's really competitive," said Eddie O'Connor. "The only way you can do this is by having the very best students and postgrads working with you, motivating them, keeping them interested and giving them a sense of purpose."
Dr. Andrew Keane, Head of Energy Institute said, "The depth of talent coming through from our Engineering teams is impressive, as is their commitment to taking on the big challenges that face society. The collaboration between our UCD teams and industry partners makes this a unique programme."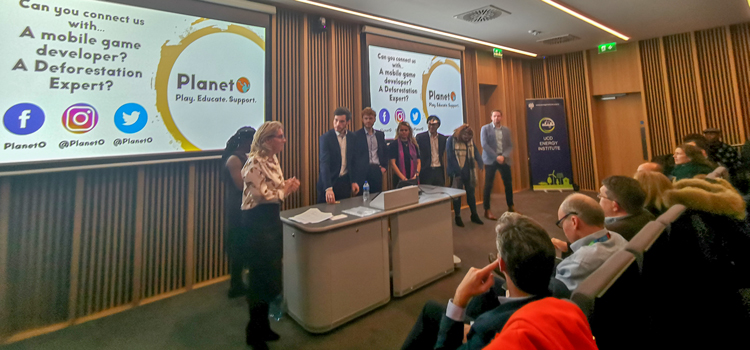 Launching ideas that lead to change
UpThink leads the intensive 12-week launchpad process, guiding participants as they examine a problem, create a business concept, test its durability, scalability, strengths and weaknesses, and above all, think hard about whether the problem they're trying to solve is big enough to sustain a business.
"This course showed us the spontaneity that comes with being a real-life entrepreneur in a world that is very fast paced," said Naomi Akinyede, spokesperson for the Planet 0 team, following their win. "Being able to adapt very quickly is crucial, as there are no right answers and there is no such thing as failure. What matters is all the learning that comes with the overall experience."
The judges were especially taken with the emotive gaming app that Planet 0 developed, giving the user hands-on experience of being responsible for the deaths of orangutans as forests are cleared. The app is part of the team's proposal to raise awareness and inspire both the public and policymakers to work for change.
Eimear Murphy of IWEA, the team that led the Viridios project to promote community investment in on-shore wind generation schemes, agreed that the launchpad was a transformative experience: "The module allows you to apply your learning into a real-life project and seeing how much participants and the teams transformed over the 12 weeks was very fascinating".
Mary Cronin, founder of UpThink and leader of the workshops that culminated in the live pitching event, said the 2018 launchpad is proof that Ireland has the ideas and the talent to be tapped into -- both at university and industry level -- to find workable solutions to critical environmental challenges.
"Most importantly, the program shows what's possible when young talents work in collaboration with domain experts -- because it's only through this kind of co-creation that workable ideas will come to fruition and make a difference," Mary said. "Individuals working in silos will achieve very little. We're working to demonstrate to Government, both at Irish and European level, how UpThink's model of rapid, intensive business concept development can bring sustainability and energy solutions to market that are not just feasible, but that are also deeply collaborative. "
"From industry's perspective, being able to engage with young people about how to approach problems with a fresh look is just critical," said Dr. Conor Hanley, CEO Fire1Foundry. "That collaboration across industry and academia really is how Ireland is going to drive new industries."
About the finalists
The full shortlist of LaunchPad projects was:
Mainstream Renewables - Supernode - an innovative concept proposed by the renewable energy giant Mainstream Renewable Power. Supernode concerns itself with how we might to deliver wind and solar energy globally from source locations to load centres, in an economical and efficient way.
Viridios from IWEA – IWEA strives to empower local communities by investing in onshore wind. The team has dissected several models to promote wind energy developments in a way that is beneficial to rural Irish communities.
GridBeyond – Grid Beyond presents an opportunity for smart trading, energy optimisation, and predictive maintenance within the energy sector
Evocco – Aligning environmental/ethical beliefs with how we shop. The team have developed a user-oriented system by which to empower ethical purchases.
Planet 0 - an initiative to address the critical lack of awareness around a devastating and imminent catastrophe: the use of palm oils and the diminishing populations of orangutans.
Catalyst1 - Validating the need for a brokerage to match and commercialise IP from academics and research centres with investors and partners in the Sustainability and Energy sectors.
KidMedTech – KidMedTech is home to a team of biomedical students. The project aims to address the lack of child-suitable biomedical devices in the market and reduce the lengthy and costly duration of clinical trial periods.
Contacts:
For further information contact for further information on UCD Energy Institute contact Dr. Andrew Keane e: andrew.keane@ucd.ie, t: +353 1 7161856
For further information on UpThink and The Sustainability LaunchPad contact Mary Cronin, e: mary.cronin@upthink.works, t: +353 86 2073841
---
Editors Notes
Founded in 2013, the Sustainability and Energy LaunchPad Awards recognise and showcase collaborative business models that embody the spirit of sustainability and displays innovation in the convergence of social, environmental and economic awareness and entrepreneurship.
The Energy Institute delivers world-class energy research and makes a significant contribution to the optimisation, integration and deployment of low carbon energy including closing the research to industrial deployment gap; influencing energy policy implementation at Irish and EU level; impacting constructively on economic growth; developing a talent pipeline and graduate training for the Irish energy sector.
UpThink Innovation Agency, founder of the Sustainability LaunchPad, works in partnership with large enterprises, academic institutions and global brands to help them embrace change and develop new, scalable business models. Headquartered in Dublin, UpThink is the named innovation partner to the $100,000 global Cartier Women's Initiative Awards and designs and delivers the intensive development programs that have helped the Awards launch some of the world's most promising entrepreneurs.
UCD College of Engineering and Architecture
Room 122 & Room 126, UCD Engineering and Materials Science Centre, University College Dublin, Belfield, Dublin 4, Ireland T:
+353 1 716 1868
| E:
eng.arch@ucd.ie