RIBA names Farrell and McNamara firm as 2020 Royal Gold Medal winner
Thursday, 3 October, 2019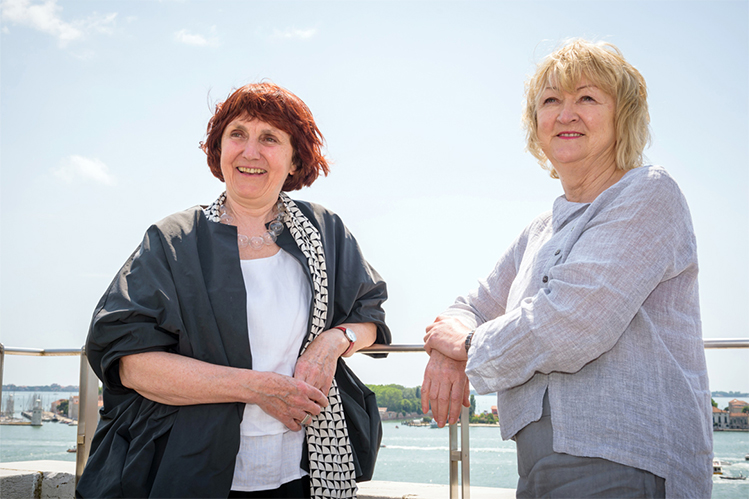 Yvonne Farrell and Shelley McNamara, who head up Grafton Architects. Image Courtesy of La Biennale di Venezia
Architectural firm Grafton Architects headed by UCD graduates Yvonne Farrell and Shelley McNamara has won the 2020 RIBA Royal Gold Medal, the UK's highest honour for architecture.
The renowned Irish architects are the only female partnership to have won the prestigious award in its 171-year-history.
Approved personally by the Queen of the United Kingdom, the Royal Gold Medal awarded to those recognised for having had a significant impact on advancing architecture.
Ms Farrell and Ms McNamara are both University College Dublin graduates and former faculty and adjunct professors at the UCD School of Architecture.
"[The] scale and scope of Grafton Architects' influence is extraordinary," said RIBA president Alan Jones. "Their extensive talent and generosity of spirit are an inspiration, not only to me and my fellow architects but to all those who have had the pleasure of engaging directly with them and their work."
"Grafton Architects are impressive role models. Their work, philosophy and ambition are of profound importance, not just in their home country and the UK but across the globe.
"They show us all how architecture, practised humbly and humanely, can make the world a better place," he added.
Responding to the news, the pair said: "For us, architecture is an optimistic profession, with the opportunity to anticipate future realities. It is of the highest cultural importance because it is the built enclosure of human lives. It translates people's needs and dreams into built form, into the silent language of space.
Universidad de Ingenieria y Tecnologia by Grafton Architects, which won the first RIBA International Award Photograph by Iwan Baan
"We share this honour with all our clients, design teams, contractors and colleagues – past and current – working together, we translate ideas into reality."
The RIBA said Dublin-based Grafton Architects had been nominated by a "roll call of significant names from the worlds of academia, arts and architecture, major clients and renowned architects".
Among the practice's noted works are University of Limerick Medical School, which was shortlisted for the RIBA Stirling Prize in 2013, and the new 'vertical campus' building for Lima's specialist engineering university (UTEC) in Peru which scooped the inaugural RIBA International Prize in 2016.
In 2008 the practice won a RIAI Gold Medal, Ireland's top accolade for architecture, and the World Building of the Year award for their design for the Universita Luigi Bocconi in Milan.
And, in 2012, their practice was awarded the Silver Lion for most promising practice at the Venice Architecure Biennale.
The pair were welcomed back to the 124-year-old exhibition as curators in 2018.
This is the second time that architecture graduates from UCD have won a RIBA Royal Gold Medal.
In 2015, Irish architects Sheila O'Donnell and John Tuomey, who were also adjunct professors at the UCD School of Architecture at the time, received the honour.
The Royal Gold Medal will be presented to Grafton Architects at a special ceremony in early 2020.
By: David Kearns, Digital Journalist / Media Officer, UCD University Relations
UCD College of Engineering and Architecture
Room 122 & Room 126, UCD Engineering and Materials Science Centre, University College Dublin, Belfield, Dublin 4, Ireland T:
+353 1 716 1868
| E:
eng.arch@ucd.ie