UCD leading €2.1m Horizon 2020 project to tackle climate change impact on food safety
Thursday, 4 July, 2019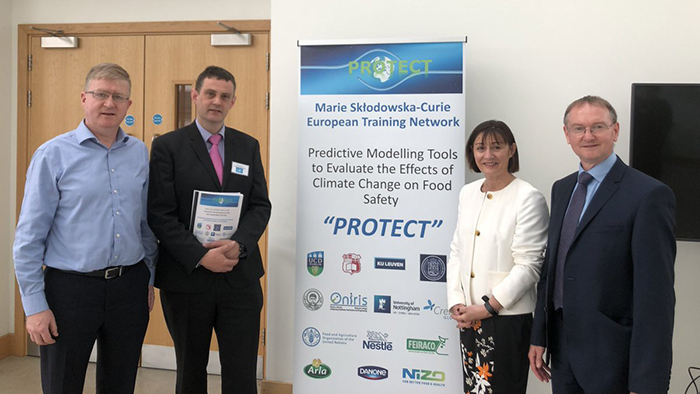 Professor Colm O'Donnell, UCD School of Biosystems and Food Engineering, PROTECT lead Professor Enda Cummins, UCD School of Biosystems and Food Engineering, Professor Dolores O'Riordan, UCD Institute of Food & Health Director & Vice-President For Global Engagement, and Dr Wayne Anderson, Director of Food Science & Standards, Food Safety Authority of Ireland
University College Dublin is to lead a new €2.1 million Horizon 2020 programme aimed at training researchers to better evaluate the effects of climate change on food safety.
Professor Enda Cummins, of the UCD School of Biosystems and Food Engineering, is the Principal Investigator of the PROTECT Training Network.
Funded by the EU's Marie Sklodowska-Curie Actions, PROTECT is designed to share best practice and teach early career researchers a range of predictive modelling tools to study the impact of climate change on food safety.
"As the population around the world continues to rise, coupled with the significant uncertainty of the effects of climate change, there is upward pressure already on vulnerable food supplies," said Professor Cummins.
"Factors such as temperature increase, variation in precipitation, and consequently production practices, will result in increased vulnerability in Europe to established foodborne hazards.
"Potentially resulting in a microbial evolution stress response and new pathogen emergence."
Speaking at the inaugural meeting of PROJECT, EU Commissioner for Agriculture and Rural Development Phil Hogan said the project promised "to be very relevant for the future of European food security and the sustainability of the Agri-food sector".
"The awarding of over €2.1 million euro in H020 funding is evidence of the potential that we see, in the European Commission, in [PROJECT]… and it is evidence of University College Dublin's standing as a global leader in research in this field," he added.
PROTECT Project Launch, UCD 23-24 May 2019 pic.twitter.com/S4ZrHpRmqh

— PROTECT-ITN (@PROTECT_ITN) June 24, 2019
The PROTECT Training Network will provide "sound scientifically based knowledge" for management options on new and emerging food safety threats due to climate change, Professor Cummins said.
"Tools will focus on the change in chemical levels and microbial populations in relation to the food industry and assess how levels will change under climate change pressures.
"The skills and knowledge gained through the network will be a critically important step towards better management of future food supplies," he added.
The PROTECT network brings together multidisciplinary expertise from 11 European Countries, which includes seven academic and six industrial partners.
The Food and Agriculture Organisation of the United Nations is also a member of the consortium.
This specialised agency is tasked with leading international efforts to combat food insecurity.
By: David Kearns, Digital Journalist / Media Officer, UCD University Relations
UCD College of Engineering and Architecture
Room 122 & Room 126, UCD Engineering and Materials Science Centre, University College Dublin, Belfield, Dublin 4, Ireland T:
+353 1 716 1868
| E:
eng.arch@ucd.ie