Takeda Dunboyne Biologics Scholarship Paves career path for UCD Biopharma Engineering Students
Monday, 9 December, 2019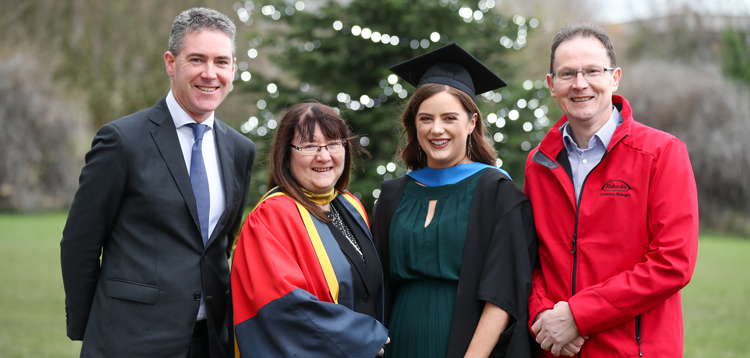 Takeda Dunboyne Biologics ("Takeda"), part of the global biopharmaceutical leader in rare diseases, today launches the second year of its partnership with the Masters (MEngSC) in Biopharmaceutical Engineering in University College Dublin, strengthening links between third level universities and the biopharmaceutical industry for those seeking a career in Life Sciences & STEM.
As part of this partnership, Takeda Dunboyne Biologics will award a scholarship to the top performing student. Separately, there is also a prize funded by Dunboyne Biologics for the 'Best Bioprocess Engineering Design Project', submitted by a team of students. Ailish Gillespie, now employed with Takeda, received the top award for 2019.
Partnerships like this one demonstrate the importance of STEM graduates to the biopharmaceutical industry. At Takeda Dunboyne Biologics we believe in lifelong learning where graduates who embark on their career with us will encounter a culture based on continuous learning and development. There is a wide portfolio of programmes available to employees to undertake in order to enhance their development and shape their career path. This is referred to internally as the "Dunboyne University".
Susan Hynes, Site Lead for Takeda Dunboyne Biologics, said: "Takeda is committed to STEM and is passionate about encouraging students to choose a career with purpose in the biopharmaceutical industry. We are proud to have Ailish on our team and we congratulate her on what she has achieved. Strengthening linkages with third level universities is key for us as we build and maintain a team that will champion the fight against rare diseases. We welcome opportunities to share our passion and support for STEM and to demonstrate the importance of Life Sciences for the future".
Ailish Gillespie, Manufacturing BioTech Associate for Takeda Dunboyne said: "I am delighted to have been awarded this prestigious scholarship. It is a great initiative and I'm grateful to Takeda Dunboyne Biologics for the support they have given me during my time in UCD. This has carried through to my role within the Dunboyne team, where I felt enabled to make a valued contribution. Partnerships like this will be of great benefit to future students who are hoping to give their careers a strong foundation in the biopharmaceutical industry."
Dr. Susan McDonnell, UCD School of Chemical & Bioprocess Engineering, commented: "Takeda's major expansion in Dunboyne is a confidence statement in its commitment to Ireland and in their ability to source the best talent for their operations. Everybody wins when employers take a pro-active approach to ensuring that graduates can transition from the campus environment to the workplace and begin their career in a supportive environment."
The MEngSC Biopharmaceutical Engineering programme provides intensive training in the requisite skills for a professional engineer or scientist in the biopharmaceutical sector. The course content addresses the principal scientific and engineering challenges involved in the design, operation and management of biopharmaceutical production facilities, important skills for Takeda as the Company tackles rare diseases at its new state-of-the-art facility in Dunboyne, County Meath.
The programme, like Takeda, is also closely linked with the National Institute for Bioprocessing Research and Training (NIBRT), a global centre of excellence for training and research in bioprocessing, and this partnership is enhancing Takeda and UCD researchers and students in order to accelerate the innovative synergies between Biopharma and academic institutes in Ireland.
UCD College of Engineering and Architecture
Room 122 & Room 126, UCD Engineering and Materials Science Centre, University College Dublin, Belfield, Dublin 4, Ireland T:
+353 1 716 1868
| E:
eng.arch@ucd.ie