Eight UCD Schools win Athena SWAN awards for gender equality commitment
Tuesday, 15 October, 2019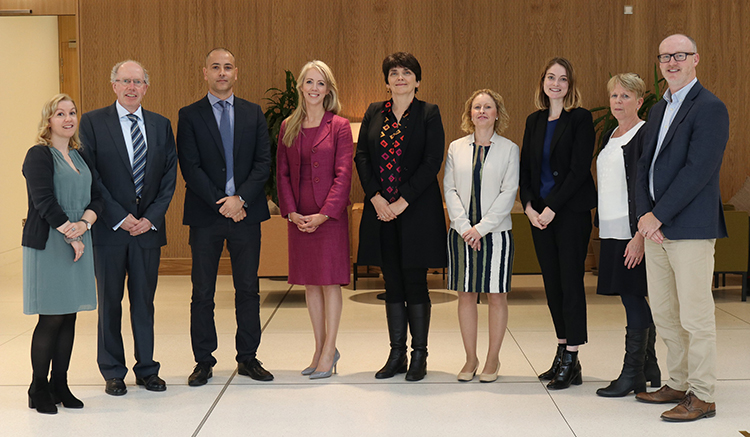 Pictured (l-r), Licia Carlesi, Senior Executive Assistant, UCD Equality, Diversity and Inclusion (EDI) Unit; Associate Professor Donal Finn, UCD College of Engineering and Architecture; Assistant Professor Simone Ciuti and Assistant Professor Antoinette Perry, UCD School of Biology and Environmental Science; Professor Orla Feely, UCD Vice-President, Research, Innovation and Impact; Marcellina Fogarty, Manager, UCD EDI Unit; Eimear O'Reilly, Project Officer, UCD EDI Unit;Associate Professor Marguerite Clyne, UCD School of Medicine and Rory Carey, Director Culture and Engagement, UCD
Eights Schools at University College Dublin have won Athena SWAN Bronze awards for their commitment to gender equality.
Recognised for their efforts on gender equality, the UCD School of Medicine, UCD School of Biology and Environmental Science, and UCD College of Engineering and Architecture, made up of six Schools, received the honour.
Athena SWAN (Scientific Women's Academic Network) is a charter aimed at encouraging the career advancement of women in STEM, and higher education and research.
Each Bronze Award celebrates good practice towards the advancement of gender equality and representation.
There are now 12 Schools at UCD which have achieved Athena SWAN awards, with a further nine Schools and one College seeking recognition.
"Diversity is one of the core values in UCD's strategy, and one of our strategic objectives is the attraction and retention of an excellent and diverse cohort of students, faculty and staff," said Professor Orla Feely, UCD Vice-President for Research, Innovation and Impact and Chair of UCD's Gender Equality Action Group.
"The Athena SWAN process is central to our ability to deliver on this objective and deliver on UCD's Equality, Diversity and Inclusion Strategy.
Three more @Athena_SWAN awards for @ucddublin: for the College of Engineering & Architecture @UCDEngArch, School of Biology & Environmental Science @UCDSBES and School of Medicine @UCDMedicine. Congrats to all involved in the College & Schools, and to the superb team in @UCD_EDI pic.twitter.com/Valeq8UeBS

— Orla Feely (@OrlaFeely) October 10, 2019
She added: "I am delighted to congratulate the Schools that have achieved this success on the basis of their commitment to delivering gender equality, encouraging greater female participation in STEM and ultimately making UCD a more inclusive place to work and study for everyone."

Building on UCD's institutional Athena SWAN Bronze Award in 2017, these awards mark the second round of UCD Schools that have received Bronze Award status.

The UCD Schools with Athena SWAN Awards:
UCD School of Agriculture and Food Science
UCD School of Veterinary Medicine
UCD School of Archaeology
UCD School of Biomolecular and Biomedical Science
UCD School of Medicine
UCD School of Biology and Environmental Science
UCD School of Architecture, Planning and Environmental Policy
UCD School of Biosystems and Food Engineering
UCD School of Chemical and Bioprocess Engineering
UCD School of Civil Engineering
UCD School of Electrical and Electronic Engineering
UCD School of Mechanical and Materials Engineering.
"The award of the Athena Swan Bronze to the College is something I am very proud of, as we are fully committed to ensure that our faculty, staff and students experience an equal, diverse and inclusive environment, here in UCD. I hope that we can build on what has been achieved so far and continue to improve, ensuring that the College is an example of best practice in the area of Equality, Diversity and Inclusion."

Professor Aoife Ahern PhD, College Principal and Dean of Engineering
These Schools encompass some 1350 faculty and staff and almost 10,000 students.
By: David Kearns, Digital Journalist / Media Officer, UCD University Relations
UCD College of Engineering and Architecture
Room 122 & Room 126, UCD Engineering and Materials Science Centre, University College Dublin, Belfield, Dublin 4, Ireland T:
+353 1 716 1868
| E:
eng.arch@ucd.ie