Making Building on Sand a Realistic Option
Making Building on Sand a Realistic Option
Monday, 21 March, 2022
---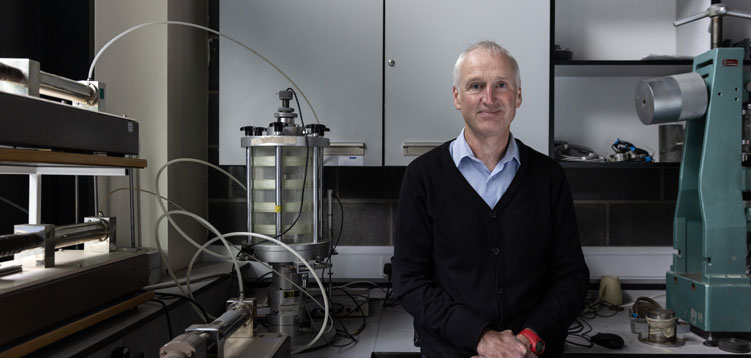 Dr Michael Long of the UCD School of Civil Engineering Photo by Ste Murray
In the Bible Saint Mathew warns of "the foolish man who built his house on sand". Dr Michael Long and his colleagues at the UCD-based, Science Foundation Irelandfunded Irish Center for Research and Applied Geoscience (iCRAG) are hoping that a project they have recently commenced will overcome such uncertainty. The project explores the potential use of a relatively new approach to ground improvement, making use of either bacteria or enzymes to accelerate the natural process of cementation between grains of sand to increase their strength and load bearing capacity.
This approach would be significantly more ecologically acceptable than current methods of ground improvement. As well as testing the technique to determine its effectiveness on local Irish soils, the researchers also intend to develop an appropriate testing regime to ensure compliance with Eurocode 7 requirements for building foundations.
"Sand is loose because the grains are not cemented together. If you leave them for long enough, 50,000 years or so, they will eventually turn into sandstone. The purpose of this project is to see if we can accelerate that cementation process by introducing a calcite, calcium carbonate, into the environment to glue the particles together."
You can read the full case study here: Making Building on Sand a Realistic Option.
UCD College of Engineering and Architecture
Room 122 & Room 126, UCD Engineering and Materials Science Centre, University College Dublin, Belfield, Dublin 4, Ireland T:
+353 1 716 1868
| E:
eng.arch@ucd.ie