UCD Engineers Among NovaUCD's 2022 Innovation Awardees
UCD Engineers Among NovaUCD's 2022 Innovation Awardees
Wednesday, 30 March, 2022
---
BioSimulytics team members (l-r) Dr Christian Burnham, Professor Niall English, Peter Doyle and Paul Kilroy-Glynn.
Dublin, Ireland, 30 March 2022, NovaUCD has today announced the recipients of its annual innovation awards which highlight successes made in areas of knowledge transfer, consultancy, entrepreneurship and the promotion of an innovation culture, by members of the UCD research, innovation and start-up community.
A total of 8 Awards were presented by Professor Barbara Dooley, Acting UCD Registrar and Deputy President during an event held in the UCD University Club.
Professor Barbara Dooley, Acting UCD Registrar and Deputy President said, "The NovaUCD Innovation Awards which have become a key annual event at UCD, were established to recognise and highlight the successes being made by members of our research, innovation and entrepreneurial communities across the University. I would like to take this opportunity to congratulate all those who have received Awards today and I wish them ongoing successes in the years ahead as they continue to deliver impact for the economy and society through their commercialisation, consultancy, entrepreneurial and innovation activities."
BioSimulytics, a UCD engineering spin-out focused on using artificial intelligence to digitise key steps in how new drug molecules are designed and developed, was named recipient of the 2022 NovaUCD Spin-out of the Year Award.
The company, whose software enables the pharma industry to advance potential molecules to approved drugs quicker and with a much greater probability of success, was founded in 2019 by Professor Niall English, Dr Christian Burnham, and Peter Doyle as a spin-out from the UCD School of Chemical and Bioprocess Engineering.
In the last year BioSimulytics secured its first commercial contract with a major pharma company in Europe and signed evaluation agreements with several other leading biopharma companies in UK, EU and US. In addition it established a partnership with Amazon for global scaling of its technology platform using AWS cloud services and secured €595k in initial seed funding from angel investors and Enterprise Ireland. The company also located to NovaUCD and has grown to a team of 6 people.
Peter Doyle, CEO and co-founder, BioSimulytics said, "It's a lovely honour to be selected for this Award amongst all of the exciting new spin-outs coming out of UCD. We're very pleased with the progress that we've made as a team and a company since we established our spin-out at the end of 2019."
"While Covid-19 has made it a very challenging time to start a new company, it's also been a great driver for our technology as biopharma companies are now accelerating their adoption of new digital platforms using AI and machine learning to revolutionise how new drugs are discovered and developed. In many ways, it's the dawn of a new era in precision medicine to tackle so many currently hard to treat diseases and we are very excited about the future growth opportunities that this is creating for BioSimulytics."
The recipient of the 2022 NovaUCD Consultancy of the Year Award is Dr Sarah Cotterill, UCD School of Civil Engineering and UCD Dooge Centre for Water Resources Research, was named recipient of the 2022 NovaUCD Consultancy of the Year Award, for a consultancy study entitled 'A Framework for Improving Domestic Water Conservation in Ireland', commissioned by An Fóram Uisce (the Water Forum) through ConsultUCD.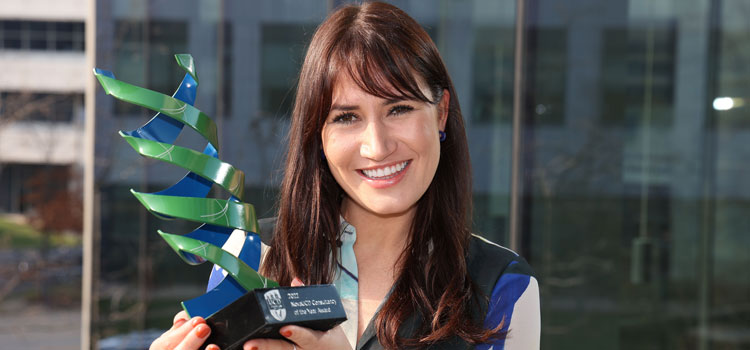 Dr Sarah Cotterill winner of the NovaUCD Consultancy of the Year Award
A key finding of the study was that almost a fifth of the energy used in Irish homes is used for heating water, and therefore a relatively small reduction in household water use (of say 20%) in all homes in Ireland, could lead to a significant reduction (hundreds of thousands of tonnes) of greenhouse gas emissions a year.
Other key findings of the study include; a reduction in domestic water use would also lead to a reduction in the volume of wastewater discharged to the sewer network, helping to mitigate existing capacity issues; domestic water use decreases when users have immediate feedback on their use, metered households use approximately 20% less than unmetered households.
Dr Sarah Cotterill said, "I am delighted to receive this Award in recognition of the work carried out for An Fóram Uisce, with support from a collaborator at the University of Exeter, Dr Peter Melville-Shreeve, and with the support of ConsultUCD."
"Ireland is perceived to be a 'wet' country but resource availability varies across the country. I hope the findings from this work can progress to the next level to bring about the behavioural, technological and regulatory change necessary to manage our most vital resource, water, more sustainably."
The recipient of the 2022 NovaUCD Licence of the Year Award is
Professor Andrew Keane, UCD School of Electrical and Electronic Engineering and Director, UCD Energy Institute, was named recipient of the 2022 NovaUCD Licence of the Year Award. Professor Keane is also a co-founder and CTO of NovoGrid, a UCD spin-out and a pioneer in Grid Edge intelligence software that optimises energy delivery.
Professor Andrew Keane winner of 2022 NovaUCD Licence of the Year Award
The patented grid edge intelligence software technology which automates and removes inefficiencies in renewable generators and electrical grid operations was developed by Professor Andrew Keane and his team at UCD and was licensed to NovoGrid in 2015.
This original licence to software, algorithms, datasets and patented technology relating to a method for controlling power distribution, has formed the basis for NovoGrid's installed customer base increasing three-fold year-on-year and its recent collaborations with a number of leading European utilities and renewable energy developers.
Other recent NovoGrid's highlights include; patents granted in Canada and China, and winner of 'Best Technology Innovation Award' at the European Wind Investment Awards.
Professor Andrew Keane said, "The licensed technology was based on several years of research from my team in the UCD School of Electrical and Electronic Engineering. It is an excellent example of how investment in basic research can deliver positive impact for the economy and wider society. The NovoGrid team have done a fantastic job further developing the technology, and with several leading European utilities and renewable energy developers as customers looks set to make an important contribution to global efforts to accelerate renewable energy deployment."
The other Awardees are;
2022 NovaUCD Innovation Award, Professor Dominic Zerulla, UCD School of Physics. Since he joined UCD in 2014 Professor Zerulla has disclosed 11 inventions to NovaUCD, 5 of which have been patented, and founded PEARlabs, a UCD spin-out company.
2022 NovaUCD Invention of the Year Award, Dr John McCallig, UCD Lochlann Quinn School of Business and the UCD Michael Smurfit Graduate Business School, whose invention is to use privacy preserving analytics to collect and share commercially sensitive information about VAT obligations and payments.
2022 NovaUCD Founder of the Year Award, Sheena Bailey and Louella Morton, co-founders, TestReach.
2022 NovaUCD Innovation Champion of the Year Award, Professor Ronan Cahill, Professor of Surgery at UCD School of Medicine and at the Mater Misericordiae University Hospital where he is championing digital innovation and innovative solutions in surgery.
2022 NovaUCD Outstanding Achievement Award, Aidan Corbett, co-founder, Wayflyer, which earlier this year became Ireland's sixth tech unicorn on securing a $150 million Series B funding round.
UCD College of Engineering and Architecture
Room 122 & Room 126, UCD Engineering and Materials Science Centre, University College Dublin, Belfield, Dublin 4, Ireland T:
+353 1 716 1868
| E:
eng.arch@ucd.ie