Unprecedented success for UCD in ERC Advanced Grant 2021 competition
Unprecedented success for UCD in ERC Advanced Grant 2021 competition
Tuesday, 26 April, 2022
---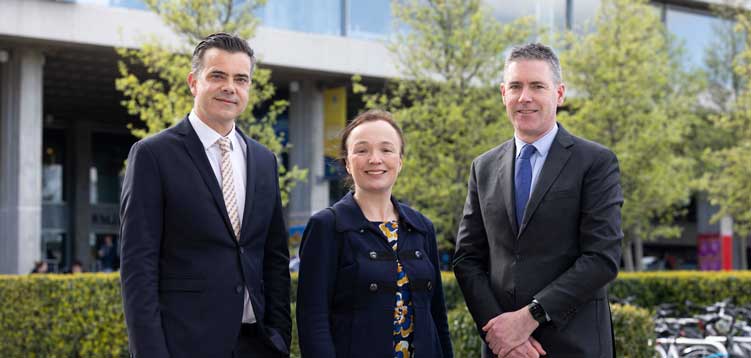 The European Research Council (ERC) has announced the recipients of its 2021 Advanced Grants competition. The funding worth €624million will go to 253 leading researchers across Europe. Their work is set to provide new insights into many subjects.
ERC Advanced Grants are awarded to support excellent, established research leaders in any field to pursue groundbreaking, high-risk research projects. UCD academics have been awarded three out of the four ERC Advanced Grants given to researchers in Ireland.
Professor Joanna Bruck, Head of UCD School of Archaeology, was awarded €2.5million for her research project 'Animals and Society in Bronze Age Europe.' Learn more >
Professor Eoin Casey, Head of UCD School of Chemical and Bioprocess Engineering, was awarded €2.5million for 'Analysis of Biofilm Solid Interactions Underpinning Wastewater Treatment.' Learn more >
Professor Robert Gerwarth, Professor of Modern History in UCD School of History, was awarded €2.5million for 'The Age of Civil Wars in Europe, 1914-1949.' Learn more >
Professor Rob Kitchin, Director of Maynooth University Social Sciences Institute, was awarded for his geography research project 'Data Stories: Producing stories about and with property and planning data.'
Commenting on the awards, UCD Vice-President for Research, Innovation and Impact Professor Orla Feely said: "We are immensely proud of the outstanding success of UCD's research leaders in this round of ERC Advanced Grant awards. These prestigious grants are a mark of excellence, awarded for groundbreaking research with far-reaching impact, to established academics who are leaders in their field.
"Congratulations to the Advanced Grant recipients Professor Joanna Bruck, Professor Eoin Casey and Professor Robert Gerwarth, and to those who worked with them to deliver this success. Their research will contribute valuable new knowledge and perspectives within their fields and deliver real benefits to the global community."
Apart from strengthening Europe's knowledge base, the new research projects will also lead to the creation of some 2,000 new jobs for post-doctoral fellows, PhD students and other research staff. The share of women among researchers awarded ERC Advanced Grants is increasing, from around 10 per cent in 2014 to more than 25 per cent in the latest competition.
UCD 2021 ERC Advanced Grant Awardees
'Animals and Society in Bronze Age Europe,' Professor Joanna Bruck
This project will create a new vision of Bronze Age ontologies by exploring the role of animals as active participants in Bronze Age social worlds. The impact of contemporary Capitalist ideology on archaeological understanding of the European Bronze Age has been profound. Dominant narratives describe a world in which economic intensification, the accumulation of wealth and the emergence of chiefly hierarchies were predicated on the objectification of the 'other'. Professor Bruck's research will critically re-evaluate models that view animals as objects of exploitation.
Drawing on work in animal studies that highlights how living with animals involves intimate interaction and interdependency, it will investigate the intertwining of human and animal identities and will consider how the social and cultural significance of animals affected how they were farmed, managed and consumed.
By examining the ontological position of animals not as passive objects but as active subjects, this project will radically reframe the theoretical basis on which wider interpretations of the Bronze Age are based, including how political authority, gender relations and economic activities were structured. By illuminating alternate modalities of power and agency, and different ways of living with non-human others, it will also contribute to current debates around issues such as sustainability in the present.
Professor Bruck said: "How to live sustainably with 'non-human others' is one of the major challenges that humans have faced both past and present. My project will explore the history of human-animal relations in Bronze Age Europe. By training a new generation of postgraduate and postdoctoral scholars to bring together archaeological and scientific data, the team's research will transform our understanding of Bronze Age animal management and breeding; animal mobility and exchange; and the role of animals in feasting and ritual. In contrast to previous approaches, the project will see animals not just as objects to be traded and consumed, but as co-participants in complex social and cultural worlds.
"I am really grateful for the fantastic support provided by UCD Research, especially Máire Coyle, as well as colleagues in my School in developing the project proposal."
Professor Joanna Bruck is an internationally renowned author and scholar in the study of Bronze Age Britain and Ireland, and a former Research Fellow of the University of Cambridge. She is a Fellow of the Society of Antiquaries of London and current Vice-President of the Prehistoric Society.
'Analysis of Biofilm Solid Interactions Underpinning Wastewater Treatment,' Professor Eoin Casey
Wastewater treatment (WWT) processes that use biofilms as their biocatalyst have been in use for over 100 years. Over the past few decades, a greater understanding has emerged on how biofilms can be exploited for enhanced nutrient removal and this knowledge has been translated into new technologies representing about one-third of all WWT processes in a multibillion-euro global wastewater technology market.
Despite the success of these technologies, there is significant need for enhanced efficiencies in these processes and the development of new technologies that are more energy efficient and are capable of better resource recovery from wastewater are needed. To achieve this, there is need for new mechanistic insight, in particular the interaction between biofilms and particulate organic matter in the influent wastewater.
The knowledge-gap spans three key areas: (i) non-oxidative interactions, (ii) hydrolysis and (iii) bioflocculation. Professor Casey's research project will develop an enhanced multispecies biofilm model that better incorporates new understating of these areas. It will go significantly beyond current state of the art by first building an experimental platform that exploits recent developments in advanced imaging, nanosensors and particle-tracking to probe the fundamentals of these mechanisms. To achieve this, the platform will be uniquely based on fluorescently tagged monospecies biofilms, rather than on conventional multispecies biofilm in a first phase of the project. This work will then inform the development of new mathematical model relationships, which will be implemented in an extended multispecies model and validated against data from a pilot plant operating with conditions representative of a real WWT plant.
The transformative approach in this project will lead to a more fundamental insight into the mechanisms underpinning particle-biofilm interactions and pave the way to new application of biofilms for advanced wastewater treatment.
Professor Casey said: "I am delighted to be awarded this ERC grant which will allow me to grow my research programme on water process engineering. The availability of safe and sufficient water supplies is closely linked to how wastewater is managed. A major challenge in the design of wastewater processes is the complexity and variability of the 'influent stream'. My ERC project will explore the fundamental interactions between the different matter in the wastewater influent and 'biofilms,' which are a key catalyst in many modern wastewater treatment processes. Ultimately, this will allow improved insight to enable the water sector to move towards net zero emissions and also to contribute to the circular economy."
Professor Eoin Casey is an international expert in biofilms and bacterial adhesion, membrane technology, bioreactor modelling and scale-up computational fluid dynamics. He is co-founder of NovaUCD spin-out OxyMem, which was acquired by DuPont. He was named Science Foundation Ireland Entrepreneur of the Year in 2018.
'The Age of Civil Wars in Europe, 1914-1949,' Professor Robert Gerwarth
In the first half of the twentieth century, Europe experienced an unparalleled number of civil wars resulting in millions of deaths. Civil war, as much as inter-state war, was a defining feature of the period for many European societies, from Ireland in the west and Russia in the east, to Finland in the north and Spain and Greece in the south.
Since the 1990s, a rich and increasingly sophisticated body of literature has emerged on individual incidents of civil war, ranging from military studies to social and cultural analyses. However, remarkably little comparative work has been undertaken on civil wars in this period. Even fewer studies have explored the connections between them – be it transfers of people, ideas, or practices – beyond their ideological tropes.
This has resulted in a tacit assumption of exceptionalism, whereby each civil war is assumed to have been unique and self-perpetuating without any serious attempt to explain how and why that might be so.
Professor Gerwarth's research challenges exceptionalist approaches to civil war. While it recognises that significant differences in causes, forms, and/or aftermaths existed between individual civil wars, it argues that those civil wars can only be fully understood as a phenomenon within a pan-European context. His project will therefore investigate the origins, courses, and legacies of several European civil wars through a fully integrated team of scholars with complementary expertise on the Russian, Finnish, Irish, Spanish and Greek cases.
This will enable comparison between these different conflicts, but it will also go beyond the nation-centric tendencies of comparative approaches to arrive at a better understanding of what made the first half of the twentieth century an era of civil wars in Europe.
Professor Gerwarth said: "The ERC Advanced Grant provides a wonderful opportunity to carry out a major comparative project on the history of civil wars in Europe's twentieth century. The project will ultimately lead to a better understanding of why that century became the most violent in human history and why civilians outnumbered soldiers among the dead in most of these conflicts.
"I am very grateful to the ERC, and for the support I have received from within UCD – notably from the School of History, the College of Arts and Humanities, and UCD Research – as well as from outside UCD. In particular, I'd like to thank the Leverhulme Trust which generously funded a Visiting Professorship at Oxford in 2021-22. During my time in the UK, I had the opportunity to advance some of my ideas through close collaboration with colleagues at Oxford, Queen's University Belfast and the University of Edinburgh. Their input and feedback has been of tremendous help."
professor Robert Gerwarth is an acclaimed German historian and author who specialises the history of German and Central European political culture in the period 1871 - 1945. He is Director of the UCD Centre for War Studies, and a Leverhulme Trust Visiting Professor at Oxford University who has also held fellowships at Princeton, Harvard and the NIOD, Amsterdam.
UCD College of Engineering and Architecture
Room 122 & Room 126, UCD Engineering and Materials Science Centre, University College Dublin, Belfield, Dublin 4, Ireland T:
+353 1 716 1868
| E:
eng.arch@ucd.ie