Welcome to University College Dublin. UCD is ranked in the top 1% of higher education institutes worldwide. UCD is the most international and diverse university in Ireland, making it one of the best universities in Ireland for international students! There are approximately 30,000 students at UCD and 30% are from outside Ireland. This is why UCD is known as Ireland's Global University.
Find out why international students from United States choose to study abroad in Ireland at UCD.
UCD is located in one of the safest and most welcoming cities in the world, Ireland's capital city of Dublin. The main campus offers state-of-the-art learning and living facilities, close to the bustling city centre and Ireland's major business hubs. Take a UCD virtual tour today!
You can also chat directly to UCD students and find out more about student life in Ireland and at UCD.
We have over 1,500 students from the USA studying at UCD, and regularly host events specially for them, including a Super Bowl party and Thanksgiving celebrations. Our North America Global Center, with representatives in New York City, Chicago, Nashville, and Seattle is here to help you with any questions you might have.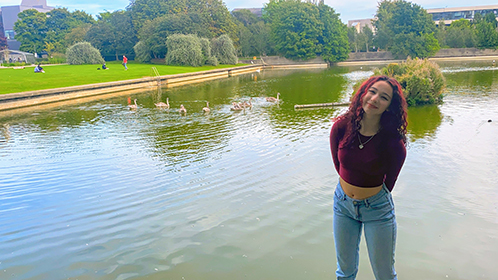 I received offers from other fantastic universities, but I ultimately chose UCD due to the robust international program, superlative sports facilities, and graduate employability rankings.
Grainne Popen, North America, Law with Social Justice
UCD Students Stephen & Phillip Bigger
USA, International Commerce & Architecture
I am so glad I was accepted to UCD, and that I chose to go here; I now have a wider friend group from around the world, access to some of the best professors in my subjects, and the ability to enjoy university life and travel to a wider degree than any university could have offered me in the United States.
Gavin, North America, BA Classics, Art History and Archaeology
Parents Perspective
Alan & Linda Bigger, USA
Why UCD is the Best University in Ireland for International Students
UCD is the most international university in Ireland and welcomes hundreds of new international students every year. Our 300,000 + alumni can be found in over 180 countries. Visit our UCD Global Alumni page and hear from UCD alumni who recently graduated from UCD and are enjoying career success all over the world!
Take the Next Step
Contact us today for more information or to apply for a place.