UCD getting ready for launch – MASER 13 rocket featured on SSW
Monday, 22 August, 2016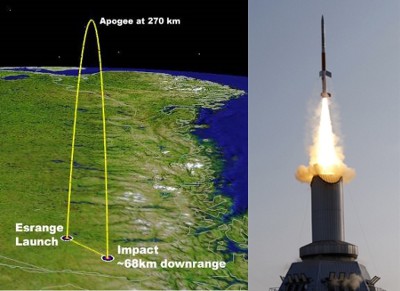 UCD is leading the XRMON experiment in the MASER sounding rocket program which aims to explore the effect – by eliminating it – of gravity on metal solidification (casting).
MASER (MAterial Science Experiment Rocket) programme was started by SSC in 1985, initially in order to increase the flight opportunities for microgravity experiments after the Challenger space shuttle catastrophe. The first launch took place in 1987, providing 7 minutes of microgravity with almost 300 km apogee, and used of a guidance system which is compulsory for such high trajectories.
Since the start twelve MASER rockets have been launched from Esrange, with 4-7 experiments per mission. The flights have provided 6-7 minutes of low microgravity levels used as a tool for scientific research in various disciplines - such as fluid science, material science and bio science. Without the presence of gravity, different behaviours of processes and substances can be studied. Moreover, experiments in non-gravity conditions often help scientists to validate their theoretical models.
Read full article here: http://sscspace.com/maser-13
UCD School of Mechanical & Materials Engineering
UCD Engineering and Materials Science Centre University College Dublin Belfield, Dublin 4, Ireland. T:
+353 1 716 1884