MMoran Futures Oct 20 and 21st
Futures Thinking: From the predictive to the productive
October 20th and 21st 2022, TCD (open to public) and UCD (invitation only)
The Equality Studies Centre (specifically Marie Moran and Karen Smith) has been centrally involved in the organisation of a large cross-institutional event on futures thinking.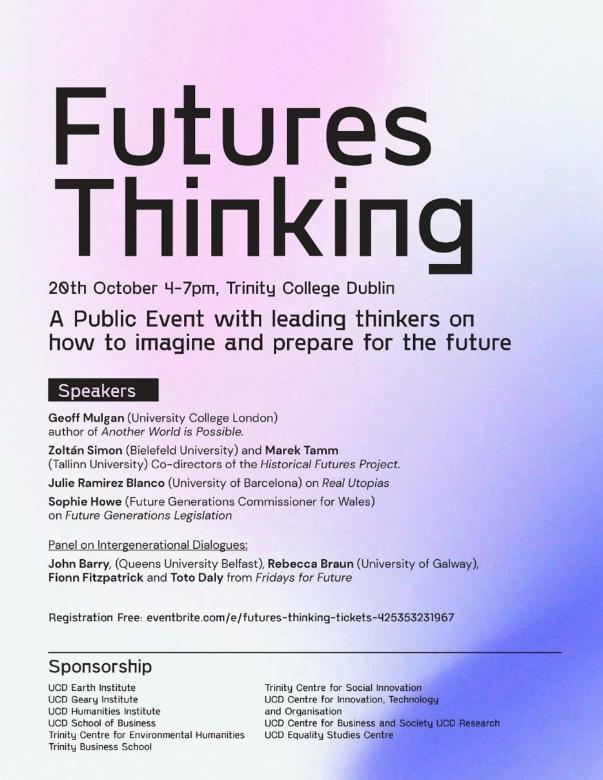 Overview: We are living in an era of cross-cutting crises – political (the emergence of powerful forms of authoritarianism and the renewed threat of fascism), economic (the continued growth of extremes of inequality coupled with run-away financialisation), cultural (an explosion of conspiracy theories, 'echo chambers' and a public sphere wrought by 'culture wars'), bio-political (pandemics and the threat of new ones) and environmental (the already-happening global warming, biodiversity loss and ensuing climate chaos). There is a wide-spread awareness of these crises, with many people not only acutely conscious of current and impending disasters, but actively disabled by a sense of impotence in face of their almost certain inevitability.
This conference does not therefore seek to impress upon us the scale of the crises facing us, but rather offer an intervention in 'futures thinking' that will enable us to better address some of these challenges. It engages centrally with the question of why it is that social, political and economic thinking seems to be beset by short-termism and immediate interests. And it asks: How can we think about the future across values, philosophies, disciplines, and generations, in a way that is not simply predictive but productive?
The conference will be free. The Thursday evening part of the conference will be a public event and held in Trinity, while the Friday event (all day) will be invite-only and held in UCD (c. 50 attending). The Thursday event is a scene-set for Friday which will be more discursive and open-ended. We're keen on having speakers from different disciplines and want to facilitate cross-disciplinary conversations about the future
Please email marie.moran@ucd.ie if you would like to attend the Friday event, but please be aware that places are limited.
Contact the UCD School of Social Policy, Social Work and Social Justice
Hanna Sheehy-Skeffington Building, University College Dublin, Belfield, Dublin 4, Ireland. T:
+353 1 716 8198
| E:
sp-sw-sj@ucd.ie
|
Location Map