MPP research seminar with Prof Christoph Knill: Unlimited Growth?
A Comparative Analysis Policy Accumulation
The Master of Public Policy programme and its associated schools and institutes invite to the seminar

Prof. Christoph Knill (Ludwig-Maximilians-Universität München)

Unlimited Growth?
A Comparative Analysis of Policy Accumulation

Thursday, 2 May 2019 at 4-5 pm

Venue: Seminar Room B003/4, Geary Institute for Public Policy,
UCD Belfield, Dublin D04 N9Y1.
Followed by wine reception.
Prof. Knill is presenting his recent book Policy Accumulation and the Democratic Responsiveness Trap, published with Cambridge University Press.
The focus of the talk is on an intuitively well-known, but curiously under-researched phe¬nome-non: policy accumulation. Societal modernization and progress bring about a continuously growing pile of policies in most political systems. At the same time, however, the administrative ca¬pacities for implementa¬tion are largely stagnant. While being societally desirable in principle, ever-more poli¬cies hence may potentially imply less in terms of policy achievements. Whether or not policy accumula¬tion remains at a 'sustainable' rate thus cru¬cially affects the long-term output legitimacy of modern democra¬cies.
In my talk, I will analyze the phenomenon of policy accumulation and its underlying drivers by focusing on 25 OECD countries and two key policy areas (social and environmental policy). Rather than relying on individual policy change as the unit of analysis, I consider policy accumulation to assess the growth of policy portfolios over time. In addition, potential consequences are discussed with regard to the prevalence of implementation deficits in a given sector.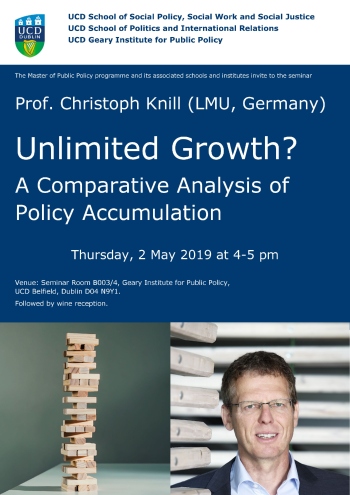 Contact the UCD School of Social Policy, Social Work and Social Justice
Hanna Sheehy-Skeffington Building, University College Dublin, Belfield, Dublin 4, Ireland. T:
+353 1 716 8198
| E:
sp-sw-sj@ucd.ie
|
Location Map