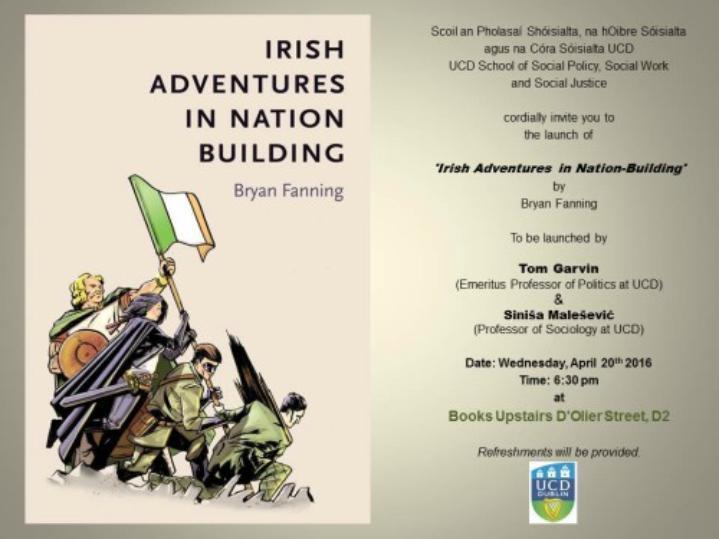 Professor Bryan Fanning will launch his new book Irish Adventures in Nation Building on Wednesday, 20 April, 6.30 pm at Books Upstairs (D'Olier Street, Dublin 2). The book is published with Manchester University Press.
Tom Garvin (Emeritus Professor of Politics, UCD) and Siniša Maleševi? (Professor of Sociology, UCD) will introduce the book.
Irish Adventures in Nation-building consists of eighteen mostly-chronological essays examining the debates and processes that have shaped the modernisation of Ireland since the beginning of the twentieth century. The vantage points examined include those of prominent revolutionaries, cultural nationalists, clerics, economists, sociologists, political scientists, public intellectuals, journalists, influential civil servants, political leaders and activists who weighed into debates about the condition of Ireland and where it was going. Topics considered range from why Patrick Pearse's ideas about education were ignored to why Ireland has been recently so open to large-scale immigration, from the intellectual conflicts of the 1930s to the future of Irish identity. This is a genuinely multi-disciplinary book that offers an accessible overview of how Ireland and what it means to be Irish has changed during the last century.
Contact the UCD School of Social Policy, Social Work and Social Justice
Hanna Sheehy-Skeffington Building, University College Dublin, Belfield, Dublin 4, Ireland. T:
+353 1 716 8198
| E:
sp-sw-sj@ucd.ie
|
Location Map