Public Lecture: Solidarity in Europe Immergut
The UCD School of Social Policy, Social Work and Social Justice is pleased to present the following public lecture
Prof. Ellen M. Immergut (EUI)
Solidarity in Europe: the Threat of Right-Wing Populism
Tuesday, 4 December 2018 at 4-5 pm
Venue: Seminar Room B003/4, Geary Institute for Public Policy, UCD Belfield, Dublin 4
Followed by reception in the Staff Common Room, B102, Newman Building.
Please register at http://mpp_immergut.eventbrite.com/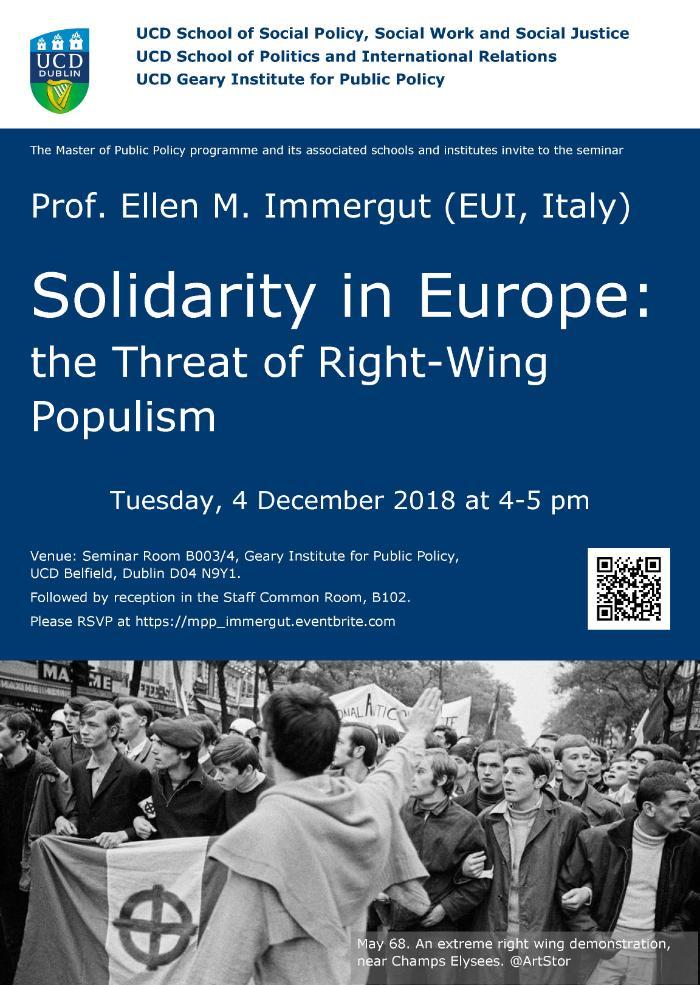 Abstract:
This presentation will review some of the findings of the NORFACE Welfare State Futures Programme in general, as well as the HEALTHDOX project on Health Care Futures specifically, with a view towards assessing the state of solidarity in Europe today. In particular, drawing on an analysis of the impact of electoral and party competition on the recalibration of 'old' versus 'new' social rights, Immergut argues that the rise of relative deprivation and right-wing populism are a threat to social investment policies.
A background paper on European solidarity can be found here.
Prof Ellen Immergut , Dept. of Political and Social Sciences, European University Institute. Her research interest include multi-Dimensional Political Competition and Social Policy Responsiveness in Post-Industrial Societies; Health Politics in Europe; Constitutional Politics.
Contact the UCD School of Social Policy, Social Work and Social Justice
Hanna Sheehy-Skeffington Building, University College Dublin, Belfield, Dublin 4, Ireland. T:
+353 1 716 8198
| E:
sp-sw-sj@ucd.ie
|
Location Map