Dr Elizabeth Shotton & Dr Tom Curran receive a 2017-2018 Fulbright Irish Award
Tuesday, 13 June, 2017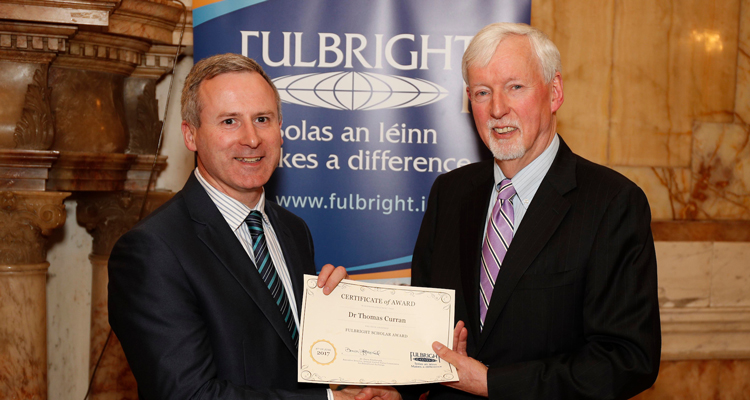 Chair of the Fulbright Commission Ireland Board, Professor John Hegarty, presenting Dr Tom Curran with his Fulbright Award scroll
Minister Charlie Flanagan of the Irish Department of Foreign Affairs and Trade, and Mr Reece Smyth, Chargé d'affaires of the US Embassy in Ireland, announced 38 new Fulbright Irish Awardees at Iveagh House last week.
Recipients include students, academics and professionals from 15 HEIs across Ireland and Europe. These Awardees will go to top US institutions to study and collaborate with experts in their field.
One such recipient is Dr Tom Curran, a lecturer in the UCD School of Biosytsems and Food Engineering and Director of the MSc Environmental Technology Programme at University College Dublin. As a Fulbright-TechImpact Scholar, he will be hosted by North Carolina State University to develop an early warning system for sewer network blockages caused by 'fatbergs'. In recent years, Dr Curran has developed a European wide reputation as a specialist in 'fatbergs' and has made frequent media contributions on this issue.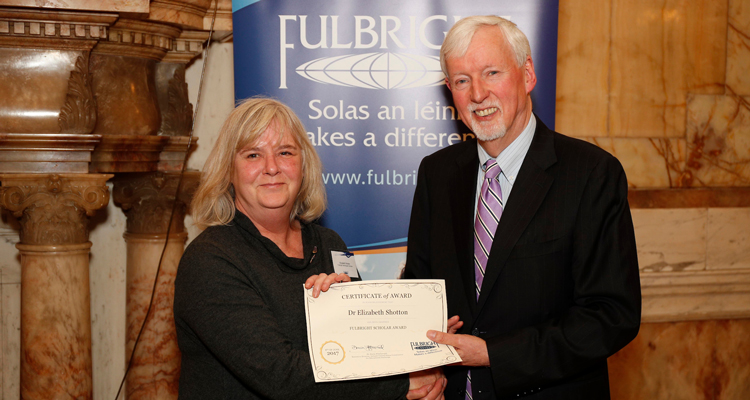 Chair of the Fulbright Commission Ireland Board, Professor John Hegarty, presenting Dr Elizabeth Shotton with his Fulbright Award scroll
Another recipient, Dr Elizabeth Shotton is currently Director of Research, Innovation and Impact in the UCD School of Architecture, Planning and Environmental Policy. She teaches in construction technology and design studio, with an emphasis on sustainable building and development. Her research is in the field of construction history and she is currently working on an Irish Research Council funded project Minor Harbours, which examines the evolution of maritime engineering in small harbours in Ireland from the 17th century to the present. As a Fulbright-TechImpact Scholar, Elizabeth will work with the Digital Humanities group of the UCLA Cotsen Institute to develop strategies to digitally visualize these harbours.
The unique nature of Fulbright Awards is that the Program encourages cultural exchange as well as educational. In addition to completing study or research projects, Awardees are tasked with being cultural Ambassadors during their time in the US. They will then return to Ireland to share the knowledge they have gained there. The rigorous application process ensures that the successful candidates are those who have conveyed how their work can have a positive impact on society.
This year the Fulbright Program celebrates 60 years of educational and cultural exchange between Ireland and the US. Since 1957, the Program has provided Irish and European citizens with the opportunity to study, research, or lecture in America, and supported US citizens to do the same in Ireland. The Program is now established in over 160 countries globally, providing a fantastic international network for Fulbright Awardees and Alumni.
Contact UCD School of Biosystems and Food Engineering
Room 303. Agriculture & Food Science Centre, University College Dublin, Belfield, Dublin 4, Ireland. T:
+353 1 716 7484
|
Location Map