Workshop on Grassland and Tillage Visual Soil Evaluation
Workshop on
Grassland and Tillage Visual Soil Evaluation
30-31 August 2017, Carlow, Ireland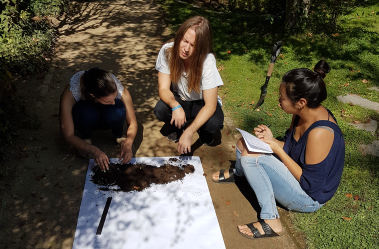 Joint meeting of
ISTRO Visual Soil Evaluation Working Group
Soil Science Society of Ireland
Irish Plant Phenotyping Network
On behalf of ISTO, SSSI and PPN-Ireland, UCD School of Biosystems and Food Engineering is organising a workshop on soil visual evaluation applied to tillage and grassland agriculture. "Soil structure forms a key component of soil quality, and its assessment by semi-quantitative visual soil evaluation (VSE) techniques can help scientists, advisors and farmers make decisions regarding sampling and soil management. VSE techniques require inexpensive equipment and generate immediate results that correlate well with quantitative measurements of physical and biochemical properties, highlighting their potential utility" (Emmet-Booth et al., 2017). The aim of this workshop is to bring together those interested in VSE methods to present new ideas, discuss application of existing methods and to provide method training, in the context of tillage and grassland agriculture.
If you would like to contribute to this meeting, please email Nick.Holden@ucd.ie by 30st June 2017 with details.
Contributions can be:
oral presentations – lecture theatre presentation (10-20 minutes) (limited availability)
field demonstrations – of method, ideas, processes, experiments, concepts …
field workshops – interactive training of participants for using a specific method
evaluation tests – formal testing of methods
To register for the workshop you will need to complete 2 forms:
A google form registration page providing your details, details of any contribution you wish to make and information about dietary requirements (Registration Form)
A payment form, hosted by UCD. Payment can be made by credit card (Payment link)
Registration will cost €125 and will include: transport during the workshop, refreshment breaks, lunches and conference dinner.
_______________________________________________________________________________________
Nick Holden and Jeremey Emmet-Booth · UCD School of Biosystems and Food Engineering
‌

Programme

.pdf

|

56.0 Kb
Contact UCD School of Biosystems and Food Engineering
Room 303. Agriculture & Food Science Centre, University College Dublin, Belfield, Dublin 4, Ireland. T:
+353 1 716 7484
|
Location Map