UCD SBFE Postdoctorates Judge local SciFest@School Competition
UCD SBFE Graduates Judge local SciFest@School Competition
SciFest is a national and international programme aimed at encouraging an interest in science, technology and maths through "active, collaborative, inquiry based learning". Encouraging young students to participate in scientific research and present their work to a panel of expert judges.
The Teresian School in Donnybrook hosted a SciFest@School event this year. The panel of expert judges consisted of Dr. Amanda Sosa and Dr. Rachel Clarke, who both received their doctorates from the UCD School of Biosystems and Food Engineering. The judging panel also included Phil Smyth, Head of Public Engagement at Cool Planet Experience, broadcaster and Science in addition to SciFest representative Anne Lynch. Dr. Sosa is currently researching the optimisation of the supply chain for waste plastic in Ireland, whereas Dr. Clarke has recently completed her PhD titled "The modelling of human health impacts from the spreading of biosolids on agricultural lands".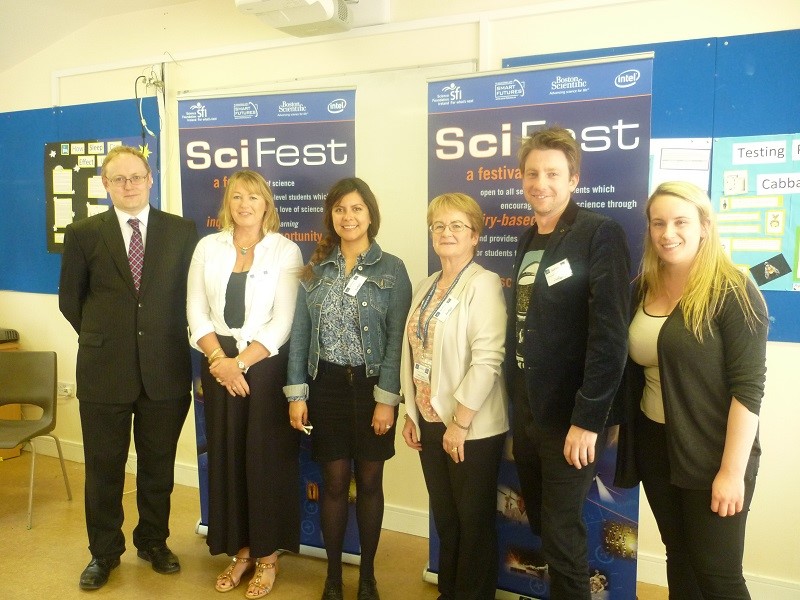 From left to right: Anthony Carty (School Principal), Dr. Rachel Clarke, Dr. Amanda Sosa, Anne Lynch, Phil Smyth and Rachel Hynes Roche (Event organiser).
Contact UCD School of Biosystems and Food Engineering
Room 303. Agriculture & Food Science Centre, University College Dublin, Belfield, Dublin 4, Ireland. T:
+353 1 716 7484
|
Location Map