UCD-EUPATI Partnership
UCD have announced their partnership with the European Patients' Academy on Therapeutic Innovation (EUPATI) supported through the PPI Ignite Network at UCD.
EUPATI is a non-profit Foundation that provides education and training to increase the capacity and capability of patients and patient representatives to understand and meaningfully contribute to medicines research and development (R&D), and to improve the availability of medical information for patients and other stakeholders.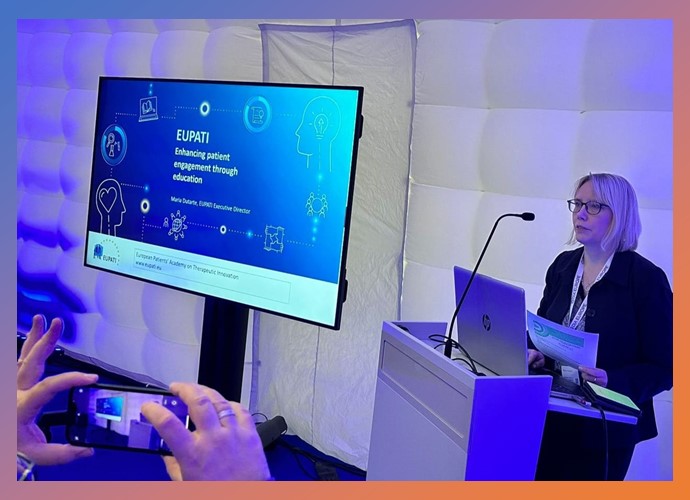 The aim of this partnership is to work together for the mutual benefit of all involved. The PPI Ignite Network @ UCD aims to empower community partners to develop their own research capabilities and capacities. This is greatly aligned to the goals of EUPATI. Through partnership we hope to extend the reach and impact of our work for these shared goals.
"This partnership agreement will help us to enhance collaboration between researchers and people with lived experiences, and to improve access to knowledge on medicines' research and development for interested patients and other stakeholders. We look forward to working with EUPATI to build on the important PPI work taking place at UCD and across Europe."

-Prof Orla Feely, Incoming UCD President
UCD will engage with EUPATI's Patient Expert Training Programme, which has trained more than 250 patient experts and has over 750 currently enrolled via the EUPATI Open Classroom. It provides an open-access multilingual toolbox that has served more than 6.5 million users around the world to date. UCD and EUPATI will also collaborate on events and resources for the health research community over the coming year.
"We are delighted to embark on this collaboration with University College Dublin as we believe that academic research and innovation are the key driving forces to improved health outcomes for all. Patients have an important role to play in the development of new medicines and treatments and together we can advance further awareness of this as well as the required skills and capabilities for meaningful involvement for both patients and researchers"

- Maria Dutarte, Executive Director, The European Patients' Academy of Therapeutic Innovation, EUPATI.
UCD have a longstanding existing and fruitful relationship with IPPOSI-the Irish Platform for Patient Organisations, Science and Industry. IPPOSI are also the EUPATI National Platform in Ireland and deliver the Irish patient education programme for research and development process for new medicines, medical devices, and health technologies.
In addition to UCD's established relationship with IPPOSI, we at the PPI Ignite Network @ UCD also directly work together with IPPOSI through the PPI Ignite Network, where IPPOSI are a national partner.
Top Image: Maria Dutarte, Executive Director of EUPATI
Bottom Image: Emma Dorris (PPI Ignite Network @ UCD) in conversation with the IPPOSI graduate panel Siobhan Gaffney, Mark Byrne and Mandy Daly, at the 2022 UCD PPI Symposium.