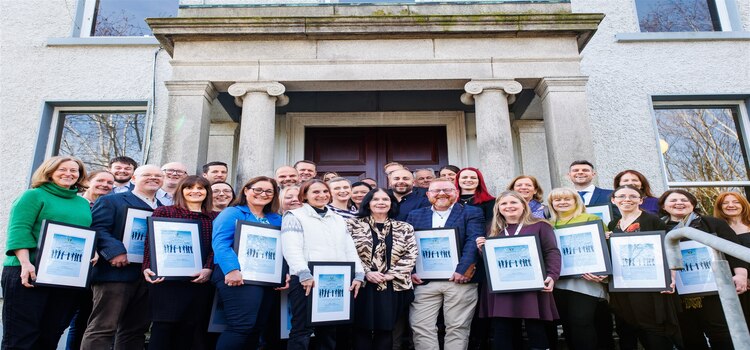 Photo by The Candid Man
Winners of the college Teaching and Learning Awards were presented with certificates at an event in Woodview House on 23rd February. Awards were presented to winners from 2022 and 2020. Congratulations to all our winners.
The Teaching and Learning Awards provide an opportunity to acknowledge the exceptional efforts and contribution of all those involved in teaching and learning across the college. The volume and breadth of nominations, and the high calibre of applications is reflective of the excellence in teaching, learning, and student support which exists across the College.
2020 Winners
Individual CHAS Awards
Thomas Campbell, Lorraine Carroll, Caroline Elliott-Kingston, Mary Forrest, Kathleen Frazer, Melinda Halasz, Mary Higgins, Katherine Howell, Olive Lennon, William Kilroy,
Marion Maher, Sandra Nicholson, Mark Pickering, Catherine Redmond, Deborah Wallace and Catherine Wedgeworth.
Team CHAS Awards
MSc Ultrasound Team, application led by Therese Herlihy – School of Medicine
Practice Placement Education Team, application led by Ruth Charles – School of Public
Health, Physiotherapy and Sports Science
Centre For Safety and Health at Work, application led by Conor Buggy – School of Public
Health, Physiotherapy and Sports Science.
2022 Winners
Awards for Teaching Excellence
John Baugh, Freda Browne, Mary Codd, Michael Connolly, Eoin Cummins, Shane Foley, Patricia Fitzpatrick, Thomas Flanagan, Marco Garcia-Vaquero, Hanne Jahns, Eoin Kavanagh, Sabine Koelle, Jonathan McNulty, Grainne O'Donoghue, Denise O'Brien, Sharleen O'Reilly, Emma O'Neill, Louise Rainford, Rachel Toomey, Sean Teeling.
Awards for Exceptional Contribution
Tim Cranley, Laura Gunning, Christian Myles, Sinead McMahon.
UCD College of Health and Agricultural Sciences
University College Dublin, Belfield, Dublin 4, Ireland. T:
+353 1 716 7777
| E:
chas@ucd.ie