Professor William Campbell, Nobel Laureate in Medicine, was honoured in his hometown of Ramelton, Co Donegal on Saturday 1st October with the unveiling of a bronze statue.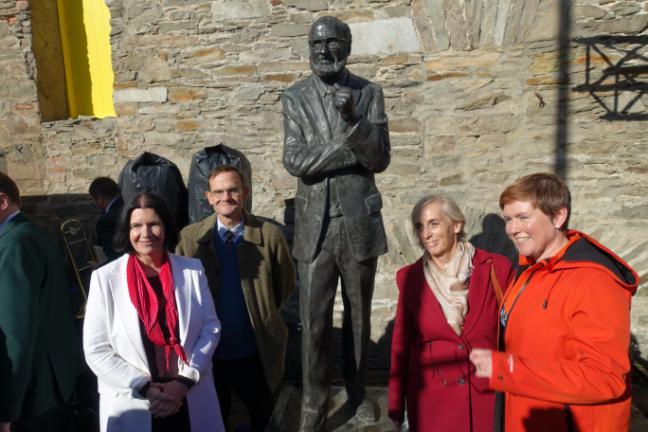 (Pictured at unveiling are (left to right), Prof Cecily Kelleher, CHAS, Prof Alex Evans, SAFS, Prof Grace Mulcahy, SVM and Dr Claire O'Connell, co-author of "Catching the Worm", Professor Campbell's biography.)
After graduating with a first class degree in Zoology from Trinity College, Dublin and gaining his PhD from the University of Wisconsin, Professor Campbell worked at Merck Institute for Therapeutic Research where he mostly focused on parasitic diseases, including on the development of the drug ivermectin for the control of parasitic infections in veterinary medicine. After realising that this drug could also have potential for parasitic disease control in humans, Prof Campbell and his team ran trials for the drug in humans in 1981 in Senegal and France on river blindnesss. This drug, Mectizan, paralyses and sterilises the parasite that causes river blindness and together with colleagues at Merck, and the WHO, Prof Campbell created an unprecedented drug donation programme providing Mectizan to developing countries. In 2001 an estimated 25 million people were being treated each year, and in 2013 the disease was eradicated in Colombia, Ecuador and Mexico. In 2015 Prof Campbell was awarded the Nobel Prize in Physiology or Medicine with his co-creator Professor Satoshi Omura for their research on therapies against infections caused by parasites. On Saturday 2nd October, Prof Campbell was honoured in his hometown of Ramelton with the unveiling of a bronze statue.
UCD College of Health and Agricultural Sciences
University College Dublin, Belfield, Dublin 4, Ireland. T:
+353 1 716 7777
| E:
chas@ucd.ie