INHED 2021 Annual Scientific Meeting 10th-12th March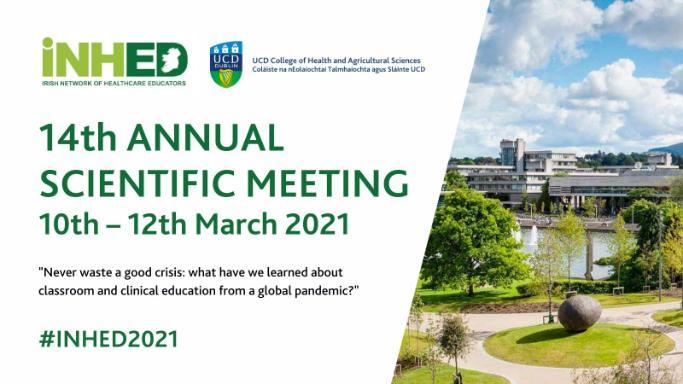 The College of Health and Agricultural Sciences was delighted to host the INHED ASM from the 10th to the 12th of March 2021.
Due to the global pandemic this conference was virtual.
The theme of this year's INHED conference was: "Never waste a good crisis: what have we learned about classroom and clinical education from a global pandemic?"
The conference took place during the afternoons of Wednesday the 10th, Thursday the 11th and Friday the 12th of March.
INHED secured three world-class keynote speakers for this conference:
Rachel Ellaway, University of Calgary
Walter Eppich, RCSI, (formerly North Western Medicine, Chicago)
Lara Varpio United Services University, Washington.
COVID 19 and the associated physical distancing restrictions have led to a huge upsurge in educational innovation and creativity. This year, INHED's aim was to celebrate the work of educational developers by devoting two of the three conference days to presentations and workshops that describe innovations in educational design and delivery.
The conference included some fantastic presentations from CHAS students.
INHED 2021 was chaired and supported by faculty and staff across the College.
Keynote Speakers
Professor Rachel Ellaway
Professor of Medical Education in Community Health Sciences and Co-Director of the Office of Health and Medical Education Scholarship at the Cumming School of Medicine at the University of Calgary Professor Rachel Ellaway is a renowned scholar and thinker in the field of health professional education. She received her PhD from the University of Edinburgh, and she moved to Canada in 2007 to join the newly opened Northern Ontario School of Medicine. In 2015 she joined the University of Calgary as the Director of the Office of Health and Medical Education Scholarship. As a generalist scholar, Professor Ellaway has made many substantial contributions to medical education right across the spectrum and she has long been an active voice in shaping and challenging the field. She ran the AMEE Fringe for many years and is currently the Editor in Chief of the journal Advances in Health Sciences
Keynote Address: Augmentation as a lens on teaching and learning Learning and teaching are everyday activities and yet they are notoriously challenging to understand and direct effectively. Teaching is essentially about controlling the learning environment, sometimes making the journey easier, at other times making it more challenging so as to direct learning in the desired directions. Despite this, we rarely consider augmentation as part of official educational theory or practice. In this presentation Dr. Ellaway will explore the many ways in which augmentation can be used as a lens to better understand and direct educational practice in the health professions.
Professor Walter Eppich, MD, PhD, FSSH
Professor and Chair of RCSI SIM, the Centre for Simulation Education and Research Walter has taught extensively on basic and advanced simulation educator courses and has spoken about simulation, feedback, and debriefing around the world. He has co-authored over 80 peer-reviewed articles and book chapters and co-founded Debrief2Learn.org, an online, open access resource for healthcare simulation educators. He joined the RCSI SIM Centre for Simulation Education and Research at the Royal College of Surgeons in Ireland in late 2020. Building on a clinical background as a paediatric emergency physician, Walter's research uses qualitative methodologies to study synergies between simulation and workplace learning in the areas of team reflection, healthcare debriefing, and team adaptation. He earned a PhD in Medical Education from Maastricht University with a thesis entitled "Learning through Talk: The Role of Discourse in Medical Education". He collaborates with team and organizational psychologists to study team processes both in and outside of healthcare. Walter is particularly interested in how workplace talk and team interactions shape learning and performance. #inhed2021 Page 9
Keynote Address: Team inclusiveness as an educational strategy Walter will explore workplace talk and conversational learning. Specifically, he will discuss specific strategies to promote team inclusiveness and its learning potential.
Dr Lara Varpio Professor and Associate Director of Research, Dept. of Medicine, Uniformed Services University,Washington DC
Dr. Lara Varpio is Professor of Medicine, and Associate Director of Research for the Center for Health Professions Education at the Uniformed Services University, USA, and adjunct faculty with McMaster University's Department of Medicine. Dr. Varpio is internationally recognized for her expertise in social science research methodologies, methods, and theory. She has secured over $5.5million in research grants, given +120 peer-reviewed conference presentations, disseminated +120 peer-reviewed publications, and given keynote talks around the world. Dr. Varpio has been recognized with many awards including being selected to host and mentor an Australian Fulbright Scholar and to participate as a Karolinska Fellow. Keynote Address: Earthquakes of thought and dancing on fault lines: How the pandemic could change everything Over the past twelve months, everything changed: clinics were inundated, schools were shuttered, and "social distancing" was coined. Such transformations forced us to examine the foundational objectives and assumptions underpinning health professions education practices. In this talk, I highlight topics that I think should be reviewed and discuss the implications of these examinations, including how they could forever change our field.
UCD College of Health and Agricultural Sciences
University College Dublin, Belfield, Dublin 4, Ireland. T:
+353 1 716 7777
| E:
chas@ucd.ie