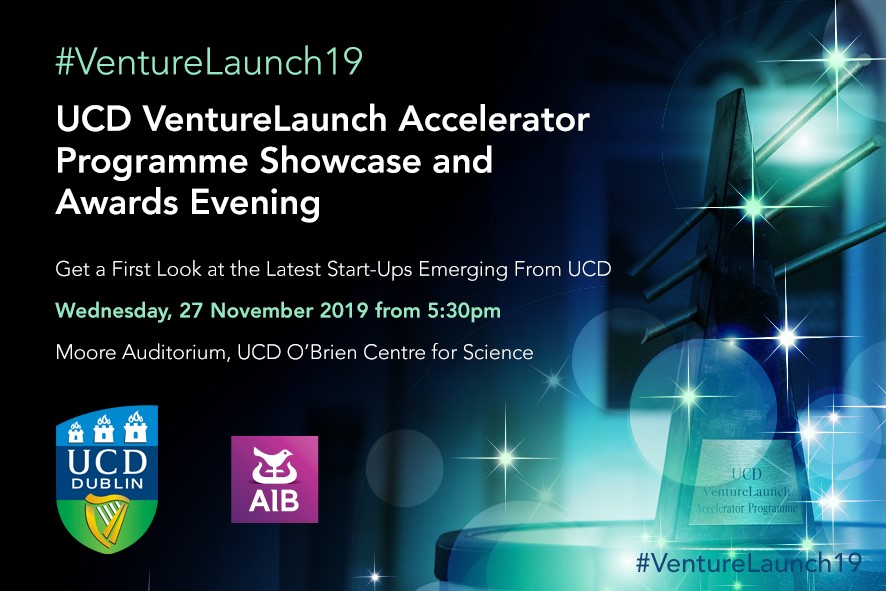 Event: 2019 UCD VentureLaunch Accelerator Programme Showcase and Awards Evening
The latest start-ups emerging from University College Dublin (UCD) will be showcased at the 2019 UCD VentureLaunch Accelerator Programme Showcase and Awards Evening event on 27 November next.
Click here to register here to attend.
The overall aim of the annual VentureLaunch accelerator programme, held at NovaUCD, is to support the creation and launch of sustainable and profitable new ventures based on UCD intellectual property.
The objective of the programme is to equip UCD researchers with the knowledge, skills and understanding that will be required to work as part of a team leading a new commercial venture. On completion of the programme the expectation is that participating new venture projects will have developed a commercially viable business plan.
The showcase and awards evening will take place on Wednesday, 27 November 2019 (5.30 pm - 8.00 pm) in the Moore Auditorium, UCD O'Brien Centre for Science. At this event the participating start-ups will each deliver a short pitch and an overall winner, as assessed by the independent judging panel, will be announced.
Professor Mark Ferguson, Chair, European Innovation Council (EIC) Advisory Board will be the guest speaker at the event. Professor Ferguson is also Director General of Science Foundation Ireland and Chief Scientific Advisor to the Government of Ireland
The high-profile event will be attended by members of the business, investment and University communities.
All are welcome to attend.
Click here to register to attend.
#VentureLaunch19.
ENDS
25 October 2019
For further information contact Micéal Whelan, Communications and Media Relations Manager, NovaUCD, UCD Research and Innovation, e: miceal.whelan@ucd.ie, t: + 353 1 716 3712.