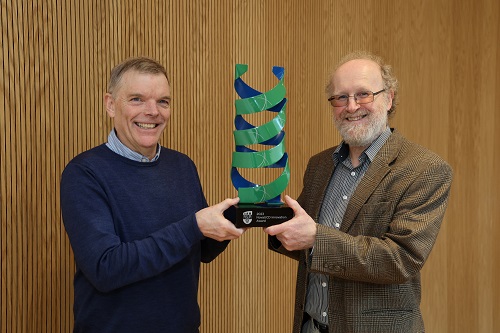 UCD Researchers Behind Novel Mucolytic Drug Receive 2023 NovaUCD Innovation Award
- Drug has potential to address a large unmedical need for patients with mucus-associated lung diseases
Professor Stefan Oscarson, a Professor in Chemical Biology at the UCD School of Chemistry and Professor Stephen Carrington, who has retired as a Professor of Veterinary Anatomy at the UCD School of Veterinary Medicine, have been named recipients of the 2023 NovaUCD Innovation Award.
They were presented with the Award by Professor Mark Rogers, Acting UCD President as part of the annual presentation of the NovaUCD Innovation Awards which took place at the UCD University Club.
Speaking at the Awards event Professor Mark Rogers, Acting UCD President said, "The NovaUCD Innovation Awards are a key annual event at UCD recognising and highlighting successes achieved by our research, innovation and entrepreneurial communities across the University and I congratulate all those who have received awards. I would also like to take the opportunity of wishing them ongoing success in the future as they continue to deliver economic and societal impact through their commercialisation, consultancy, entrepreneurial and innovation activities."
Professor Oscarson and Professor Carrington received the Award in recognition of their successful and longstanding research collaboration with Professor John Fahy, University of California, San Francisco (UCSF) to understand why mucus in the lungs of people with respiratory diseases is thick, sticky and difficult to cough up and to develop new treatment strategies to help such patients breathe more easily.
The UCD-UCSF research collaboration led to the filing of a patent application for a novel mucolytic drug to address a large unmedical need for patients with mucus-associated lung diseases. These diseases include, chronic obstructive pulmonary diseases (COPD), asthma, cystic fibrosis and bronchiectasis.
Aer Therapeutics, the first joint UCD-UCSF spin-out company, was founded by Professor Oscarson and Professor Fahy, and subsequently Jim Shaffer, an experienced biotech executive, was recruited as CEO.
The company, which is headquartered in Raleigh, North Carolina, licensed the patented novel mucolytic drug in 2022 and recently closed a significant funding round. The funding will enable initial safety studies in patients and a proof-of-concept clinical trial in patients with COPD.
Professor Stefan Oscarson said, "It's really exciting times for me now, when after more than 40 years of academic research involving drug and vaccine development, seeing an excellent and fun team effort leading to the possibility of a lead candidate going into human clinical trials. It feels great to receive the NovaUCD Innovation Award with Steve as a recognition of this achievement."
Professor Stephen Carrington, said, "It is hugely gratifying to see a novel inhaled approach to treating lung diseases with excess mucus being commercialised by Aer Therapeutics from the intellectual seeds planted nearly 20 years ago when I first met John Fahy."
"This drug has the potential to meet a wide range of clinical need and make a difference to many lives. It has been a great pleasure to work with John and Stefan, and their respective teams. They have given far more to this success of this research than my own humble contributions. In accepting this NovaUCD Innovation Award with Stefan, I am honoured to see our research and that of our teams, alongside the work of other collaborators who joined the project after my involvement, recognised through UCD."
Professor Oscarson and Professor Carrington began collaborating with Professor Fahy in 2010. The UCSF and UCD research collaboration was broadened to include Anne Marie Healy, Professor of Pharmaceutics and Pharmaceutical Technology, School of Pharmacy and Pharmaceutical Sciences, TCD and adjunct Professor, UCD School of Chemical and Bioprocess Engineering.
Together this UCD/TCD/UCSF team secured $20 million in funding from the US National Institutes of Health to enable preclinical development of the patented mucolytic drug.
The other NovaUCD Innovation Awardees are;
2023 NovaUCD Invention of the Year Award: Dr Joseph Sweeney, UCD School of Biosystems and Food Engineering.
2023 NovaUCD Spin-out of the Year Award: seamlessCARE.
2023 NovaUCD Consultancy of the Year Award: Dr Stephen Davis, UCD School of Archaeology.
2023 NovaUCD Licence of the Year Award: Associate Professor Siobhán McClean, UCD School of Biomolecular and Biomedical Science.
2023 NovaUCD Founder of the Year Award: Aidan O'Neill, founder and CEO, DOCOsoft.
2023 NovaUCD Innovation Champion of the Year Award: Dr Eoin O'Cearbhaill, UCD School of Mechanical and Materials Engineering.
ENDS
31 March 2023
For more information contact Micéal Whelan, Communications and Media Relations Manager, NovaUCD, UCD Research and Innovation, e: miceal.whelan@ucd.ie.
Editors Notes
Stefan Oscarson is Professor in Chemical Biology at UCD's School of Chemistry and a member of the Royal Irish Academy. He joined UCD in 2006 funded by an SFI (Science Foundation Ireland) Professor Recruitment Grant, to build up a Medicinal Chemistry and Chemical Biology BSc programme and Chemical Biology research within the Centre for Synthesis and Chemical Biology (CSCB) at the University.
His research expertise is carbohydrate chemistry and glycoscience, both at a pure and applied level, with focus on development of new protecting group and glycosylation methodologies as well as synthesis of biologically active glycans and glycoconjugates.
Stephen Carrington retired as Professor of Veterinary Anatomy at the UCD School of Veterinary Medicine in January 2016. His research expertise is in epithelial mucin biosynthesis and turnover with a particular interest in the composition and barrier functions of mucins in epithelial pathologies, reproduction, and host pathogen interactions.