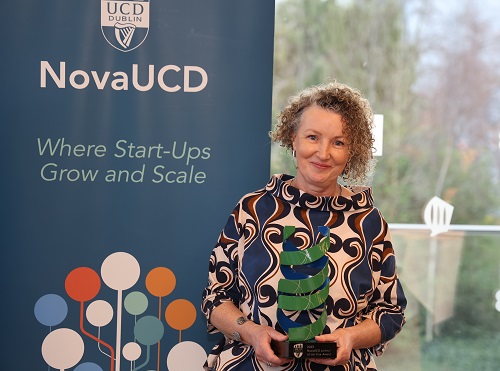 Inventor of Vaccine Candidate for Melioidosis Receives 2023 NovaUCD Licence of the Year Award
Associate Professor Siobhán McClean, UCD School of Biomolecular and Biomedical Science, inventor of a vaccine candidate for Melioidosis, a potentially fatal tropical disease, has received the 2023 NovaUCD Licence of the Year Award. There is no current approved vaccine available for Melioidosis.
She was presented with the Award by Professor Mark Rogers, Acting UCD President as part of the annual presentation of the NovaUCD Innovation Awards which took place at the UCD University Club.
Speaking at the Awards event Professor Mark Rogers, Acting UCD President said, "The NovaUCD Innovation Awards are a key annual event at UCD recognising and highlighting successes achieved by our research, innovation and entrepreneurial communities across the University and I congratulate all those who have received awards. I would also like to take the opportunity of wishing them ongoing success in the future as they continue to deliver economic and societal impact through their commercialisation, consultancy, entrepreneurial and innovation activities."
Melioidosis is caused by the bacterium Burkholderia pseudomallei which is commonly found in the soil and surface groundwater of many tropical and subtropical regions. With an estimated 165,000 cases each year globally, the disease causes a diverse range of symptoms including pneumonia and severe sepsis with multiple organ abscesses, and is associated with a fatality rate of up to 45%.
Last year Poolbeg Pharma, a clinical stage infectious disease pharmaceutical company, signed an exclusive licence agreement with UCD through NovaUCD, for the late preclinical stage vaccine candidate for Melioidosis invented by Associate Professor McClean and her team.
The Melioidosis vaccine candidate is being developed by Poolbeg as POLB 003.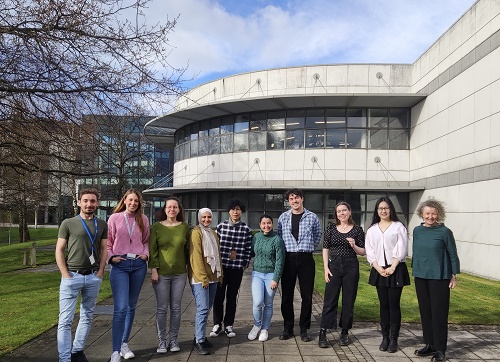 Pictured at the UCD Conway Institute are Associate Professor McClean (far right) and members of her research team.
On receiving the 2023 NovaUCD Licence of the Year Award, Associate Professor McClean said, "It is a pleasure to receive this Award on behalf of everyone who has worked on our vaccine candidates over the past few years. I look forward to seeing our licensed Melioidosis vaccine candidate progress to human studies in the very near future."
Associate Professor McClean joined UCD in 2016 and her research interests focus on understanding bacteria that cause lung infections. As a result of her research on mechanisms of attachment of pathogens to lung epithelial cells, she and her team have identified a number of novel bacterial adhesins, which are potential vaccine candidates, including a vaccine for Melioidosis.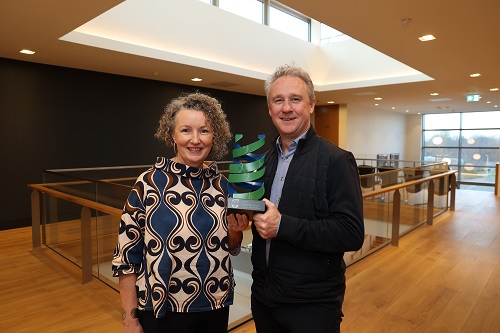 Associate Professor Siobhán McClean and Dr Jeremy Skillington, CEO, Poolbeg Pharma
While Melioidosis is widespread in South-East Asia, Northern Australia and India, the warming climate is having a substantial impact on the spread of the disease to new areas such as Brazil and traditionally non-tropical areas. As a US Centres for Disease Control and Prevention designated biothreat, there is an increasing global need to develop effective vaccines to prevent and treat this disease.
Associate Professor McClean completed some of the original research to identify the antigens associated with the Melioidosis vaccine candidate at TU Dublin and she was a recipient of a Wellcome Trust Award to aid its development at UCD.
The other NovaUCD Innovation Awardees are;
2023 NovaUCD Innovation Award: Professor Stefan Oscarson, UCD School of Chemistry and Professor Stephen Carrington, UCD School of Veterinary Medicine (retired).
2023 NovaUCD Invention of the Year Award: Dr Joseph Sweeney, UCD School of Biosystems and Food Engineering.
2023 NovaUCD Spin-out of the Year Award: seamlessCARE.
2023 NovaUCD Consultancy of the Year Award: Dr Stephen Davis, UCD School of Archaeology.
2023 NovaUCD Founder of the Year Award: Aidan O'Neill, founder and CEO, DOCOsoft.
2023 NovaUCD Innovation Champion of the Year Award: Dr Eoin O'Cearbhaill, UCD School of Mechanical and Materials Engineering.
ENDS
31 March 2023
For more information contact Micéal Whelan, Communications and Media Relations Manager, NovaUCD, UCD Research and Innovation, e: miceal.whelan@ucd.ie.
Editors Notes
Associate Professor Siobhán McClean also co-ordinates a Horizon 2020 Marie Skłodowska-Curie Action consortium, BactiVax, which brings together 14 world-class experts in vaccinology from 8 European countries to investigate complementary facets of vaccine research and development and an All-island Vaccine Research and Training network, funded by the HEA North-South Research programme.