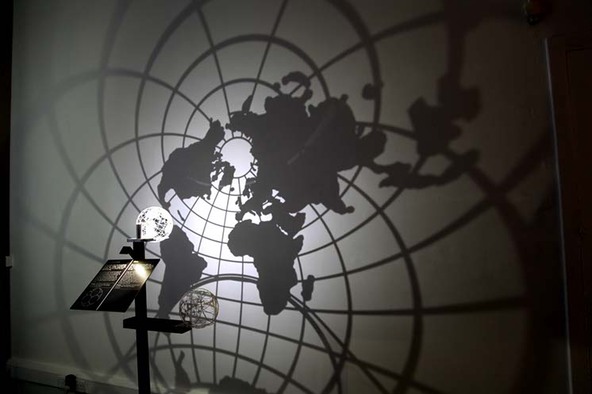 3D Printing Competition Launched to 'Shape the Future' for a Sustainable World
I-Form, the SFI Research Centre for Advanced Manufacturing, and science engagement specialists Gallomanor today announced the launch of a nationwide competition to turn an idea for sustainability into 3D-printed reality.
The 'Shape the Future' competition, which is supported through the Science Foundation Ireland Discover programme, is open to anyone who has an idea to improve our world.
Entrants are invited to draw and describe their idea and submit it via the competition website.
The winning entry will be 3D printed by I-Form researchers, and the winner will also receive €500 to spend on promoting their sustainability work.
I-Form, an SFI Research Centre hosted at University College Dublin (UCD), is shaping the future of manufacturing through high-impact research into the application of digital technologies to materials processing. I-Form's research is changing how things are made, through combining advanced technologies such as 3D printing with data analytics and artificial intelligence in the manufacturing process.
"3D printing, also known as additive manufacturing, opens up a world of possibilities, enabling us to make complex shapes efficiently for sectors as diverse as aerospace, medical devices and pharma," said I-Form Deputy Director Professor Dermot Brabazon, DCU School of Mechanical and Manufacturing Engineering.
He added, "Manufacturing with 3D printing can be a much more sustainable way to make things, by enabling parts to be produced close to where they are needed, as opposed to shipped around the globe; reducing the amount of waste involved in the manufacturing process; and enabling inventory to be kept to a minimum, with parts only produced as and when needed."
He concluded, "I-Form and Gallomanor are inviting artists, designers, entrepreneurs and young people to submit their own ideas around sustainability to our competition. We look forward to being inspired by the entries and working with the winner to create an original 3D printed design."
Shortlisted entrants will be paired with I-Form researchers and together will pitch their idea to an online audience and the winner will be decided by public vote.
The competition judges, who will decide on the shortlist, are:
Professor Dermot Brabazon, I-Form Deputy Director, DCU School of Mechanical and Manufacturing Engineering
Dr Ruth Freeman, Director, Science for Society, Science Foundation Ireland
Dr Jonathan Derham, Head of Programme, Office of Evidence and Assessment, Environmental Protection Agency
Dr Deirdre Ledwith, WE 3DP Application Engineering Lead, Henkel Ireland
Colin Keogh, 3D Printing Engineer, The Rapid Foundation and PhD student UCD School of Mechanical and Materials Engineering
Anthony Greene, Youth Volunteer, Ballymun Regional Youth Reach.
Dr Ruth Freeman, Director, Science for Society, Science Foundation Ireland, said, "3D printing has the ability to translate an abstract ethereal idea into a physical reality. As a judge I'm hoping to see the intersection of science, art and engineering produce a physical object that changes, in some small way, our view of sustainability and how we take care of our planet."
Colin Keogh, 3D Printing Engineer, The Rapid Foundation and PhD student UCD School of Mechanical and Materials Engineering, said, "3D printing has so much potential, and so have the various communities of makers, entrepreneurs and students in Ireland. I'm really looking forward to seeing some ideas that might seem quite out there at first, but if printed could make us think differently about how we can improve our environment."
The deadline for competition entries is 5 pm, Monday 30 September.
ENDS
2 August 2019
For more information contact Micéal Whelan, Communications and Media Relations Manager, NovaUCD, UCD Research and Innovation, t: + 353 1 716 3712, e: miceal.whelan@ucd.ie or Sylvia Leatham, Communications and Engagement Manager, I-Form, e: sylvia.leatham@i-form.ie.
Editors Notes
There are five categories in the Shape the Future Competition, Art, New Product, Rebuild, Under-18s and Surprise us and anyone normally resident in Ireland can enter. Entries close Monday 30 September at 5pm. The shortlisting panel will choose a finalist from each category based on meeting the technical criteria and having the potential for a successful manufacture.
Each finalist will be paired with a researcher from I-Form and together create an entry page on the judging website. In November the site will be open to the public and Irish schools will ask questions and book live chats to quiz the finalists and researchers about their idea and 3D printing. They will also vote on the entry they want to win. The entry with the most votes will be designed and printed. A researcher from I-Form will work up the idea/design into a technical specification for printing.
The competition is funded by Science Foundation Ireland through the SFI Discover Programme, with support from I-Form. It is run by Gallomanor Communications Ltd, the team behind I'm a Scientist.
Entries can be from individuals or teams. (Note: People working in or studying 3D printing full time are excluded from entering.)
A number of partners have already committed to supporting and promoting the competition, including the National Youth Council of Ireland, Midlands Science, Limerick Festival of Science, Dublin Maker, Science Gallery, Coding Grace, Women in Technology and Science, The Design and Crafts Council of Ireland, and TOG Dublin Hackerspace.
Further information, including online entry form is available via https://shape19.imascientist.ie.
For further information on Gallomanor visit https://gallomanor.com/
For further information on I-Form visit http://www.i-form.ie/