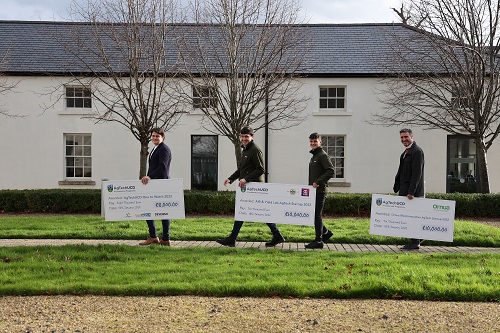 AgTechUCD Announces Winners of Inaugural Accelerator Programme for AgTech and FoodTech Start-ups
The AgTechUCD Innovation Centre today announced the winners of University College Dublin's (UCD) inaugural accelerator programme dedicated to early-stage AgTech and FoodTech start-up companies.
The AgTechUCD Agccelerator Programme, an intensive 12-week virtual programme, included dedicated business development workshops and investor readiness training, mentoring from AgTech and FoodTech experts and business advisors, guest speakers and facilitated introductions to AgTechUCD's venture capital and business angel networks.
Following final pitches to the AgTechUCD Agccelerator Programme judging panel Cotter Agritech was named the AIB and Yield Lab AgTech Start-up 2022 and received €10k, ProvEye was named the Ornua Most Innovative AgTech Start-up 2022 and received €10k and Izario was named the AgTechUCD One to Watch 2022 and received €8k sponsored by Devenish, Herdwatch and Carbery.
Tom Flanagan, Director of Enterprise and Commercialisation, NovaUCD, said, "I would like to congratulate Cotter Agritech, ProvEye and Izario, each with significant global ambitions, as the inaugural winners of our new AgTechUCD Agccelerator Programme. This programme focused on supporting the commercial development of the eight participating start-ups and during the programme we have assisted them to increase their visibility in the marketplace, to attract new customers and investors and to forge new partnerships."
He added, "It was great to see the level of international interest in this programme highlighting Ireland's and UCD's global reputation for innovation in the AgTech and FoodTech sectors and we look forward to running another AgTechUCD Agccelerator Programme."
Cotter Agritech, a Limerick-based start-up, was founded by brothers Jack and Nick Cotter, with a vision of dramatically reducing chemical use in agriculture while improving productivity and profitability.
The company has developed a system that uses advanced algorithms to enable livestock farmers transition from blanket treating animals with antiparasitic drugs, to a very precise application by identifying and targeting only the animals that need treatment.
This approach reduces antiparasitic drug use by up to 50%, which reduces costs, prevents against parasite resistance, and reduces impacts on biodiversity. Cotter Agritech has recently concluded research trials with UCD, QUB, and 18 commercial farmers across Ireland and the UK which have validated the solution. The hardware and software products are being launched next month.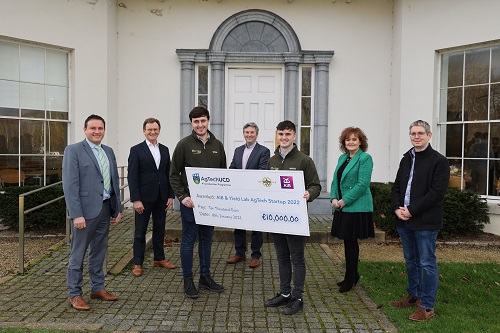 Pictured (l-r) at NovaUCD are; Donal Whelton, Head of Agriculture, AIB; Tom Flanagan, Director of Enterprise and Commercialisation, UCD; Jack Cotter, co-founder, Cotter Agritech; James Maloney, Senior Regional Development Executive, Enterprise Ireland; Nick Cotter, co-founder, Cotter Agritech; Niamh Collins, Director, AgTechUCD Innovation Centre and David Bowles, Managing Partner, The Yield Lab.
ProvEye, a UCD spin-out, uses first-to-market intellectual property to process and analyse UAV and satellite imagery to obtain insights into the efficiency and sustainability of the agricultural industry. The software gives unprecedented accuracy in the measurement of crop yield, disease detection, productivity, and environmental impact from leaf to field to farm to the national scale.
The company founders, Dr Jerome O'Connell and Professor Nick Holden, UCD School of Biosystems and Food Engineering, have 30+ years of experience in the delivery of novel software solutions for the agriculture and natural resources sectors.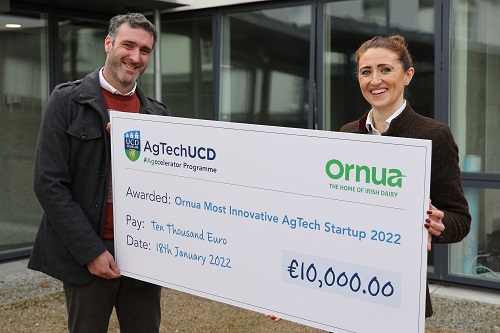 Pictured (l-r) at NovaUCD are; Dr Jerome O'Connell, MD and co-founder, ProvEye and Eva Griffin, Sustainability and CSR Specialist, Ornua.
Izario has developed an autonomous robot that operates in broiler-breeder and commercial egg-laying hen barns. The robot carries out tasks similar to the farmer such as picking floor eggs, monitoring bird health and welfare along with monitoring the sheds environmental outputs. The robot reduces labour inputs whilst also allowing farmers/processors to make informed decisions based on data.
The founders of Izario, based in Galway, are Raymond Heneghan and Stepan Dzhanov.

Pictured (l-r) at NovaUCD are; Tom Flanagan, Director of Enterprise and Commercialisation, UCD; Niamh Collins, Director, AgTechUCD Innovation Centre; James Maloney, Senior Regional Development Executive, Enterprise Ireland; Raymond Heneghan, CEO and co-founder, Izario; Dr Cornelia Grace, RDIco Project Manager, Devenish Nutrition and Anthony O'Callaghan, Chief Information Officer, Carbery Group.
AgTechUCD, based at UCD Lyons Farm and part of NovaUCD, is focused on accelerating the launch and scaling of AgTech and FoodTech start-ups in Ireland and has been funded through the Regional Enterprise Development Fund administered by Enterprise Ireland.
AgTechUCD's focus is supporting founding entrepreneurs as they build their innovative businesses into leading enterprises, though the AgTechUCD Agccelerator Programme, and by providing access to incubation space and to on-farm testing for new products and services at UCD Lyons Farm.
Niamh Collins, Director, AgTechUCD Innovation Centre, said, "We will continue to support our first cohort of start-ups, who are disrupting the agtech industry, creating opportunities for a healthier, more efficient and more sustainable agri-future, as they launch or scale their products into markets around the world by leveraging our relationships with strategic players in the agtech and foodtech sectors, at home and abroad."
The members of AgTechUCD Agccelerator Programme judging panel were; Faye Walsh Drouillard, Founder and Principal, WakeUp Capital; Heidi Corr, Investment Consultant, Dublin BIC; David Bowles, Managing Partner, The Yield Lab; Donal Ryan, Investment Director, Finistere Ventures; John Farrell, Agri, Food and Fisheries Sector Specialist, AIB; Dr Weili Wang, Investment Analyst, Atlantic Bridge and Tom Flanagan, Director of Enterprise, NovaUCD (Chair).
Partners on the AgTechUCD Agccelerator Programme included; AIB, The Yield Lab Europe, Devenish, Carbery, Ornua and Herdwatch who provided financial and mentoring support. Additional mentoring support was provided by the Virtual Vet, IFAC, HBAN, Alltech, Dublin BIC, AWS Activation, Microgen Biotech, MJB Consulting and DCU Invent.
The other start-ups participating in the inaugural AgTechUCD Agccelerator programme were, Beekeeper Tech; CropHound; FodderBox Ltd; Freshgraze and Niskus Biotec.
ENDS
19 January 2022
For further information contact Micéal Whelan, Communications and Media Relations Manager, NovaUCD, e: miceal.whelan@ucd.ie.
Editors Notes
Profiles of the other participating start-ups in the inaugural AgTechUCD Agccelerator Programme;
Beekeeper Tech helps beekeepers to maintain healthy colonies during the year and detect Queen Bees with the best genetic traits in their apiaries to breed the next most resilient and productive bee generation. The company, based in Bahrain, targets mainly the Middle East and North African Beekeeping Market, and was co-founded by Khaled Bouchoucha and Walid Nagara, who are from Tunisia. www.smartbeekeeper.com
CropHound monitors agricultural crops in the field, offering a real-time picture of plant, soil and environmental conditions which helps to boost output, cut costs, and reduce carbon emissions. As well as a number of key data points, such as soil and air moisture, temperature, a live high-definition video image is provided to the farmer's device which by using Artificial Intelligence, allows up-to-the-minute monitoring of crops across a limitless area.
With CropHound farmers are able to spot signs of stress from pests, disease and weeds and are able to take early action. CropHound thereby helps farmers to increase yields through the accurate application of inputs, decrease costs and lower carbon emissions by reducing chemical usage and preventing unnecessary trips to check crops. The founder of CropHound, based in Belfast, is Mark Elliott. www.crophound.com
Groundbreaking independent lab analysis commissioned by FodderBox Ltd shows hydroponic fodder significantly outperforms silage as a feedstock for anaerobic biodigesters. FodderBox has developed technology to sustainably produce fresh premium fodder in pure water, with zero water pollution, zero air pollution, zero herbicides, zero pesticides, and zero insecticides. The semi-automated or fully-automated technology can produce from 1 ton of hydroponic fodder per day, for farmers, to 100 tons of hydroponic fodder per day for anaerobic biodigesters. FodderBox won the AgTechUCD Start-Up of the Year Award at Enterprise Ireland's Innovation Arena Awards at the 2021 National Ploughing Championships. The founder and CEO of FodderBox, based in Cork, is Ella Goddin. www.fodderbox.ie
Freshgraze is a robotic moving fence and management system which portions out new pasture to grazing animals. Controlled from the farmers' smartphone small portions of fresh grass are allocated to ensure that the animals do not walk on the food they are about to eat. Small portions of pasture also enable a wider range of plants to be utilised effectively by grazing animals, therefore allowing food be produced in greater harmony with nature. The founders of Freshgraze, based in Co. Westmeath, are James and Charlie Drumm who are both studying Engineering at UCD. www.freshgraze.ie
Niskus Biotec is leveraging the power of fungi to produce eco-sustainable, high-value products such as proteins, nutraceuticals, and enzymes from underutilised agrifood side-streams such as brewery spent grains. Niskus Biotec works with agrifood companies to select the most suitable food grade fungal strains for their substrates, then develops and implements a scaled-up manufacturing process using our specially designed solid-state fermenters. The founders of Niskus Biotec are Vincent Farrelly, Dr Alejandra Omarini and Dr Tony Callaghan, and the company is based in Donegal and in Entre Rios, Argentina.
The goal of AgTechUCD is to bring together the AgTech and FoodTech ecosystem in Ireland to accelerate the launch and scaling of AgTech & FoodTech companies. AgTechUCD, led by NovaUCD, and funded through the Regional Enterprise Development Fund administered by Enterprise Ireland, is a collaboration with AIB, Kildare County Council, and Kildare LEO; agri-companies including, Bimeda, Devenish, Carberry, Ornua and Origin Enterprises; investors The Yield Lab Europe, Finistere and Atlantic Bridge, and leading AgTech researchers and innovators at UCD, Teagasc and Wageningen. https://www.ucd.ie/innovation/about-agtechucd/ and @AgTechUCD