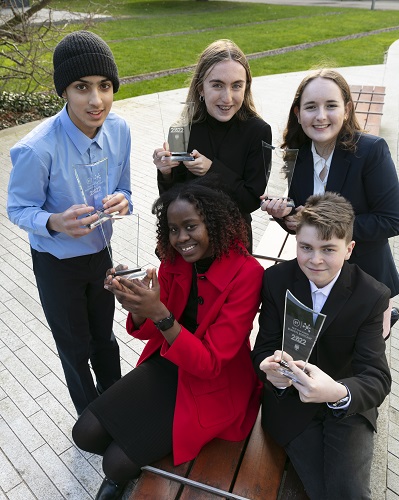 Sports Head Injury Project Named Overall Winner of the 2022 BT Young Scientist Business Bootcamp
A team of five students have been announced as the overall winners of the 2022 BT Young Scientist Business Bootcamp held at University College Dublin (UCD) for a project entitled 'Ahead of the Curve'.
Taha Fareed Farooqi (age 15), Hannah Walsh (age 17), Sophie Creedon (16), Harry O'Connor (age 16) and Claudine Mulihano (age 17) joined together to further develop this project which is investigating sports related injuries and seeks to design and develop wearable technology to better enable the measurement and recording of head impacts.
The project was developed by Sophie Creedon and was presented at the virtual 2022 BT Young Scientist & Technology Exhibition held in January
The BT Young Scientist Business Bootcamp, now in its 13th year, was established by BT Ireland in 2010 and is delivered in partnership with NovaUCD to give students the commercialisation skills they need to develop their BT Young Scientist & Technology project ideas into viable business ventures.
A total of 30 students from eight counties, including winners of the 58th BT Young Scientist & Technology Exhibition 2022, Aditya Joshi and Aditya Kumar, took part in the four-day Bootcamp.
Shay Walsh, Managing Director, BT Ireland said, "The BT Business Bootcamp has been an integral part of the BT Young Scientist journey since its inception in 2010 and we were delighted to provide an exciting programme of activities for our participants in person for the first time in two years."
"Encouraging young people to engage in STEM subjects is at the core of our sustainability agenda, and supporting them along that journey, be it through academia or through entrepreneurship is integral to fostering tomorrow's digitally skilled workforce. I have no doubt that all this week's participants will continue onto brilliant things, and I look forward to keeping in touch with their progress."
At the end of the Bootcamp Isabelle Linehan (age 17) was presented with the overall "Best Individual" Award for her project 'lighten up' which looked at ways to help people with seasonal affective disorder.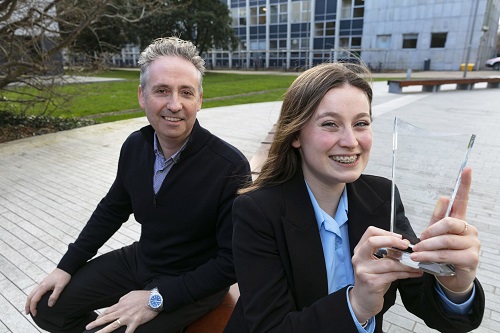 Shay Walsh, Managing Director, BT Ireland and Isabelle Linehan
Professor Orla Feely, UCD Vice-President for Research, Innovation and Impact said, "UCD was particularly delighted to welcome participants onto the University campus for this year's BT Young Scientist Business Bootcamp. We are delighted to continue our partnership with BT Ireland, through NovaUCD, to deliver this annual 4-day Bootcamp, which is now in its 13th year."
"I hope that the Bootcamp experience has helped the students to deepen their understanding of technology commercialisation in particular, and entrepreneurship in general, as they seek to translate innovative projects emerging from this year's BTYSTE into sustainable, scalable and viable businesses."
"Finally I would like to congratulate the overall winners, and all the students who participated in the 2022 Bootcamp, and I look forward to seeing their projects grow and develop into businesses in the years ahead."
The students worked throughout the week on six projects, selected by the judges from the BT Young Scientist & Technology Exhibition 2022. A member of the original project team worked with four other Bootcamp students on their project, and they developed the idea further based on the workshops they took part in throughout the week.
The culmination of the four-day programme saw the students pitching their ideas to a panel of judges, including journalist, Charlie Taylor; Paula Cain, IBEC; Dr Tony Scott, co-founder of the Young Scientist and Technology Exhibition, and Shay Walsh.
ENDS
11 March 2022
For more information contact Micéal Whelan, Communications and Media Relations Manager, UCD Research and Innovation, e: miceal.whelan@ucd.ie or Hanover Communications for BTYSTE e: Btyste@hanovercomms.com
Editors Notes
The BT Young Scientist & Technology Exhibition is designed to raise schools' engagement in the critical subjects of science, technology, engineering and maths (STEM), the Exhibition calls upon students aged 12-19 years from all over the island of Ireland to showcase innovative science and technology project. In 2022, the Exhibition reached almost 8 million visitors around the world through its virtual portal. The BT Young Scientist & Technology Exhibition is supported by several valued partners including the Department of Education, Analog Devices, Stripe, Perrigo, and RTE.  www.btyoungscientist.com