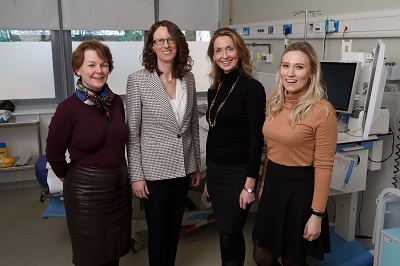 UCD Project to Develop an AI-powered Risk Stratification Platform for Preeclampsia Awarded a €500,000 SFI Future Innovator Prize
Minister for Further and Higher Education, Research, Innovation and Science, Simon Harris TD, together with Minister of State for Overseas Development and Diaspora, Colm Brophy TD, recently announced that a SFI Future Innovator Prize of €500,000 has been awarded to University College Dublin (UCD) researcher Professor Patricia Maguire and her team for the AI_PREMie project.
This runner-up prize was made under the Artificial Intelligence (AI) for Societal Good Challenge.
AI_PREMie is focused on addressing the significant challenge of diagnosing and managing preeclamptic toxaemia (PET). PET is a serious complication affecting one in every 10 pregnancies and is one of the world's deadliest pregnancy complications and annually kills 50,000 mothers and 500,000 babies worldwide. Clinical diagnosis of PET is extremely challenging and complementary diagnostic tests are an urgent unmet need.
AI_PREMie uses cutting-edge biomedical, clinical and machine learning techniques to analyse a combination of biomarker signals and clinically relevant maternal haematological/demographic/clinical assessment data, to return an easily interpretable risk score within a few hours, aiding clinical evaluation in real-time.
The biomarkers which can be used to diagnose preeclampsia risk were discovered using a novel non-invasive blood-based diagnostics platform (PALADIN) developed by Professor Maguire.
Through the use of AI, the system will continually learn and provide care providers with an affordable risk stratification tool to closely observe pregnancies complicated by PET, helping to prevent unnecessary adverse outcomes for mother and baby.
The AI_PREMie team, led by Professor Maguire, UCD School of Biomolecular and Biomedical Science includes, Dr Paulina Szklanna, UCD School of Biomolecular and Biomedical Science, Professor Mary Higgins and Professor Fionnuala Ní Áinle, UCD School of Medicine.
The aim of the AI for Societal Good Challenge is to support interdisciplinary teams to develop novel, potentially disruptive AI-based solutions that address significant national and global societal challenges
Professor Patricia Maguire said, "The AI_PREMie project team and I are absolutely delighted and honoured to receive this special prize in recognition of our new AI-powered risk stratification platform for preeclampsia. Advancing both foetal and women's health is of paramount importance and developing these tools will place Ireland at the global forefront in preventing unnecessary adverse outcomes for mothers and their babies, priority goals under the UN SDGs."
She added, "It has been an honour to work with such an incredible interdisciplinary team collaborating with all three Dublin maternity hospitals, and SFI's innovative challenge-based funding process has really enabled us to further this important project to reality."
Professor Mark Ferguson, Director General, Science Foundation Ireland and Chief Scientific Adviser to the Government of Ireland said, "I would like to extend my congratulations to the runners up, Prof Patricia Maguire and the AI_PREMie team, for the important work they are doing in advancing foetal health and women's health with their state-of-the-art diagnostic application."
Earlier this year Professor Maguire and her team was awarded with the 2021 NovaUCD Invention of the Year Award for the discovery of the biomarkers which can be used to diagnose preeclampsia risk.
The overall winner of the AI for Societal Good Challenge is a ground-breaking AI-based satellite imagery analysis tool to measure climate change adaptation in agriculture. The TAPAS team led by Dr Aaron Golden and Professor Charlie Spillane, NUI Galway have been awarded €1 million for their interdisciplinary project resulting in a tool capable of providing objective data on the effectiveness of agricultural interventions for climate change adaptation.
The TAPAS project was co-funded with Irish Aid under SFI's partnership with the Department of Foreign Affairs and has focused initially on test sites in Senegal that are subject to adaptation-strengthening agri-food interventions.
ENDS
3 August 2021
For further information contact Micéal Whelan, Communications and Media Relations Manager, NovaUCD, e: miceal.whelan@ucd.ie.
Editors Notes
Science Foundation Ireland is the national foundation for investment in research in the areas of science, technology, engineering, and mathematics (STEM), which assists in the development and competitiveness of industry, enterprise and employment in Ireland. It also promotes and supports STEM education and engagement to improve awareness and understanding of the value of STEM to society and to support the STEM careers pipeline. www.sfi.ie