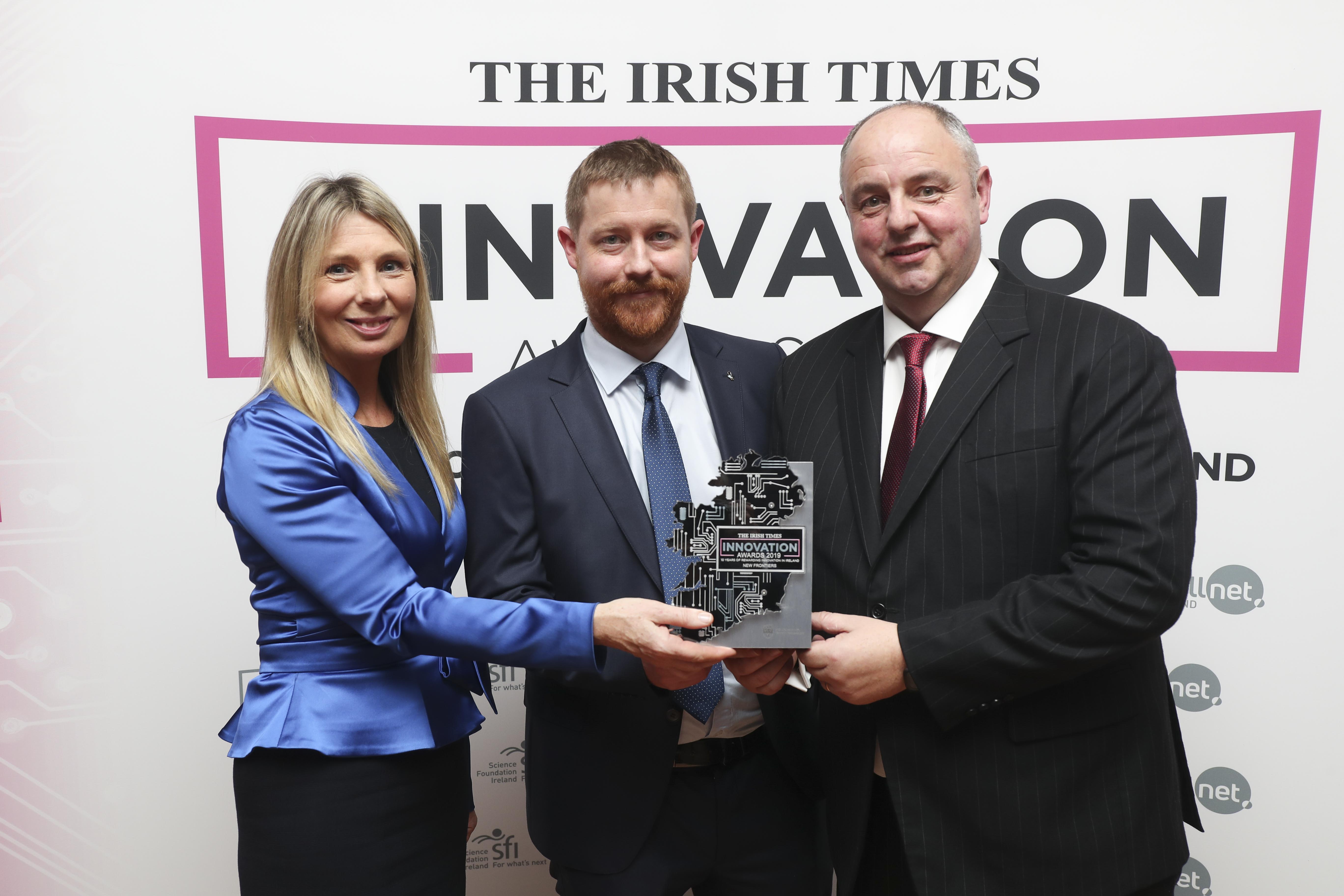 Biotech Company Auranta Scoops a 2019 Irish Times Innovation Award
- Auranta's sustainable animal feed products boost gut health, immunity and performance
Auranta, which develops and produces a range of innovative and sustainable animal feed products to boost gut health, immunity and performance in calves, poultry, and pigs, has won a 2019 Irish Times Innovation Award.
Auranta won the New Frontiers Award category which was sponsored by the UCD Michael Smurfit Graduate Business School.
The company was founded in 2013 by Dr Pat Ward and John Cullen and currently has offices and laboratory space at NovaUCD and Alexandra House, Dublin.
Auranta supplies AuraCalf, AuraPoultry and AuraPig products, based on synergies between plant extracts and natural organic acids, in liquid and powder formats. The company is currently collaborating closely with a number of universities, including, University College Dublin, and agricultural research institutions, to further develop and test the company's products.
John Cullen, Co-founder and Managing Director, Auranta said, "We are thrilled to have won an Irish Times Innovation Award from a very strong shortlist of companies in the New Frontiers Category. Winning this Award is a recognition of the hard work and dedication of our entire team in building and developing Auranta, which is shaping the future of agriculture through our animal feed products."
He added, "At Auranta we follow a science-based approach and we are continuously innovating animal gut health products for new markets and applications in Ireland and globally."
Tom Flanagan, Director of Enterprise and Commercialisation, UCD, said, "I would like to congratulate Auranta on winning a prestigious Irish Times Innovation Award. We are all very proud of your achievement here at NovaUCD. I wish the entire Auranta team continuing success as they grow and scale their company and impact the agriculture sector globally through innovative animal feed products."
He added, "The multi-million project to develop NovaUCD's eastern courtyard has increased our capacity to house start-ups by over 50%, we are now looking to support more ambitious start-ups, like Auranta, who want to locate here to leverage our ecosystem to help them grow and scale globally."
The Irish Times Innovation Awards, which are now in their 10th year, were presented at a ceremony attended by more than 200 people at the RDS in Dublin and more than 100 companies took part in the awards this year.
Auranta was the only Dublin-based company to win an Award as finalists from the West of Ireland claimed four of the five category awards.
Atlantic Therapeutics won the overall 2019 Irish Times Innovation Award and also the Life Sciences and Healthcare category Award.
Atlantic Therapeutics, based in Galway, was founded in 2015 when it spun-out of Bio-Medical Research. The company has developed and is selling Innovo, a non-invasive device as a long-lasting solution to bladder weakness and other disorders associated with pelvic floor muscle problems.
PEL Waste Reduction Equipment, based in Balla, Co Mayo, won the Manufacturing and Design Award category; FarmHedge based in Limerick won the IT and Fintech Award category while Electricity Exchange, also based in Limerick won the Sustainability Award category.
The Irish Times Innovation Awards 2019 were supported by The Irish Times in partnership with Science Foundation Ireland, Enterprise Ireland, Skillnet Ireland, KPMG and UCD Michael Smurfit Graduate Business School.
ENDS
6 November 2019
For further information contact Micéal Whelan, Communications and Media Relations Manager, NovaUCD, UCD Research and Innovation, e: miceal.whelan@ucd.ie or t: +353 1 716 3712.