Three University College Dublin Start-Ups to Pitch at Enterprise Ireland's 2021 Big Ideas Showcase
- 12 start-ups competing for the 'One to Watch' and 'Viewers' Choice Awards
Three (3) University College Dublin (UCD) start-ups are among the twelve (12) start-ups selected to pitch at Enterprise Ireland's 2021 Big Ideas showcase event which takes place this Thursday, 11 November.
Big Ideas 2021, which this year is taking place virtually, empowers the front runners in Irish research to take centre stage and pitch their technology solutions and business propositions, to an audience comprised of the Irish research and investment communities. Big Ideas, an annual showcase event, provides investor ready start-ups with a bespoke pathway to success, support with growing their business and creating jobs in Ireland.
The 12 participating start-ups will be competing for the 2021 'One to Watch' Award and the 2021 'Viewers Choice' Award.
The three participating UCD star-ups are; EpiCapture, IlluminAi Tech and PEARlabs.
Tom Flanagan, UCD Director of Enterprise and Commercialisation, NovaUCD said, "I am delighted that three of the twelve start-ups pitching at the Big Ideas 2021 event have emerged from UCD research. This is indicative of the quality and commercial potential of research at UCD."
"These companies have either successfully completed or are currently participating on our UCD VentureLaunch Accelerator Programme, which has been designed by the NovaUCD team, to support the creation and launch of sustainable and profitable new ventures based on UCD intellectual property. We will continue to support these companies to help them grow, scale and reach their global market potential. I wish them every success at the Enterprise Ireland showcase event."
EpiCapture has emerged from research carried out in the UCD School of Biology and Environmental Science. EpiCapture is developing a novel urine DNA test for aggressive prostate cancer which measures six epigenetic biomarkers which are indicative of aggressive disease, using a widely available PCR platform.
EpiCapture's test has potential as a non-invasive, early-detection and screening test to augment the current PSA blood test for the early-detection of aggressive prostate cancer. A second application of the test is as a repeated use, monitoring tool for men with low-grade disease, to identify tumour progression.
The members of the EpiCapture team are Associate Professor Antoinette Perry, UCD School of Biology and Environmental Science and Edward Simons. Dr Perry will be pitching EpiCapture at Big Ideas 2021.
Associate Professor Antoinette Perry said, "Big Ideas is a great opportunity to raise EpiCapture's profile with companies whose commercial interests are aligned with our objective of getting EpiCapture-prostate into markets as quickly as possible for the benefit of patients, clinicians, health care providers and insurers; and investors - in particular, experienced, early-stage medtech investors who can support our ambition."
EpiCapture was overall winner of the 2020 UCD VentureLaunch Accelerator Programme.
IlluminAi Tech has developed a desktop light/stress therapy lamp which replicates the continuum changes of natural light while connecting a user to the outside world with immersive scenes of nature.
The IlluminAi lamp utilises human centric lighting, the next generation of smart-lighting technology where light mimics the natural light-dark cycle, to bring the right light at the right time of day to users, just like nature intended. The IlluminAi lighting system is designed to tap into the proven cycles human bodies follow each day, based on the position, angle, and colour of natural sunlight at any given time.
The company was founded by Morteza Matkan and Dr Sadegh Panahi Azar as a spin-out from the UCD School of Architecture, Planning and Environment Policy and the UCD School of Psychology. Morteza Matkan will be pitching IlluminAi Tech at Big Ideas 2021.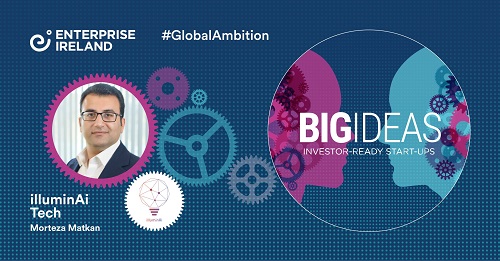 Morteza Matkan said, "IlluminAi Tech is working to position itself as a global leader in the Human-Centric Lighting solutions for years to come. Big Ideas provides us with an important platform to showcase our technology and enhance our profile. IlluminAi Tech is seeking to connect with potential investors as we progress towards product launch in 2022."
IlluminAi Tech completed the 2018 UCD VentureLaunch Accelerator Programme.
PEARlabs has developed a novel photonic chip which enables ultra-high spatial resolution at video rates in optical microscopy, far beyond the diffraction limit of visible light. The PEARlabs technology aims to transform the understanding of processes such as cell signalling and cell proliferation in cancer and other life-threatening diseases.
The patented technology has the potential to aid early diagnostics, precision medicine and the delivery of improved drug treatments. It also has the potential to be used as an add-on to conventional optical microscopes opening up access to 'nm resolution imaging' for many fields of science.
The company was founded by Professor Dominic Zerulla as a spin-out from the UCD School of Physics, and Jürgen Osing, who recently joined PEARlabs as a commercialistion expert, will be pitching PEARlabs at Big Ideas 2021.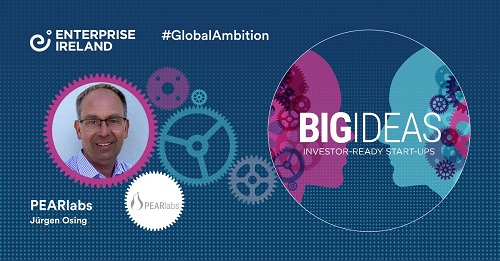 Jürgen Osing said, "PEARlabs is positioning itself as a globally leading provider of super resolution imaging solutions. Big Ideas will help PEARlabs to gain access to a network of individuals and organisations that can contribute to and accelerate its growth path. Spinning-out of UCD, PEARlabs is now seeking to raise seed funding and is looking forward to having conversations with interested investors."
PEARlabs is currently taking part in the 2021 UCD VentureLaunch Accelerator Programme.
The other companies pitching at the event are profiled via https://www.enterprise-ireland.com/en/events/ourevents/bigideas/promoters/promoter-details.html.
The event will be live streamed via https://www.enterprise-ireland.com/en/events/ourevents/bigideas/ during which you can vote for the 'Viewers' Choice' Award.
ENDS
8 November 2021
For further information contact Micéal Whelan, Communications Manager, UCD Research and Innovation, e: miceal.whelan@ucd.ie.
Editors Notes
At NovaUCD, the hub for new ventures and entrepreneurs at University College Dublin, we provide purpose-built, state-of-the-art incubation facilities for knowledge-intensive companies alongside a comprehensive business support programme for our client companies. NovaUCD also runs a series of programmes, such as the UCD VentureLaunch Accelerator, to assist researchers who are commercialising research outputs. NovaUCD has been funded through a unique public-private partnership that includes AIB, Arthur Cox, Deloitte, Enterprise Ireland, Ericsson, Goodbody Stockbrokers, UCD and Xilinx. www.ucd.ie/novaucd
The aim of Big Ideas 2021 is to highlight the successful collaborations that exist between higher education institutes here in Ireland, investors and state support. The event offers an ideal platform to showcase the quality of research that is currently taking place within institutes of higher education across the country. The accomplishments achieved by Ireland's national technology transfer system and the high standard of research that is currently being produced by Irish research centres will be featured throughout. Big Ideas is an annual showcase event which highlights successful collaborations between higher education institutes, investors and state support. www.bigideas.ie/