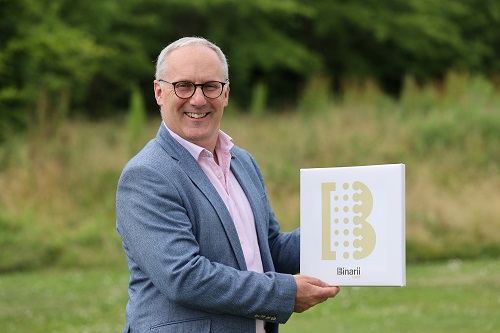 Binarii Labs Launches €900,000 Crowdfunding Campaign
Binarii Labs, an Irish cyber security technology start-up headquartered at NovaUCD, today announced the launch of a €900,000 crowdfunding campaign via the Spark Crowdfunding platform. The funding will be used by the company to expedite its commercialisation plans across the US, Ireland, the UK, South Africa, and India.
One of Binarii Labs' investors in this campaign is Ulster and Irish professional rugby player, Ian Madigan, who has appeared over 300 times between club and country throughout his professional career across Ireland, France, and England. With not just a keen eye for points scoring, he has already proved himself to have a knack for early investment opportunities such as Binarii Labs and was an early investor in Dataships, with offices also in NovaUCD and in San Francisco.
Speaking about his latest investment, Ian Madigan said, "I am passionate about the ever-evolving world of Data Privacy and securing your own data. When Aidan outlined what they are undertaking at Binarii Labs, it was a journey that I had to be a part of, and I am delighted to invest in one of Dataships' neighbours at NovaUCD."
Established in September 2021, Binarii Labs is set to launch two proprietary cyber security products later this year that put document and data control back in the hands of their owners.
BinariiDMS is a unique document management solution that uses Binarii Labs' patented approach to enable an enterprise to maintain full access to their secured documents even when their cloud storage has gone down, or worse still, been breached. Cyqur, another unique product developed by Binarii Labs, enables users to securely protect sensitive secret information such as access credentials.
"With an attack on sensitive data happening every 11 seconds around the clock, and with documents and access credentials continuing to be the most targeted, it's time for a new approach. Binarii Labs is providing a new paradigm in protecting user's data, so that it remains theirs and the funding raised in this campaign will enable the company to accelerate the roll-out of its technology on the global stage," said Aidan Finn, co-founder and CEO, Binarii Labs.
Binarii Labs founded by Steven Garner, Nigel Carter, Aidan Finn and Ciarán McNamee, was initially supported by the Local Enterprise Office, Kildare. Binarii Labs, which relocated to NovaUCD in 2022 is also an Enterprise Ireland High Potential Start-Up (HPSU) company.

Pictured (l-r) at NovaUCD are; Ciarán McNamee, co-founder and Chief Business Development Officer, Binarii Labs; Aidan Finn, co-founder and CEO, Binarii Labs and Chris Burge, CEO and co-founder, Spark Crowdfunding.
The company previously raised €1.4 million in funding and has secured US patent granted status whilst advancing with its UK patent application.
Binarii Labs is already working with a number of pilot clients for its innovative secure file storage and sharing solution that leaves the complete control and ownership of sensitive documents, in the document owners hands, both whilst being stored and also while being shared.
Pilot clients include, Sherwin O'Riordan Solicitors, Dublin; Arnall Golden Gregory LLP, Austin and Washington DC; EA Capital, South Africa; dParadigm Capital, British Virgin Islands; UniFees, India; Millennium Chambers (The Barrister Network Ltd), UK; and ZAC Consulting, UK.
Aidan Finn, added, "With investors in California already on board from the earlier fund raise and with the fantastic support of the Northern California Innovation District and the Greater Sacramento Economic Council, paving the way to help the company with US client engagement, the Californian state capital is our destination of choice for our forthcoming first US office."
Chris Burge, CEO and co-founder, Spark Crowdfunding said, "This is an excellent opportunity for private investors to buy into a company that is solving a critical problem to which every company in the world is exposed every minute of every day. We are delighted Binarii Labs have made this investment opportunity accessible to the largest database of small to medium sized private investors in Ireland. Irish investors can recover 40% of their investment in the form of an EIIS tax rebate and the minimum investment is just €100, so it is accessible to everyone."
The Binarii Labs crowdfunding campaign is live on the Spark Crowdfunding website via https://www.sparkcrowdfunding.com/campaign.php/binariilabs
ENDS
26 June 2023
For further information contact Micéal Whelan, Communications and Media Relations Manager, UCD Research and Innovation, NovaUCD, e: miceal.whelan@ucd.ie.