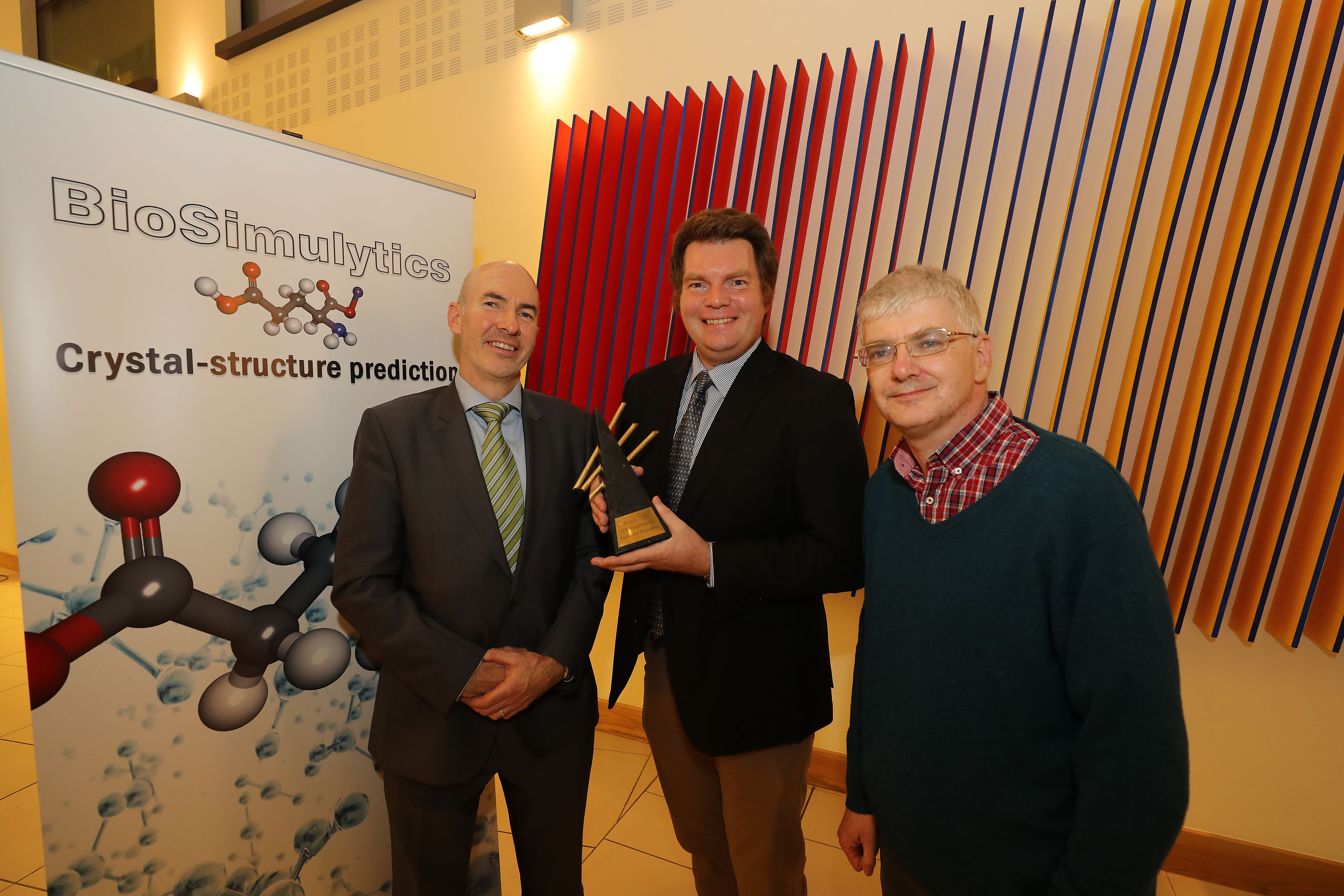 BioSimulytics Wins University College Dublin's 2019 Start-Up of the Year Award
BioSimulytics, which is developing a software platform to bring greater speed, certainty and product data quality to a critical part of the drug development process, has won the 2019 UCD Start-Up of the Year Award. BioSimulytics won the Award, and a €32,000 prize fund, after being declared overall winner of the 2019 UCD VentureLaunch Accelerator Programme.
The aim of the annual UCD VentureLaunch Accelerator Programme, which is held at NovaUCD, is to support the creation and launch of sustainable and profitable new start-ups emerging from the University.
Drug molecules are manufactured in their crystal structure but these structures are complicated by polymorphism, the ability of a compound to exist in more than one stable crystalline structure.
A simple ice (H2O) molecule for example has 18 stable structures; drug molecules, which are considerably more complex compounds, can have hundreds of stable structures. In addition, a polymorph may change to a more thermodynamically stable form hours, weeks and even years later depending on conditions.
Polymorphic forms of a drug have different properties and can also differ in drug outcomes such as efficacy and toxicity. Finding and re-producing the precise and stable crystal structure of a new drug is essential, and is required for regulatory compliance as well as patent protection. It is an incredibly complex puzzle for drug manufacturers to solve, as out of tens of thousands of compounds only one may become a new drug suitable for patient use.
Currently experimentation is the method used by drug manufacturers to identify the correct crystal structure of a new drug. This is painstaking manual work which may take months to complete, and, in the end, the drug scientists may still be left wondering if all polymorphic structures were indeed identified.
BioSimulytics is developing a software solution which only requires the basic 2-D structure of a compound to accurately predict the detailed profiles of all its polymorphic forms, ranked by the most stable, with full certainty achieved within weeks, resulting in a 20-50% time saving on the current experimentation method. To do this the BioSimulytics platform uses a powerful combination of molecular chemistry, quantum physics, artificial intelligence and high-performance computing.
The members of the BioSimulytics team, a start-up emerging from the UCD School of Chemical and Bioprocess Engineering are, Professor Niall English, Dr Christian Burnham, Dr Pralok Samanta and commercial lead, Peter Doyle.
Short interview with BioSimulytics
Professor Niall English, UCD School of Chemical and Bioprocess Engineering said, "We are delighted to have won the 2019 UCD Start-up of the Year Award which is testament to the hard work, dedication and progress of the entire team over the last number of years."
He added, "We are initially seeking to raise €400k in investment to build our core team to rapidly grow our business with leading pharmaceutical, biotech and CDMO companies globally."
He concluded, "BioSimulytics is the result of collaborative research at UCD which has been funded to date by an Enterprise Ireland Commercialisation Fund, and I would like to thank Enterprise Ireland for their funding and support. I would also like to acknowledge the great encouragement provided by NovaUCD, the VentureLaunch facilitators, and specifically all of the VentureLaunch participants through their invaluable feedback and support during the programme."
The main objective of the UCD VentureLaunch Accelerator Programme is to equip participants with the knowledge, skills and understanding that will be required to work as part of a team leading a new commercial venture. On completion of the programme the expectation is that participating emerging start-ups will have developed a commercially viable business plan.
The programme consists of 7 workshops delivered over a 2-month period from October to November. The Business Model Canvas approach to start-up development forms the basis of the programme with each session consisting of a mix of taught content and interactive workshops delivered by external experts as well as involving talks from entrepreneurs. Participants also gain expert mentoring on marketing, finance and funding, sales and pitching to investors.
Tom Flanagan, Director of Enterprise and Commercialisation, UCD said, "University College Dublin is strongly committed to delivering impact from its research and innovation activities, a key driver of a dynamic and robust economy. Through the UCD VentureLaunch Accelerator Programme we support the UCD community to deliver such impact by helping them accelerate the establishment of new start-up companies with global market potential."
He added, "I would like to congratulate the BioSimulytics team on winning this year's programme and I wish them, and all the programme participants, every commercial success in the years ahead."
He concluded, "The multi-million project to develop NovaUCD's eastern courtyard has increased our capacity to house start-ups by over 50%, we are now looking to support emerging start-ups, like BioSimulytics, who want to locate at NovaUCD to leverage our ecosystem to help them grow and scale globally."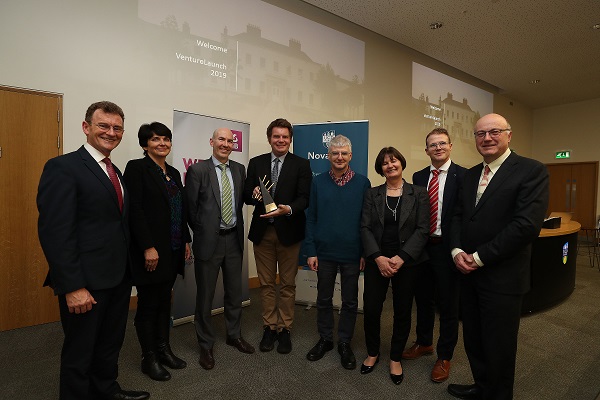 Tom Flanagan, NovaUCD; Prof. Orla Feely, UCD Vice-President for Research, Innovation and Impact, BioSimulytics team members, Peter Doyle; Prof. Niall English and Dr Christian Burnham, Audrey Boyd, AIB; Bryan O'Higgins, AIB and guest speaker, Prof. Mark Ferguson.
In addition to the 2019 UCD Start-up of the Year Award BioSimulytics was presented with a cheque for €10,000 sponsored by AIB, and a professional services package to the value of €10,000 sponsored by Bryan Maguire Business Consulting and Deloitte. The overall winner will also receive incubation space at NovaUCD to the value of €12,000.
The 2019 UCD VentureLaunch Accelerator Programme evaluation panel, which selected the overall winner following pitches by seven finalists, was chaired by Dr Helen McBreen, Investment Director, Atlantic Bridge.
The other members of the panel were; Audrey Boyd, AIB; Caroline Gaynor, Lightstone Ventures; Tomás Jones, Elkstone; Dr Sharon O'Kane, LivaNova and a NovaUCD Entrepreneur-in-Residence, and John O'Sullivan, ACT Venture Capital. The Venture Capital companies represented on the panel have in excess of €1 billion in assets under management.
Professor Mark Ferguson was the guest speaker at the event in his role as Chair, European Innovation Council (EIC) Advisory Board. Professor Ferguson is also Director General of Science Foundation Ireland and Chief Scientific Adviser to the Government of Ireland.
The other participants on the programme were; Branca Bunús, Cara Rehab; iBrux, MíNAN Technologies; PicoGlaze and Zipp Mobility.
#VentureLaunch19
ENDS
28 November 2019
For further information contact Micéal Whelan, Communications and Media Relations Manager, UCD Research and Innovation, e: miceal.whelan@ucd.ie or t: +353 1 716 3712.
Editors Notes
The other participants on this year's programme, in addition to BioSimulytics, are profiled below.
Branca Bunús is developing a technology to help cure Epidermolysis bullosa (EB), a devastating genetic disorder that makes the skin as fragile as butterfly wings and for which there is currently no cure and which affects half a million people worldwide. Branca Bunús is developing a technology which targets the 'wrong' part of the diseased skin cells to correct them and help cure the disease. The Branca Bunús team includes, Professor Wenxin Wang, Dr Irene Lara Sáez, Dr Qian Xu, Dr Jonathan O'Keeffe Ahern, Dr Sigen A, UCD School of Medicine and Dr Hungyun Tai and Dr Dezhong Zhou.
Cara Rehab is developing a technology to improve the physical rehabilitation experience using sensor guided exercise. The technology helps make exercise more effective, educates patients and provides progress monitoring for physiotherapists. The Cara Rehab team includes, Dr Rob Argent, UCD School of Public Health, Physiotherapy and Sports Science and Gerry Conheady.
iBrux is developing a smart mouthguard and mobile app to help dentists and patients to manage Bruxism more effectively. Bruxism is the involuntary clenching and grinding of teeth and dentists and patients currently have no practical way of measuring and managing this condition. The iBrux team includes, Dr Eoin O'Cearbhaill, Dr John A. Cogan, Frank Dillon and Emer O'Hare, UCD School of Mechanical and Materials Engineering.
MíNAN Technologies provides a full manufacturing process chain to design, rapidly prototype and produce customised precision plastic components and polymeric functional devices. The MíNAN team includes Professor Michael Gilchrist and Dr Nan Zhang, UCD School of Mechanical and Materials Engineering and Professor Wenxin Wang, UCD School of Medicine.
PicoGlaze has developed a technology that works with nature to actively manage the flow of heat through glazing, allowing heat in and out as required by the occupant. An electronically switchable nano-system, inserted between two glass panes, enables the modulation of thermal conductivity and emissivity. The PicoGlaze team includes, Associate Professor Dominic Zerulla, UCD School of Physics and Simon Forsyth.
Zipp Mobility is an e-scooter rental company which plans to launch in Ireland and beyond in 2020. Zipp offers a quick and convenient way for people to travel to and from public transport links without the burden of their own vehicle. The Zipp Mobility team includes, Charlie Gleeson, a recent graduate of the UCD Lochlann Quinn School of Business and Cormac Cullinane.
At NovaUCD, the hub for new ventures and entrepreneurs at University College Dublin, we nurture and support new high-tech companies as part of UCD's mission. At NovaUCD we provide purpose-built, state-of-the-art incubation facilities alongside a comprehensive business support programme for client companies along with a series of programmes, such as the UCD VentureLaunch Accelerator, to assist entrepreneurs establishing start-up companies. NovaUCD has been funded through a unique public-private partnership that includes AIB Bank, Arthur Cox, Deloitte, Enterprise Ireland, Ericsson, Goodbody Stockbrokers, UCD and Xilinx. www.novaucd.ie