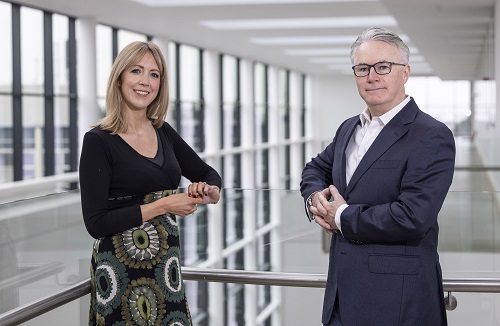 University College Dublin Spin-out Secures Place in EIT Health Wild Card Finals
- EpiCapture last remaining Irish start-up on the pan-European competition is in with a chance of securing €1.5 million funding
EIT Health Ireland-UK today announced that EpiCapture, a University College Dublin (UCD) spin-out supported by NovaUCD, has made it through to the finals of Wild Card and is the last remaining Irish start-up in the competition.
Backed by EIT Health, Europe's largest health innovation network, Wild Card is an annual open innovation competition which invites health innovators from across Europe to respond with ideas to solve pressing health challenges.
In 2020, Ireland recorded the highest cancer incidence rate in the European Union, with approximately 45,000 new cases of cancer diagnosed each year. Prostate cancer is the second most common type of cancer in Ireland, and the most common non-cutaneous cancer in men in Europe. Survival rates are generally higher when the disease is diagnosed and treated early.
EpiCapture, co-founded by Associate Professor Antoinette Perry, UCD School of Biology and Environmental Science and Edward Simons, is aiming to transform cancer testing by putting the patient at the centre of prostate cancer diagnosis.
In her research lab at UCD, Dr Perry has developed a simple test to detect aggressive prostate cancer at an early stage, meaning patients could be spared the trauma of an invasive trans-rectal needle biopsy to test for cancer. Instead, patients can be screened through a simple, non-invasive urine test that measures six epigenetic DNA biomarkers. EpiCapture can detect 90% of aggressive prostate cancers from urine samples run on PCR platforms which, since COVID, are ubiquitous.
In 2022, EIT Health's challenge-based competition Wild Card set out its two focus areas as the early detection of cancer, and mental health. Successful applicants were put through their paces on everything from team formation, critical thinking, business model validation and pitching. Teams benefit from expert mentoring, access to a European health network, and potential funding of up to €1.5 million for the winners.
"This year EIT Health's Wild Card challenge searched Europe for companies providing disruptive technologies to advance cancer diagnosis, with potential to ultimately improve cancer survival rates for EU citizens. Winners will be awarded a grant for options investment from EIT Health's Invest Health arm of up to €1.5 million," said Marc Butterly, Business Creation Lead, EIT Health Ireland-UK.
"EpiCapture's urine diagnostic test for the more dangerous forms of prostate cancer was identified as solving an unmet need, in being minimally invasive over the alternative, which is biopsy. Antoinette, Edward and the EpiCapture team are delivering leading-edge technology from Ireland, and we at EIT Health Ireland-UK are excited they have reached the finals in the competition."
"Having spent time with prostate cancer patients, it became clear that many have an aversion to biopsies which they find to be too invasive. At EpiCapture we place patient experience at the centre of our product development. Our simple urine test will enable more accurate risk-stratification of prostate cancers which will have economic benefits for healthcare systems and quality of life benefits for men with indolent disease," said Dr Antoinette Perry, CEO and co-founder, EpiCapture.
"As we enter the final stages of EIT Health's Wild Card competition, we see this as an opportunity to build and strengthen our business model and get to "investor-ready" status. We will launch a seed funding round later this year, and Wild Card has given us invaluable access to carefully selected Europe and US-based mentors to support our preparations."
The final stage of the competition involves in-depth mentoring over an 8-week period, commencing 23 August. The eight finalists, four in early detection of cancer, and four in mental health will pitch to a panel of industry leaders. One from each category will be awarded funding of up to €1.5 million to bring their solution to market. Winners will be announced in November.
EpiCapture was the overall winner of the 2020 UCD VentureLaunch Accelerator Programme run by NovaUCD.
ENDS
17 August 2022
For further information contact Micéal Whelan, Communications and Media Relations Manager, NovaUCD, e: miceal.whelan@ucd.ie or Elaine Murray, Communications Lead, EIT Health (Ireland-UK), e: elaine.murray@eithealth.eu
Editors Notes
EIT Heath is an EU-funded, not-for-profit network made up of 150 partners, with a remit to nurture health innovation throughout Europe. We are best known for successfully partnering with industry, universities, and governments, leading to the acceleration of new healthcare products and services destined for market for the benefit of European patients.
As a health sector-focused organisation, we provide pan-European training, public and private financing, mentorship programs, consortium building and collaboration opportunities to the Ireland and UK regional health ecosystems. Our network combines professionals, educators and learners, patients, clinicians, and entrepreneurs who are on our journey for a healthier Europe. www.eithealth.eu
EIT Health: Together for healthy lives in Europe.
EpiCapture Limited is the commercialisation vehicle for translational research carried out by Associate Professor Antoinette Perry, Co-Director of the Cancer Biology and Therapeutics Lab in University College Dublin, Ireland. Professor Perry's research is focused on the discovery and development of liquid biopsy tests for early detection and prognostic assessment of cancer. A urine test to detect aggressive prostate cancer - EpiCapture-prostate - is the first project to transition to commercialisation. Research has commenced on the development of a test for ovarian cancer.